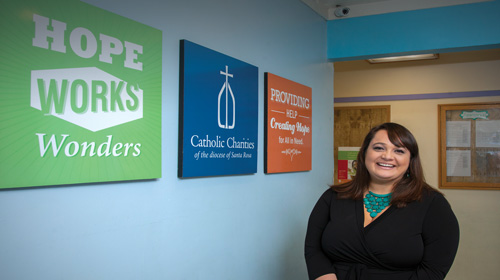 Catholic Charities of the Diocese of Santa Rosa (CCDSR) announced the selection of its new chief executive officer, Jennielynn Holmes. Following Len Marabella's retirement announcement in March of 2022, the nonprofit underwent a nationwide search for his replacement.
"After reviewing candidates from across the nation, Jennielynn rose to the top given her extensive experience in this community and her deep commitment to helping the most vulnerable in our community," said Jim Nantell, board president, in a prepared statement. "She is a nationally recognized expert, and we are excited to see her in this position."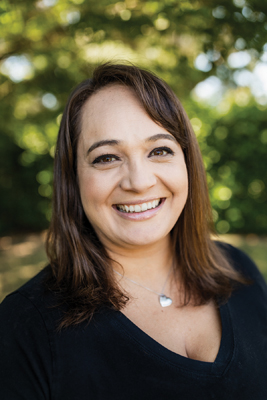 A Santa Rosa native, Holmes has been with the organization for more than 14 years. She joined the Catholic Charities team as a part-time counselor in emergency shelters and has spent her career growing and building strong programs to help meet the ever-increasing need in the community. Holmes received her master's in public administration from the University of San Francisco. She currently serves as the nonprofit's chief program officer and has also worked to help build strong systems of care as the vice-chair of the Sonoma County Continuum of Care Board and as a commissioner of the Sonoma County First Five Commission.
"I feel blessed and honored to be trusted to lead the organization after the opening of Caritas Center," said Holmes in a prepared statement. "We are forging ahead to address the social issues that face our community. This opportunity to work alongside of our team on the front lines of our innovative services is the greatest privilege of my career."
Marabella has served as chief executive officer for eight years. He holds a Ph.D., and, after gaining experience through various leadership roles in tech as well as volunteer participation in faith-based organizations, he transitioned to the world of social service nonprofits. His rich faith has driven his commitment to the mission. Since 2014, CCDSR has expanded numerous programs including disaster response and recovery, immigration legal services and homeless services.
"Len's influence on Catholic Charities can't be overstated. Through devastating fires, a pandemic, an increasingly alarming housing crisis and a frightening period for our immigrant community, he has thoughtfully stewarded community resources and overseen a skilled team to ensure the organization is a nonprofit people can count on," said Nantell in a statement.
Like countless other families in Santa Rosa in 2017, Marabella and his wife Pat lost their home. Rather than rebuild, he chose to invest his full personal and professional energy into the Caritas Village project which will further reinforce CCDSR's proven methods of ending homelessness and add 128 affordable homes to Santa Rosa's housing stock. The project represents a bold solution to the housing crisis facing our community.
"My faith has been a beacon through this work. At Catholic Charities, we are inspired every day by the work of the Good Samaritan who challenged society's expectations and offered the gift of love freely to a stranger in need. I am proud of my team's accomplishments and eagerly anticipate their future accomplishments as we embark on this next chapter," said Marabella in a statement.
Holmes began her role as incoming CEO in August, overlapping with Marabella through the opening of Caritas Center, which opened in early September.