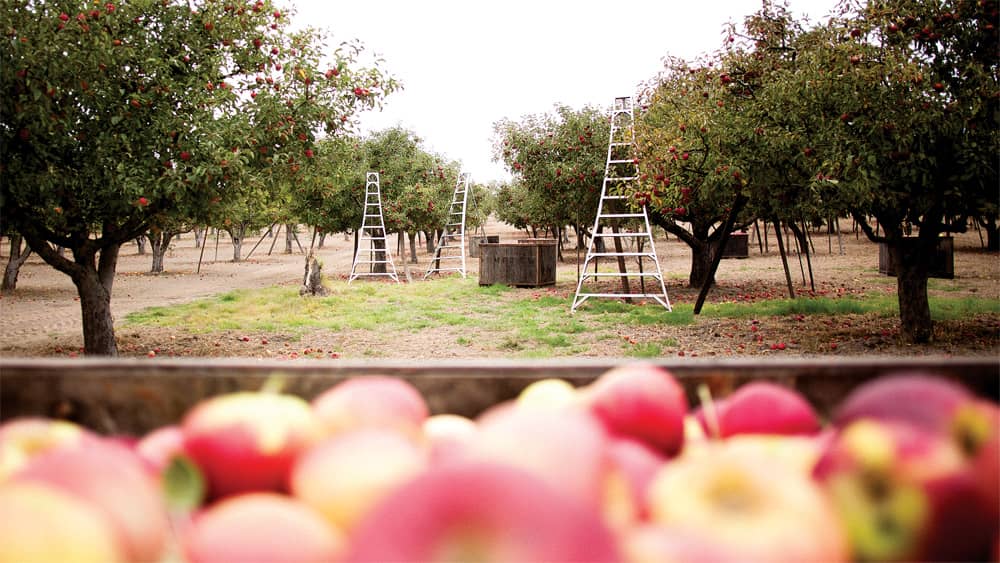 Manzana, named for the Spanish word for apple, is a cannery devoted to turning fresh, organic, mostly local apples into products we know and love––organic apple juice, applesauce, apple vinegar and apple sauce pouches. Located in Sebastopol, it is a 100-year-old, all-organic facility, with 180 employees, many of whose association with Manzana goes back generations. Of the 10 canneries working during the apple heyday, back in the 1940s, Manzana is the last standing apple cannery in Sonoma County, where apple orchards are struggling to hold on.
From the modest appearance of the facility from the road, a set of long-established, rural, light-industrial buildings, one would never guess that the facility processes about 50,000 equivalent tons of fresh organic, mostly local, Gravenstein, Honeycrisp, Roma, Gala, Jonathan, and other varieties of apples per year. Chances are, those driving by wouldn't guess how vitally important the Manzana cannery is to the local farming history, culture and economy––and vice versa. But if you go to the annual Gravenstein Apple Fair in Sebastopol and look for Manzana's green-and-white North Coast label on organic apple juice, applesauce and other apple products, you'll get a taste of the company's pride. Manzana, while full of history, has its eye on the future.
Family vibe
The cannery was founded in 1922 by Rudolph and Maude Oehlmann, who called it the Oehlmann Evaporator. They processed apples, prunes and other fruit. In 1945, responding to market demand, they turned to apples only and changed the name to Manzana, in honor of their Hispanic employees. The company stayed under family ownership until 2012.
Suzanne Kaido, a direct descendent of Rudolph and Maude, was serving as company president when the plant was bought by Agrial, a French organic agricultural company. The purchase was welcomed as Agrial brought, along with an infusion of cash for much needed modernization, the traditional French culture of great food and commitment to quality along with a vision for the future. Now, with some of the modernization done, Manzana is looking toward a future supported by long-established, strong relationships with retailers and a reputation for quality, encouraged by a great parent company.
The French connection
"The best thing about Agrial is their long-term vision," says Andy Kay, CEO of Manzana. Among the first things Agrial did was build a line of new products called "pouches," which have been wildly popular in Europe. These individual, single-serve pouches are easy food fuel while on-the-go. Delicious and fun for kids, they're travel fit, and at 3.2 oz., they're airplane safe. Agrial set up the new multi-million dollar pouch production line first thing. A second, $4 million pouch line is in the pipeline, waiting for permit approval.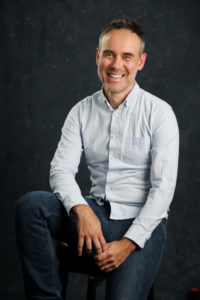 Other modernization projects include a new warehouse with solar panels and additional vinegar tanks, with more improvements on the drawing boards, pending permit approval. Above all and before everything, attention to quality rules. "Manzana's differentiation is the premium quality that we put into our products," says Kay. "We're considered the premium provider of organic apple products in the U.S., and that means we're potentially more expensive, but then we also can guarantee premium taste and quality." A huge part of that quality is the freshness and taste of the apples themselves that come to the cannery right from the orchard. "We don't compromise on the quality of the apples," says Kay. And it can be tasted in the juice.
A testament to the quality and reliability of Manzana Products is the longevity not just of the plant itself, but of the customer relationships. "We have relationships with big retailers predating Agrial, going back about 50 years," says Kay. "We're keeping and enhancing those relationships because of that history."
If you go into a major retailer, chances are that organic unfiltered apple juice, apple sauce or apple cider vinegar will have been made by Manzana—either under their own private label, or under their North Coast brand. You will definitely notice the taste. "It tastes like apple. Even the vinegar—it tastes like an apple just picked off the tree," says Alissa Trinei, marketing specialist for the North Coast Organic Brand. Agrial supports Manzana culturally, with highest organic standards of quality and taste and the traditional European respect for farming. Another key shared value is sustainability.
Modernization and sustainability
With Agrial's investment, and pending permits, Manzana is looking to institute more modernizations of the plant that aims to increase energy efficiency and reduce environmental impacts. "Our parent company has a big climate sustainability agenda," says Kay. "Clearly one of the benefits for us here is the proximity (the apples grown right here) versus the apples that have to travel from out of state." Chief Technology Officer Jean-Philippe Riblet says, "We don't have an inventory," pointing to the apples waiting to go onto the plant's washing line. "It's from the tree to the plant."
Many of the apples are dry-farmed, which is good in time of drought, as far as it goes––and the trees, with their deep roots, can find water. In the cannery, water has to be carefully and consistently conserved. "This is a really important part of what we do at Manzana," says Trinei. "We conserve all of our water." All of their wastewater goes through different filtration phases so that none of it goes to waste and some of it is even used to irrigate the orchards across the street. "We have a full-time staff member who's dedicated to minimizing our water usage and who oversees our wastewater management. It's a big job." None of these efforts and standards would matter without the growers, who have been part of the Manzana family for generations.
The growers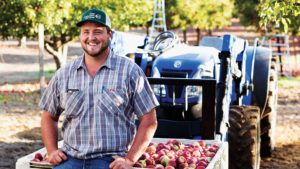 Mike Meyer is the youngest apple grower in Sebastopol and is fourth generation. He keenly feels the struggle of maintaining a life as a farmer in apples these days. It's not the work, which he loves. It's the economic stress: the cost of labor, difficulty finding workers, cost and lack of housing for them and competition with vineyards. "It's tough," he says. "I keep losing orchards every year and it's not getting any better. Our family only owns one orchard. The rest are all leased orchards," Meyer says. "Then they'll come work for you."
Costs of housing and labor are just so high. He depends on pre-existing housing. "I'm just fortunate that my employees have been with us for many years and we're able to have housing elsewhere or a previous owner that possibly was a grower that had housing. That's how it's working out for me," he says. "If I had to start out today with no back history, it would be very hard to live here."
As for Manzana, it's a two-way street. "I wouldn't be here today if it wasn't for them," he says. "We switched to organic in 2008 and if I didn't do that, I wouldn't been able to make it. They're the last apple cannery here. If they weren't here, I wouldn't be in business because I wouldn't be able to sell the fruit elsewhere."
With all the struggle, the life of an apple farmer has its advantages, and Meyers was raised in the business. "I enjoy it," he says. "Being able to just walk outside my door and I'm at work. Every day is different, and no two days are the same." It's hopping on that tractor, he says, and driving out in the field, and picking an apple off the tree. It's fun to be out in the orchard. "I want to keep doing it as long as I can," he says. "In order to keep the apples alive, I would like to see more orchards being planted than grapes. To me, an apple orchard is more wholesome than a vineyard."
But, if orchards continue to disappear year after year, "there won't be any left, and then we won't be able to make it," Meyers says. Picking apples, harvesting apples and having fresh, organic, local apples within reach has been a way of life for people in Sonoma County for longer than most can remember. If there weren't apple orchards and a cannery and products locally, it would change the way of life and very nature of the place.
Joe Dutton Jr., of Dutton Ranch, is a fifth generation Sonoma County farmer, but second generation in apples. He says that apple production peaked at around 20,000 acres in the 1940s, but now it's down to only about 2,000 acres. "There are some beautiful orchards still left," he says. "There are some great, producing orchards." The Duttons' No. 1 acreage is in Gravensteins, the Sebastopol variety. "We have a fair amount of Jonathan's," he says. "It's a good apple for us. Golden delicious are very alternate bearing. All of our apples are for processing, making the Manzana products, the organic apple cider vinegar to their apple juice and apple sauce."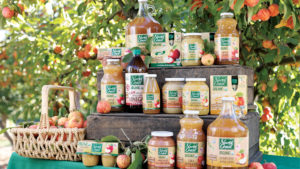 The Dutton Ranch has diversified and has incorporated grapes as a primary product. "We're farming 1,200 acres of wine grapes and that is our main focus. Additionally, we provide 200 acres of certified organic apples." It's a big job. "We're constantly fertilizing and planting new trees [and] replacement trees, and we're constantly keeping our orchard blocks in good shape. That's what you have to do to maintain those higher yields, so that you can survive in the apple industry here." Thanks to Manzana, business is still booming. "Without them here processing and buying fruit from us, I don't know how much of the apples we would still be growing, if at all."
Celebrating apples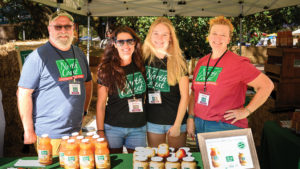 Every year since 1910, when the Sebastopol Apple Growers' Union held the first Gravenstein Apple Show, with an exhibit by the famed horticulturist Luther Burbank, harvest time has been a time to celebrate the Gravenstein, the apple of Sebastopol. Burbank is supposed to have pronounced the Gravenstein an "apple like no other," and the Gravenstein Fair, at Ragle Ranch Park in Sebastopol, is a fair like no other. The fair's entire focus is on apples—things made of apples, people eating apples, playing music, dancing, drinking cider and passing plates of apple fritters from local chefs—all under the canopy of Sebastopol live oaks. It may be the most "all-American" old timey and up-to-date fair imaginable. This year, people mingled in the fresh summer air with a sense of joy at being out, being together, and celebrating the tradition of the great Gravenstein apple. Manzana Products, with their North Coast label, is one of the major sponsors.
Carmen Snyder, executive director of Farm Trails, says the fair helps the growers and the cannery helps the fair. "Back in 1973, the founders of Farm Trails launched the Gravenstein Apple Fair as our nonprofit's primary annual fundraiser. Both are dedicated to showcasing and supporting local producers and to keeping 'farms forever' in Sonoma County, and 2023 will mark the 50th anniversary." Fair visitors can enjoy Gravensteins during peak season in all their delectable forms: pies, fritters, sauce, juice, cider, drizzled with caramel, and fresh from the orchard. "Manzana Products Co. has been a great partner, sponsoring the North Coast Organic apple stage which features top-notch musicians and also old-fashioned apple contests, like pie eating and juggling," she says. "There's a historic legacy piece that's important because they are the last cannery in Sonoma County."
Farm Trails and The Gravenstein Apple Fair are hugely popular and serve to remind people of the importance of local agriculture. This year, Snyder estimates, the Gravenstein Apple Fair drew around 14,000 people.
Challenges
"The challenge we have is that the harvest is now and we're trying to make a product through the whole year," says Kay. "Sometimes it's very challenging, and sometimes we don't make it, either because the apples aren't there, or the quality isn't there. We're making sure we can optimize the bottling to coincide as closely as possible to the harvest period."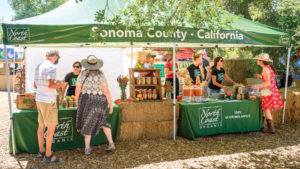 Overall, the challenge is the same in other businesses: cost and availability of labor, cost of production, problems in the supply chain and housing. "To be honest, we compete with wineries to get talent," says Kay. "And to get contractors in to help." Manzana offers competitive wages, and great benefits including 100 percent paid medical coverage and a pension plan for union team members. "Our culture is very important to us and we approach it with intentionality, putting in place programs to shape the culture, which includes listening to our team members, maintaining a good relationship with the union and a focus on quality and safety."
Last word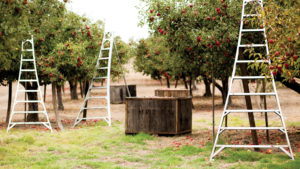 To keep a culture of farming alive into the future means that Manzana Products will be there. Additionally, the orchards will be there and the growers, with deep history in the area, will still be there growing those apples—and grapes, too, if they must. Right now, they're all still here, and they're all looking good.
"We're still here growing apples," says Joe Dutton, to anyone who will listen. "You've got all those things from Manzana Products. They have their own label, the North Coast label." His hope is that people will know those Manzana products, that North Coast label, which are their products and his products too, and all the other growers,' and will buy them and support the local industry. "Try to support that label and to try to keep that cannery going, support 'em and by buying their products, using our local apples and in whatever form you like, the vinegar juice, this apple sauce, however you like to support it. That would be wonderful."
The Great Gravenstein Apple
The first Gravenstein apple in California is said to have been planted in Fort Ross in 1811. Luther Burbank, Sonoma's beloved horticulturist is said to have opined that, "If the Gravenstein could be had throughout the year, no other apple need be grown." He wasn't to be taken literally, of course, because horticulturally, the Gravenstein—its botanical name is malus gravenstein—needs company. It is a triploid, which means it has three chromosome sets and requires pollination from compatible other, self-fertile, varietals, such as golden delicious.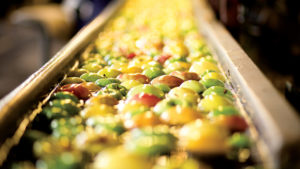 The Gravenstein Apple got its name from Gråsten Palace, the family home of the Danish nobleman who brought the cultivar back to Denmark from a monestary in France. Gravenstein is the German version of the name.
It's also grown in Nova Scotia, and in 2005, the Gravenstein was pronounced the National Apple of Denmark.
Also in 2005, Slow Food USA installed the Gravenstein in its Ark of Taste, their international catalogue of culturally important, sustainably produced and often endangered food products. To learn more, visit slowfoodfoundation.com.
Manzana Supports Farm to Pantry Project
Launched in 2008, Farm to Pantry works to end "food injustice" and help offset climate change by "rescuing" and sharing local produce that would otherwise go to waste. At harvest time, they comb through the countryside, gleaning unused fallen fruit and veggies from farms or backyards and get them to local people in need.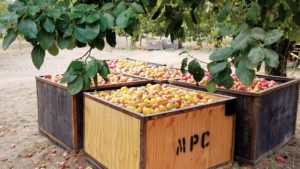 Apples, which are so abundant that many people can't use all the fruit from their backyard trees, and so delicious and desirable, present a problem. Redwood Food Bank, which distributes the food, is under contract with their own apple source, and can't take local apples. Being innovative, Manzana agreed to process the apples into apple sauce so that it can be donated to the food bank. Easy solution? Yes. Easy to do? Not really. Manzana is strictly organic. The gleaned apples are not. Everything that touches the cannery's machinery needs to be free of contaminants, so dealing with the gleaned apples is a process in itself. Alissa Trinei, marketing specialist for Manzana's North Coast brand, explains. "We have to stop production, run the conventional apples, then completely clean and sanitize all the lines," she says.
While Farm to Pantry is out gleaning the apples and then once they have enough to press, Manzana clears the way and processes the apples, puts the sauce into jars and applies the labels so they can be sent to Redwood Foodbank. Manzana assumes all costs for labor and time their own lines are shut down. Nothing wasted, everything gained.
"We're so proud to be able to process local apples that might otherwise have been left to fall off trees and not be eaten," says CEO Andy Kay. "These apples are made into packaged products that go to the families who need them most. Farm to Pantry is a great and unique community initiative that fits with Manzana's core values of being a responsible local actor, using our existing resources for wider societal benefits."
For more information, visit farmtopantry.org.
Drought & Apple Farming
Drought is a prevalent issue in Sonoma County. How do apple farmers manage? "Our orchards are all dry farmed," says Mike Meyer, a fourth-generation apple grower in Sebastopol. "This means apples, unlike any other fruit grown in Sonoma County, don't require any water after the first couple of years to get the young tree started. The result of a dry-farmed apple is a juicy, more flavorful apple than what comes from an irrigated orchard," he says. "It's the amount of morning dew that we get on the days we do get fog that helps the apples." Still, not all the trees can thrive without water. "We can't keep having these drought years. Rain would be nice. These trees are still fighting, but you can see some struggling as well."