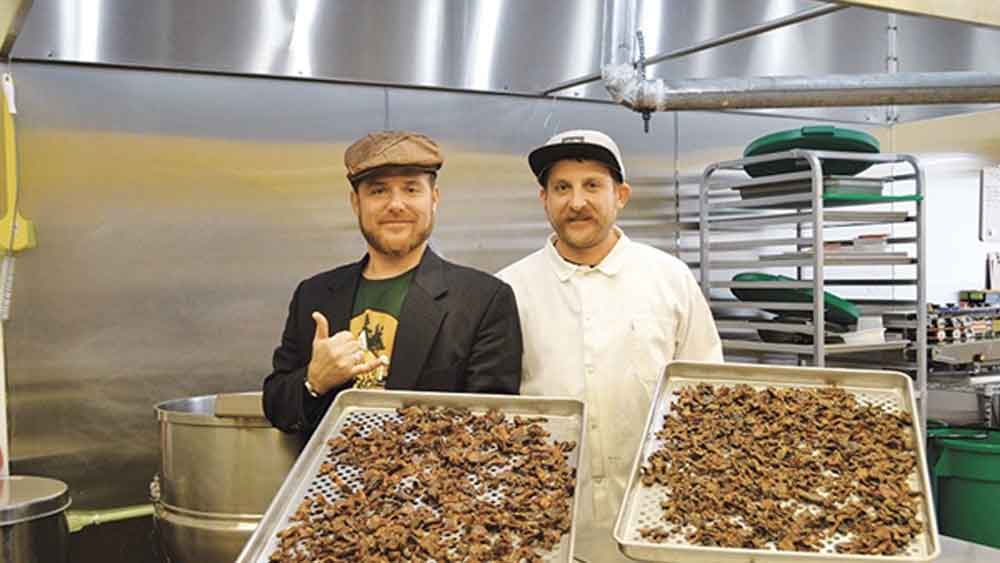 From left: Wyatt and Hunter Bryson with their Shroom Snack oyster mushroom jerky. [Photos courtesy of Jewels of the Forest]
Easily grown, nutrient-dense and boasting a low carbon footprint, the mushroom has more potential than many realize. Shifts toward plant-based products and sustainable meat substitutes prime the mushroom industry for expansion, and Sonoma County is paving the way. Brothers Wyatt and Hunter Bryson are on a mission to educate and inspire others about the magic of mushrooms.
Together, they run Jewels of the Forest and Mycolab Solutions, near downtown Sebastopol, where customers can find anything from mushroom spawn and growing supplies to their oyster mushroom jerky. The mushroom is one of the most versatile and sustainable products around, and the Brysons are here to prove it.
The two started growing mushrooms in 2015, when Wyatt joined Hunter to live on their family's Occidental property. And soon they faced a key question: What to do with the mushrooms?
Combining Hunter's culinary skills from years as a trained chef and Wyatt's extensive knowledge of mycology, the brainstorming began. "We got to talking about what to do with these leftover mushrooms that we had, and making a value-added product," says Wyatt. They wanted to create a product that consumers were already familiar with, and jerky became the obvious choice.
In 2016, they were hosting a mushroom growing class at an ethnobotany festival in Occidental and had the chance to debut their shroom snack jerky samples to attendees. After receiving overwhelmingly positive feedback, the brothers knew they were on to something good, and the jerky production process was set in motion.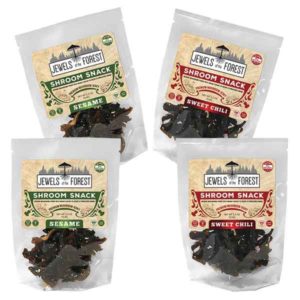 As their business grew, they needed to upgrade from the commercial kitchen they had been renting. They scored their current retail spot in Sebastopol, which has a full industrial kitchen in the back, allowing for ample space to test and produce products. They opened the doors to their retail shop, Jewels of the Forest, in 2019.
Hunter handles the roughly 24-hour process from thoroughly washing the mushrooms to dehydrating and flavoring them. Flavors include sweet chili, sesame and Thai BBQ, and are all for sale online and in store.
While their jerky is a hit, they have a new product in the works as well. The Shroom Puff is nearly ready to hit the shelves. Resembling the texture of a chicharron, or the popular Korean shrimp chip, these puffs are a perfectly practical snack. "We want to head in the direction of looking at functional foods and mixing that with medicinal mushrooms, and blending snack foods with a healthy, medicinal aspect to them," says Wyatt. The puffs are infused with a mycelium-based protein powder, as well as shiitake powder for extra umami flavor.
In addition to crafting their food products, the two intend to soon revamp their fungal education program that had started before the pandemic. Mycolab Solutions, their partner company, offers classes and consultations for all mycological needs.
Classes will be offered in beginner and advanced skill levels (and psilocybin, for those interested). Beginner classes will primarily focus on general information about mushrooms and their benefits, as well as making oyster mushroom grow bags. More advanced classes will consist of lab work in small groups and making other materials required for at-home mushroom growth including spawn, substrates and cultures. Beyond that, they hope to later offer classes in fermentation such as koji, miso-making and kombucha, as all of these products fit into the category of mycology.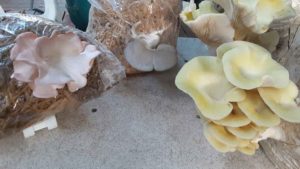 Their businesses remain fully family-owned and operated. "It's great—we really complement each other on what we do for the overall company. We each have our skills in different areas that kind of make it a whole," says Wyatt. Their brotherly bond has remained strong, and kept them motivated to continue pushing their business forward.
Much of the brothers' culinary inspiration comes from Eastern cultures, where mushrooms have been a staple of cuisine and medicine for centuries. "Western culture is just now getting on that trend and understanding the benefits of medicinal and edible mushrooms. That's where we really want to educate people," says Hunter. Steering away from the commonly used button mushroom and toward other, more palatable varieties can help garner a better reputation for mushrooms, too.
Jewels of the Forest and Mycolab Solutions participate in mycological events from Marin to Mendocino and everywhere in between. Stop by their store to see what these masters of mycology have to say, and check out their websites at shroomjerky.com and mycolabsolutions.com.