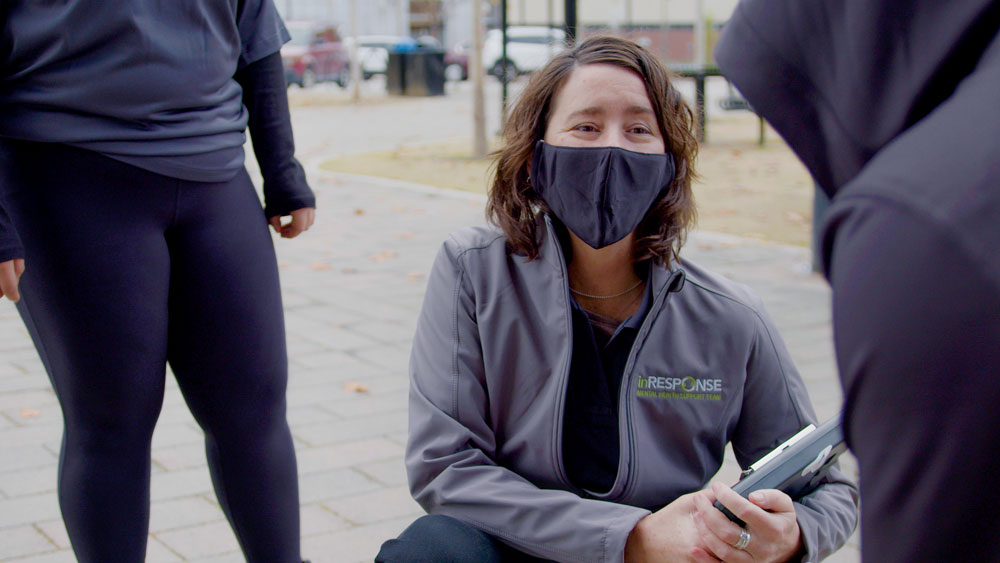 The very first call for the services of the new inRESPONSE mental health mobile team, which hit the streets of Santa Rosa in January, was a success story. A woman at a local hospital had a mental health breakdown, and the team was dispatched to give assistance.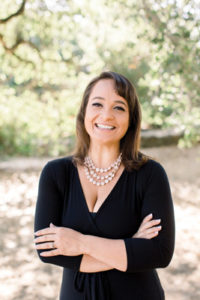 "We already knew this person in distress, because she was someone from Sam Jones Hall who had been pushed over the edge," explains Jennielynn Holmes, CEO of Catholic Charities of Santa Rosa, which runs the homeless shelter at 4020 Finley Ave. The woman was distraught, worrying about how she would get back to the shelter from the hospital, where she had a bed waiting for her. "The inRESPONSE team was able to de-escalate the situation at the hospital. It helped that the woman saw a familiar face on our team, so we were quickly able to get her the right level of care so that she didn't return to the streets, and we got her safely back to the shelter."
It's sometimes little things that can trouble a person into a crisis, like wondering how they will get home, she adds. "Many of the clients the team sees are dealing with some major medical and mental health issues, oftentimes along with sleep deprivation." The hospital might have eventually had the woman sent back to Sam Jones Hall in some fashion, but this particular case showed one of the many gaps in the system of care that existed before the inRESPONSE team was on the scene.
The need for mental health crisis intervention has increased in Sonoma County over the past few years, particularly among unsheltered people and those whose families have tried to get a loved one into a program to stabilize and improve their condition. It's a multi-pronged dilemma for many, who fear a police response could result in an arrest or injury.
Modeled after a program in Eugene, Oregon, called CAHOOTS (Crisis Assistance Helping Out on the Streets), inRESPONSE operates within the city limits of Santa Rosa. The goal has been to prevent emergencies or potential crimes by getting people into effective mental health crisis prevention services before they go into crisis. CAHOOTS was launched in 1989 to replace armed police officers with trained medics and mental health workers when responding to non-criminal mental health-related emergencies. The Santa Rosa City Council unveiled plans in 2020 for a similar program for Santa Rosa following consultation with CAHOOTS, and after the community at large and city leaders showed strong support for such a program.
Agencies on a joint mission
The inRESPONSE program is administered by the Santa Rosa Police Department, and was funded by an initial $1.1 million from the City of Santa Rosa, with additional monies from federal and state grants, as well as private funding to help offset operating costs. Additional funding has extended the program for at least another two years. The goal is to find enough money to cover the expected $2.3 million annual cost to expand the program to 24 hours a day, seven days a week.
Multiple North Bay agencies were brought together with the joint mission to make inRESPONSE a reality. These key partners include Buckelew Programs (providing the mental health component), Catholic Charities of Santa Rosa (for homeless outreach services), Santa Rosa Fire Department (for the medical response), Sonoma County Behavioral Health Division (for its mobile support team), and Humanidad Therapy and Education Services (for interpretation support).
"InRESPONSE began in January and we are still building the ship, so to speak," explains Chris Kughn, CEO of Buckelew Programs. "The joint mission of all these agencies is what drives the program." A steering committee of the many stakeholders in the program meets monthly to find out what is working for the community. "We want to get input from the community and cast a wide net to reach as many as possible. We welcome feedback about the program."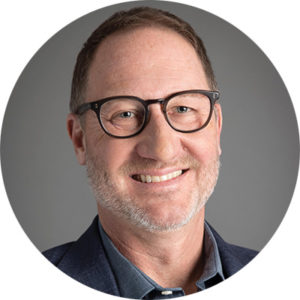 There can be many challenges getting different organizations to work together collaboratively on one shared goal, says Katie Swan, inRESPONSE program manager. "Each agency has its own policies and procedures, but our group became a team almost instantly. We are cohesive and working well together and are getting great community feedback. Everyone on our teams wants to be here, and they all wanted to work for a new mental health support team, though they are managing crisis all the time."
According to Capt. Dan Marincik of the Santa Rosa Police Department, who oversees the program's budget, one of the biggest hurdles has been finding the qualified staff to expand inRESPONSE's daily coverage. As of October, the program operated two separate teams in vans, one working from noon to 10 p.m. daily and the other from 7 a.m. to 5 p.m., Monday through Friday. So on weekdays there is an overlap with the two teams on the road simultaneously between noon and 5 p.m.
Catholic Charities, says Holmes, is contracted with the police department to provide the homeless outreach services, and it also provides some in-kind assistance. "So we are giving the team office space and room for parking the vans at the Catholic Charities office on Airway Court. We had some extra space and wanted to get the program up and running as quickly as possible."
Avoiding a police response
"For a long time, folks didn't call for help [for someone in mental health distress] because they didn't want a law enforcement response," says Swan. "Now we are seeing people trusting inRESPONSE more and calling us more, and it's a wide variety of people. We serve anyone within the Santa Rosa city limits, no matter their income or insurance status or their need. We will talk to very young children all the way up to people in their '90s. If they feel nervous about calling the police, they can call us instead."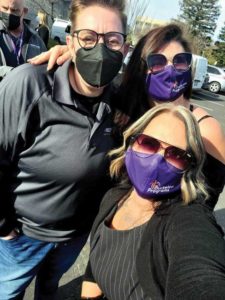 Swan says when a person calls 911 or the inRESPONSE help line [707-575-4357] to report an individual in crisis, the 911 dispatcher or someone on the inRESPONSE team answers the call and determines next steps. "We talk to the person who makes the call. It could be an individual calling for themselves, or a family member or a concerned citizen. We find out what's going on and go out to the location."
From there, the team conducts a mental health assessment on the individual, determining if the person needs immediate support, such as shelter or even food. The team on each van includes a firefighter or paramedic from the Santa Rosa Fire Department, a behavioral health specialist from Sonoma County's mobile support team, and an engagement specialist from Catholic Charities. Many times there is also an interpreter from Humanidad on board.
"What I'd like to emphasize is that our team answers the inRESPONSE line, not 911 dispatch, and that takes away some of the intensity and hesitancy of calling the police," Swan explains. "However, we are a civilian team, so if we take the call and go to the site and a weapon is shown, we would de-escalate and disengage and call for support from law enforcement. But our team doesn't just leave the scene. We might stage somewhere nearby and then come back when law enforcement is certain the individual is no longer a danger to themselves or to others."
The number of calls received during a shift can vary, says Swan, from seven to 13 per day. "On average we can spend a half hour to up to three hours with one individual in crisis. If someone is really struggling, we will sit down and find out what they need and make certain they are safe. And this can take some time."
Navigators are key
A unique component of the inRESPONSE program are the system navigators administered by Buckelew Programs, a Marin County-based organization that provides care to adults and children experiencing mental health or substance use challenges. These navigators, available by phone, have experienced their own mental health challenges, "so they are providing support from a place of knowing how to access services for a loved one or for themselves," says Swan. This wraparound service of navigators helps individuals and families in need to get connected to appropriate physicians, make mental health care appointments, help with insurance and medication issues, and assist with discharges following institutional care. The system navigator service is not for people in the midst of a crisis, but for before-crisis and after-crisis support.
"We serve anyone, so we provide support no matter where they are at in their level of care and connected to different community resources," adds Swan. "The navigators know how to get these resources, and they help those who are overwhelmed trying to navigate the system of care in our community. We try to work with individuals to get them stabilized and to feel grounded and build a safety net for them. Sometimes this entails off-and-on contact with them for weeks or months after their initial crisis. But by then, they are usually engaged with community resources, and we can then step back to help someone else in need."
The inRESPONSE team is set up "so that we are the ones doing the hard work of bringing the services to the people instead of making the person in crisis do it. It puts a lot of the work on the collaborating agencies to figure it out for them," says Holmes.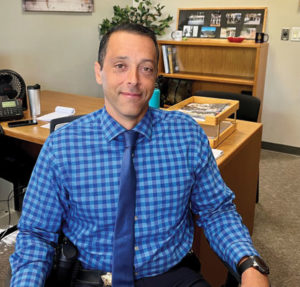 "One of the biggest benefits we've seen just from the police department perspective is that we are now sending calls for mental health support that shouldn't be handled by the police," says Marincik. "Police officers might not always be the most appropriate people to tackle certain situations, and we're hearing a lot of positive feedback from officers who have interacted with the inRESPONSE team."
He says in the first few months of the program, about 49% of the individuals that the team assisted were men, 46% were women, and the remaining 5% didn't disclose a gender. Children under the age of 18 have made up about 6% of the calls inRESPONSE has received.
Getting the second team up and running before the current school year began was in part to have services in place for children returning to classrooms. "We wanted to be able to support people in school settings, because we had heard from schools who had kids in crisis starting at 8 a.m.," says Kughn.
Marincik concurs. "One of the reasons we reshaped the program's hours was because of the need to help some children on school campuses."
Saving money, reducing stigma
The cost savings of diverting mental health calls to a special civilian team might eventually add up to a substantial amount. Marincik says data is still being compiled for the program's first year of operation, but the numbers so far are impressive. By the end of July, the inRESPONSE team had already diverted as many as 544 calls away from law enforcement, and more than 100 people in crisis had been diverted from hospital emergency rooms. Another 100 individuals didn't end up in the jail system, as they might have in the past.
"It's tough to say right now what those cost savings are from people in crisis being diverted from the involvement of law enforcement, the fire department, ambulances and emergency rooms," adds Marincik. "But we do know that some of the upfront investment in the program will pay off on the back end."
"What we are doing is saving money," adds Kughn. "The intent behind the program is to reduce costs in the entire system. We're also trying to reduce the stigma of mental illness, because that can be a major barrier to people in crisis receiving the services they need."
As a new program, the teams will learn as they go, says Swan. "I have children with significant behavioral health challenges, and many times I needed a team like ours for my own family. Our community asked for this service, and it's important to have the heart of the community being involved and supportive. We've seen numerous success stories, such as individuals with mental health challenges and substance use issues who were at risk of losing their housing. Now they are housed in sober living environments and getting the support they need."
The inRESPONSE team is also shining a light on parts of our health care system that don't work well together, says Kughn. "So we are in constant dialogue with our partners to point out the gaps and discuss possible solutions. Our society doesn't value mental health in the same way we value physical health."
Reaching Out for Help
In an emergency, the inRESPONSE team can be reached directly at 707-575-HELP (4357), or via 911. A police dispatcher will evaluate a caller's information during a mental health crisis and determine if sending the inRESPONSE team is the best alternative.
It's also possible to reach out to inRESPONSE through its non-crisis system navigators, at 707-204-9756, or by email at inRESPONSE@srcity.org. These navigators help identify a person's or a family's needs for services and resources before they experience a mental health crisis, or following a crisis.
When to Call for Help from the inRESPONSE Team
The types of calls for service that inRESPONSE will address include:
Individuals with suicidal ideations
Sheltered or unsheltered individuals experiencing a mental health crisis
Individuals or families in need of mental health support and resources
Individuals who are intoxicated or under the influence of a controlled substance
Individuals who are struggling with mental health stability and in need of emergency shelter resources
Welfare checks, when no crime is suspected
Requests for non-emergency medical evaluations and transports, including prescription drug refill transport and transportation to medical appointments
If there is any indication of violence or weapons, inRESPONSE will stage nearby while Santa Rosa Police Department officers de-escalate the situation for inRESPONSE to then take over.
Source: Santa Rosa Police Department
How inRESPONSE is Reaching its Goals
The goals of the inRESPONSE program, according to the Santa Rosa Police Department, include:
A reduction in the number of Santa Rosa Police and Fire department calls to mental health and homeless-related incidents
A reduced impact on local hospital emergency departments
A decrease in criminal charges and arrests for people who experience a mental health crisis
More complete and holistic/wraparound service efforts focused on the upstream approach
An increase in the number of individuals (or their loved ones) who call for support when experiencing a mental crisis, rather than weathering it alone
An increase in the number of unsheltered individuals in need to mental health or substance abuse support being placed in long-term housing and provided with wraparound services