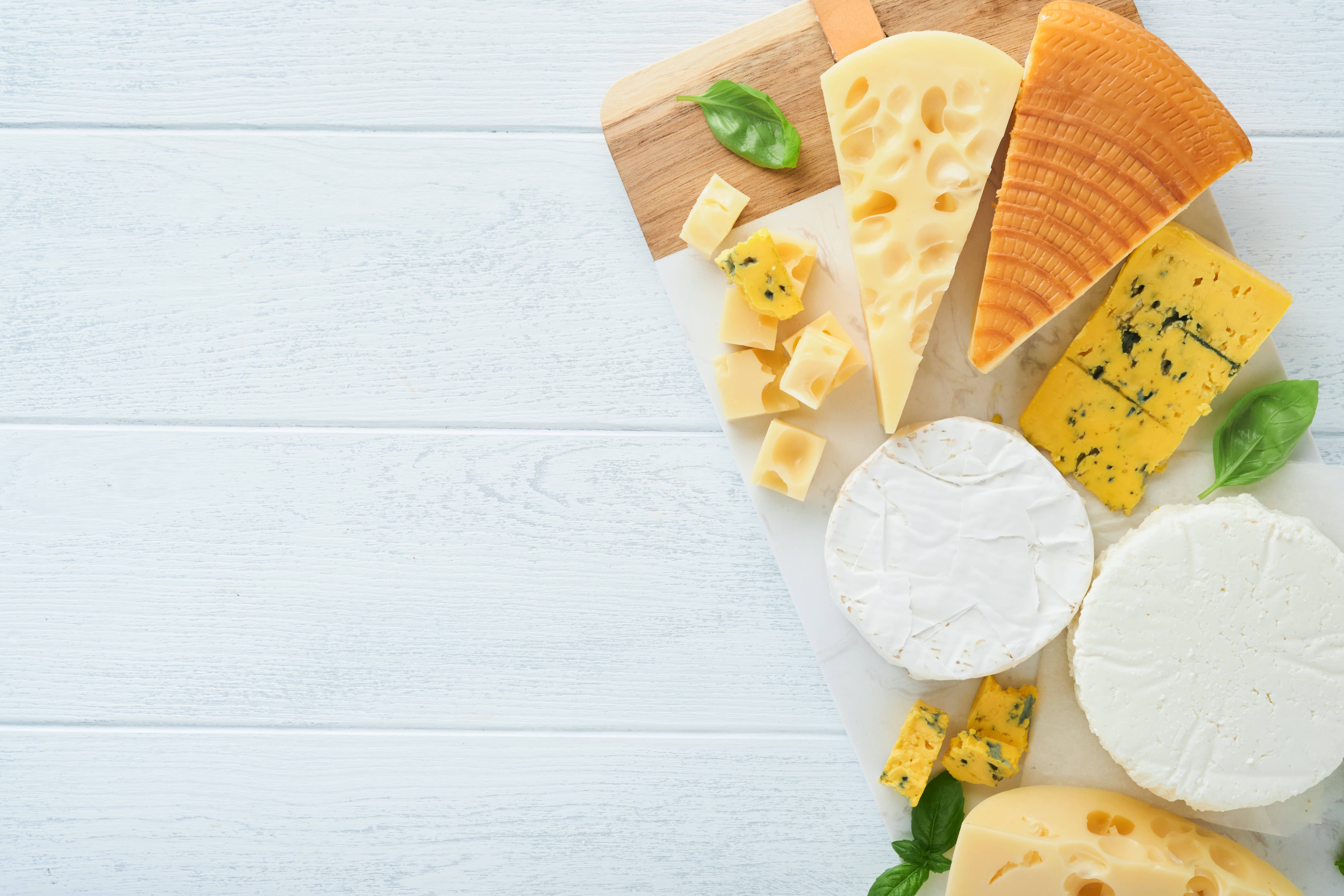 Set or assortment cheeses. Maasdam, smoked cheese, camembert, blue cheese, parmesan, brie cheese with basil and pepper on on white marble board white wooden old background. Top view. Free copy space.
I know folks who avoid cheese because they feel it's too high in fat. Sound familiar? Well, fat is an important component in a healthy diet and cheese can be a delicious way to include it. Following is a quick comparison of fats (and other dietary measurables) in different types of cheeses. All for a 1-ounce serving:
Calories Fat (g) Cholesterol (mg) Sodium (mg) Calcium (%DV)

Goat Cheese    70           6               20                    120                 2
Vegan Cheese  80            6              0                     280                 20
Mozzarella      80            6              20                    190                  10
(part skim)
American         107         9               27                    185                  18
Reduced fat
American         90           6              20                    300                  20
Cheddar           110          9              30                    180                  15
Provolone        100          7              20                    140                  20
Swiss                 100         8              25                    60                   25
Monterey Jack  100        8              25                    170                  15
American         107          9              27                    185                  18
Parmesan         110          8              25                    330                  20
The bigger culprit is sodium. A small piece of really great cheese is so much more satisfying than a big glob of rubbery, tasteless cheese. Skip the fast-food burger and fries and you can have a nice piece of really great cheese. It's all a question of priorities. Isn't it?
Hosting a Wine and Cheese Party
The key is to focus and not get too many of either cheese or wine otherwise the palate gets completely overwhelmed. If you have a good cheese shop nearby, go and ask their advice. I'd suggest getting three different cheeses:
* A creamy, soft ripening (bloomy rind) cheese like a good Brie or Affinois
* A nice blue such as Roquefort, Maytag or my favorite Pt. Reyes Bay Blue
* An aged harder cheese like a good Cheddar, aged Gouda or Parmigiano Reggiano
With these I'd select three different wines (here again a good wine shop can be of great help):
* An aromatic white like riesling, gewürztraminer or viognier (don't worry about sugar levels)
* A soft red like pinot noir, gamay without lots of tannin
* A decent port (that is from Portugal not California Central Valley)
If you wanted a fourth wine, choose a Brut Champagne or sparkling wine from California.
You might want to draw up a simple tally sheet with space to write comments on each cheese and wine combination. I'll bet you'll be pleasantly surprised at the outcome.
Hint: The wide world of cheeses matches better to the world of white wines than it does with red. This is not to say that there aren't some terrific red wine and cheese matches, but whites just seem to work better overall.
Buying and Storing Cheese
Buying: One of the most important assets that a community can have is a good cheese monger. Someone who is knowledgeable about cheese and who will let you taste and help you choose based on your own preferences. In fact, this is the only way you'll be able to order from many of the small artisan cheese makers. A great website to subscribe to is Janet Fletcher's "Planet Cheese," where she regularly reviews new finds and the state of the cheese world generally.
Storing: This seems to be a universal problem. Here are a few pointers:
* Store cheese in the warmer part of the refrigerator and away from the fan. The vegetable drawer is ideal. Don't use the "cheese compartment" that is built into the door of many refrigerators. The constant temperature change that comes from opening and closing the door isn't good for cheese.
* Young, soft cheeses benefit by being wrapped in something that allows the cheese to "breathe." These include cheeses like Muenster or Jack and those called "soft-ripening" like Brie that have a living, blooming mold rind, which would be suffocated if wrapped tightly in plastic. Materials like parchment, waxed or butcher paper are recommended.
* Harder cheeses like Parmesan, Cheddar, Swiss—which got that way because they have less moisture—can also be wrapped in breathable materials. If, however, they are as dry as you like them, then plastic wrap is recommended to prevent further drying. Remember that plastic can impart a bit of a flavor so rewrap in fresh plastic every couple of days. Another technique is to wrap hard, aged cheeses in damp clean cheese cloth, or paper towel, and then in foil. I've had excellent success with this method.
* Soft or fresh cheeses like ricotta, crème fraiche, fromage blanc, fresh goat cheeses and those packed in water like mozzarella or feta should be packed in a sealed plastic or preferably glass container.
* Don't freeze cheese. The result will be very disappointing.