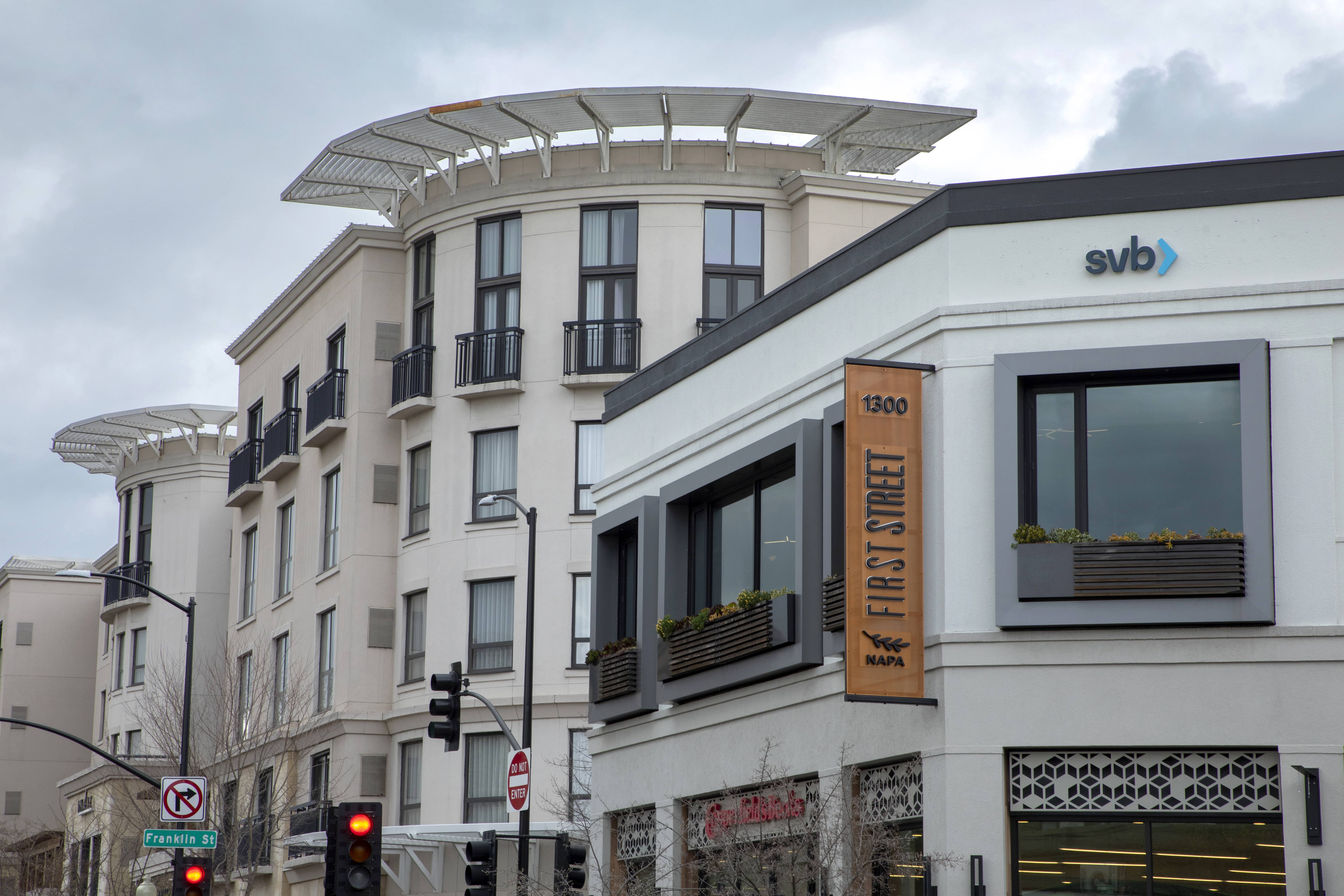 "How did you go broke?" he asked. "Two ways" Mike said. "Gradually, then suddenly."
—The Sun Also Rises by Ernest Hemingway
The weather broke clear and cold in Napa that Friday but by midmorning it felt like it was pouring rain to those in the wine business. TV newscasts were leading with clips of Silicon Valley Bank in Santa Clara, a crowd milling around outside the doors as the voiceover described how the FDIC arrived before the sun came up to lock the doors.
The feds moved quickly seizing SVB March 10, shuttering the 16th biggest bank in the country with $209 billion in assets and $175 billion in deposits and 8,000 employees. It was rebranded National Bank of Santa Clara and staff meetings were held so the bank could go on the auction block over the weekend.
There were no takers at that auction as rumors swirled about how the bank went belly up. The next auction also failed to produce a buyer, and the FDIC opened up the pool to other investors to examine the bank's books.
It wasn't until late Sunday, March 26 that First Citizens Bancorp (FCNCA) agreed to purchase most of SVB, including its wine division at a discount price. The wine platform has been the dominant lender in Napa and Sonoma for three decades, so the bank shutdown caused consternation in the wine country.
This tale really began March 8 when SVB announced it was looking to sell $2.25 billion in stock and institutional investor General Atlantic had agreed to a $500 million purchase. It had already sold $21 billion in assets consisting of government bonds and mortgage-backed securities at a $1.8 billion loss. Shares in SVB closed that day at $264. After the First Citizens acquisition, the share price plummeted to 40 cents, a 99.8% decrease.
SVB's failure is really a tale of three valleys. The bank's balance sheet woes were a badly kept secret in Silicon Valley's venture capital community where a digital version of the old telephone game had broken out that Wednesday morning. Venture funds like Peter Thiel's Founders Fund, Union Square Ventures and Coatue Management advised clients via email that the bank was in trouble and to pull their funds out, jump starting a furious run on the bank that would kill it graveyard dead in just two days. SVB watched in horror as $42 billion in deposits left on March 9.
In many cases, the tech companies making the withdrawals were the same companies that had received start-up loans and bridge funding from SVB. And many of the venture-capital advisers advising the companies to jump ship were Silicon Valley Bank clients as well.
An old cop source of mine used to say, "You want to see how people are for real, grab them by the wallet." I cover financial markets on a daily basis and heart and compassion are in short supply on the floor of the New York Stock Exchange, Wall Street is cutthroat. But in March eating your young became a bloodsport in Santa Clara.
Just 87 miles away from the bank, those in the wine business awoke that Friday in Napa and Sonoma to fundamental questions. If SVB was being sold, who would assume the bank's services, loans and credit facilities? Would the terms of the loans change? Would wineries have access to other accounts? Would the buyer of the bank truly understand the wine business?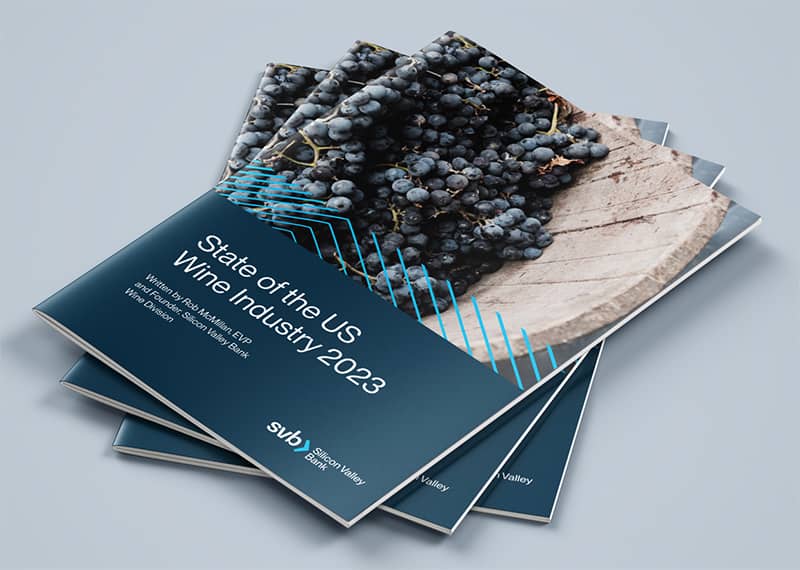 The bank has more than 400 customers in Napa, Sonoma, Central Valley, the Sierra foothills, the central coast, and even Oregon. It's wine-loan portfolio stood at $1 billion and change as of the end of 2022. Each year, the bank published a guide to the wine business under the guidance of Executive VP Rob McMillan, founder of the bank's wine division. "The State of the U.S. Wine Industry" was more than a document produced by a sector player. It's widely regarded as a must-read for those in the business, with its data and observations held in high respect.
How high? In the days following the closure of SVB, McMillan wrote on his own blog that several
organizations had come forward to inquire about how the publication could move forward independent of the bank failure. The publication costs more than $100,000 to produce each year.
SVB not only knew the industry, it knew the people. At times, bank employees volunteered to help wineries during harvest. The lender looked at its wine clients as more than businesses with balance sheets, often acting as advisors and helping out with networking. While some banks strive for relationships that keep clients a safe distance away, SVB fostered relationships more related to partnerships. The wine division has 35 employees.
An open letter by Adam Lee of Clarice Wine Company tells of a years-long business relationship between Lee's various wineries (Siduri, Beau Marchais Winery) and the bank. "But for me, Silicon Valley Bank was and will always be what a bank should be. They were my partner and they helped me grow and become all that I could be. That's what I wanted and needed out of a bank. I know that I wouldn't be where I am without what their employees did. And for that I will always be grateful."
But even as Lee was defending the bank, other SVB clients looked on in silence. At least a dozen wineries contacted by NorthBay biz decided silence is golden as they chose not to respond to the magazine's request for comment.
Crimson Wine Group in Napa took the unusual step of issuing a statement that it has "no relationship" with SVB.
Banking on grapes
For a bank, the wine business is not an easy industry to navigate. It's part agriculture, part real estate, part marketing and distribution and part luck. Understanding how long it takes a winery to move from planting a plot of land to being able to harvest those grapes, produce wine and finally bring the wine to market is not in every lender's wheelhouse.
And the business can be capital intensive with a wine operation needing cash for everything from harvest to paying for a custom crush operation to buying barrels and new equipment purchases.
For those in the banking industry, SVB's failure and the FDIC rapid moves indicated two things. The first was the feds were anxious to demonstrate the bank failure was a one off, which of course it wasn't. And secondly, SVB's bad fortune was an opportunity for other banks.
Local wineries began getting calls from SVB rivals anxious to help the failed bank's clients find a new home for their deposits and banking business.
McMillan said on his blog that he didn't blame banking rivals for making a move on SVB clients, but he also said the bank had only lost one client that he knew about.
Who are the rivals? Mechanics Bank has a wine program to go with offices in Sonoma, Napa and Lodi. Exchange Bank does vineyard, winery and agriculture loans out of numerous wine country offices. Bank of Marin has a wine platform that includes winery construction loans, credit lines and receivables and inventory financing. San Francisco-based First Republic has a wine program as well, but it has been hammered ever since SVB took on water as its stock price has moved like a roller coaster in the midst of concerns over the stability of small banks.
None of those local banks responded to NorthBay biz requests for interviews.
Those are local banks, but there are also national banks that do some wine business. Live Oak Bank out of Wilmington, North Carolina has a wine and craft beer platform. Minnesota-based Union Bank is also a winery banker. Even J.P. Morgan & Co. and Citibank can claim wine clients.
But the national players don't hold much influence when it comes to North Bay wineries, for much the same reason that SVB dominated technology banking. Silicon Valley Bank made a point of understanding technology and the needs of tech companies. For years, the gripe coming out of Silicon Valley was Wall Street didn't get technology, which was why Sand Hill Road in Menlo Park became the venture capital headquarters of the world. SVB was a kindred spirit for both tech companies and VC investors. In fact, SVB became the dominant bank in the venture capital world, claiming many VC firms as clients. It's been said that SVB has at one point or another serviced 80% of the Valley's startups.
Founded by Bill Biggerstaff and Robert Medearis in 1983 while playing poker, from the start the bank targeted tech companies and the VC firms that held their stock.
At the time, mainstream banks avoided tech because the companies were young and banks perceived
them as presenting too much risk. But SVB decided this was the sector it would focus on and the bank embraced technology. In turn, the companies felt SVB believed in what they were trying to accomplish and didn't balk at the bank insisting on handling all their banking needs. SVB tech bankers became specialists in specific areas, in part to better understand the risks.
McMillan and his staff essentially used the same playbook for the wine business that the bank had used to capture technology companies. SVB learned the wine business from the terroir up and moved into a niche that traditional banks were happy to ignore.
And McMillan was fully aware of just how much business there is in wine. Napa boasts more than 450 wineries, Sonoma more than 425. California has over 4,000 wineries and generated more than $88 billion in 2022.
In an email to NorthBay biz, McMillan talked about how the SVB wine division was faring even as the FDIC tried to find a buyer for the failed bank. "Believe it or not, after two hard weeks working through weekends, I'm taking the afternoon off to play golf. There is information that's public that says the FDIC postponed the final bids for purchase of the entity out to this evening [March 24]. They said there were multiple bids. It's hard to know if we have a buyer this weekend or not, but it should be soon—days. The wine group is fully intact. The employees are all still here. When we are sold, then we move to what's next."
On his blog, McMillan first wrote that seven parties had come forward to acquire the wine division, and that three of them were banks. Later the numbers grew to two dozen interested parties. "A quick update from Ground Zero. The most difficult thing is waiting to hear who our next owner will be. In the meantime, we're still working and have even added new clients most every day. There are at least six banks who seem very serious. I know the Wine Division is being bid upon to buy us as a standalone, but we have to wait to see if we're part of a sale that includes other parts of the bank. I just want to get back to having an owner that supports what we do."
The wine division has performed well, so it's not a surprise there were a number of suitors. Since the wine division has been in business, it has lent about $4 billion and, according to McMillan, has suffered just $4 million in losses. While the wine portfolio has historically performed well, it still only represents a little over 1% of the bank's total loan book.
In a March 27 email, McMillan confirmed the wine division had been included in the First Citizen acquisition.
The backstory
While the wine business has been good to SVB, it represents just a fraction of the commerce that keeps the bank going. Technology is the coin of the realm and has enabled SVB to grow ahead of many of its rivals. And that same growth is in part what got SVB into trouble. The bank's deposits grew quickly as their tech clients were putting most of their money into the bank. In 2019, SVB had $62 billion in deposits. In 2021, that number jumped to $189 billion.
SVB was struggling to find a place to turn the deposits around that was low risk but still paid something. In a low-interest-rate environment, the bank placed many of its deposit assets into longer-term government securities that were paying less than 2%, but were safe.
The trouble is that interest rates began to climb as the Fed looked to tame inflation, interest rates growing to double what SVB investments were paying out. For the better part of a year, SVB had functioned without a chief risk officer, the person that would have looked at both sides of the bank's ledger and seen the growing gap between the value of the bank's assets and interest structure of the market.
You don't have to tell SVB that timing is everything. As capital in the markets began drying up, demand for technology began to slow as well. Some SVB clients began using their own cash deposits to pay for operations, draining SVB deposit levels in the process.
But SVB didn't make a move on its investments, even as they lost value to higher interest rate
instruments. On March 8, Goldman Sachs & Co. bought the bonds from SVB for $21.4 billion, a $1.8 billion hit for SVB. That loss paired with banking clients pulling deposits spelled the end for SVB.
Put differently, when Tamalpais Bank in Marin failed in 2010, it was because the bank had made risky real-estate loans that suffered when the market tumbled in the financial crisis. But the FDIC has given no indication that SVB's loan portfolio had issues. Rather, it was interest-rate risk that spelled its end.
There's another thing that separated the Tamalpais failure from SVB. While Tamalpais customers
accounts were only guaranteed to $250,000, the FDIC guaranteed SVB accounts regardless of their
balance. The decision by the regulator was cheered by depositors, but questioned by banking observers. It was the first time the FDIC guaranteed all accounts in a bank failure.
The future
Silicon Valley Bank's parent company, SVB Financial, has seen some changes. It filed for bankruptcy protection in March, and both its CEO and CFO have resigned.
Another change has seen the company hire turnaround specialist Alvarez & Marsal to guide it through a restructuring. It's a package deal as Nicholas Grossi of Alvarez comes along as interim CFO, essentially running the company.
First Citizens now owns SVB's wine division and will be responsible for its operating policies and actions. Raleigh, North Carolina-based First Citizens was the 30th largest bank in the country at the end of 2022. It acquired $56 billion in deposits and $72 billion in loans, getting a $16.5 billion discount in the bargain.The bank also gets SVB's 17 branches and its personnel.
The FDIC retains $90 billion of SVB assets. The banking regulator has made a line of credit available to First Citizens and the bank is not assuming any of SVB debt. Additionally, the FDIC and First Citizens have agreed to a five-year loss share agreement, at least partially shielding the North Carolina-based bank form SVB-related losses.
As a part of the transaction, the FDIC acquires shares in First Citizens worth $500 million.
The bank has a strong record of growth via acquisition, with SVB being its 51 st acquisition since 1971. It has more than 500 branches with the majority of the bank's operations in the Carolinas. And while the bank's holding company has many platforms and programs, it doesn't have a wine platform other than SVB's.
It also has a comfort level with failed banks, having acquired more than 20 of them since 2008.
First Citizens didn't respond to phone calls or email asking for more information on how the wine platform will move forward or what wine clients should expect.
Rolling forward, however, it seems that McMillan and the wine platform will be calling their own shots and going by the same handle, SVB Wine Division. On his wine blog March 30, McMillan wrote, "First Citizens Bank has given us a mandate. 'Keep doing what you always do. You are the experts. Not us.' They want us to run the business in the manner we always have."
He also thinks the Annual State of the Industry report will continue to publish and the wine division will add quarterly reports and benchmarks. He also noted the wine division had actually added clients since the bank failure, and that the division might be in better shape since before the guys in the FDIC windbreakers showed up.
That would be the right thing to say if you wanted to maintain confidence in the division and its new owner. Better than ever. Like brand new. Same as it ever was.
For now, McMillan is saying the wine program might benefit from its recent cellaring. "At this point I'm starting to believe the SVB Wine Division will be in a better spot than where we were before the FDIC stepped in."