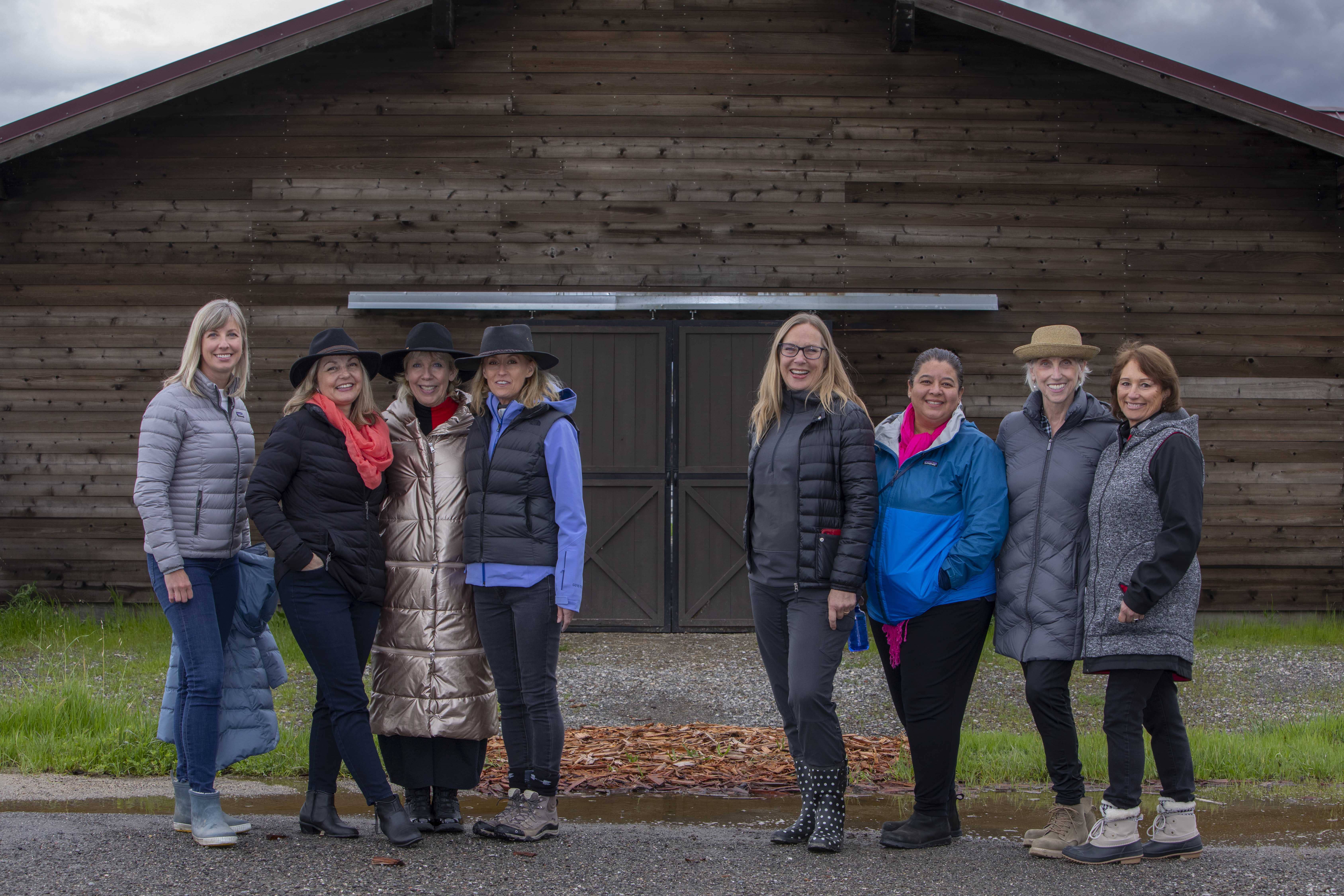 Karen Kilian has a passion for helping other women. The former owner of a clothing store in Corte Madera and now a group travel advisor for women over 50, she's the founder of two networking groups, Marin Women at Work and Sonoma Women at Work, which give members a chance to share ideas, learn new skills and empower each other in their individual quests for business and personal success.
"I've always been a person who wants to help the little guy," says Kilian, and she founded Marin Women at Work in the belief that an all-female networking group would be a constructive way to support local businesswomen in their endeavors and provide a space where they would feel comfortable sharing their experiences. In addition, members would be able to get referrals from trusted sources for services to meet their needs, whether it was finding a plumber, roofer or divorce lawyer. She launched the fledgling organization in 2015 and enlisted some of the first members by taking part in trade shows at the Mill Valley Community Center, where she met women who wanted to support other women. "That's the key to this group. It really grew organically through ourmembers," she says, explaining that she began by holding meetings and asking the participants to invite other women who would enjoy the interaction and might find a
networking group helpful.
Sonoma Women at Work is based on the same model and began during the COVID-19 shutdown as a way to help businesswomen connect and discuss ways to get through the pandemic. In addition, it was a chance for them to develop strategies for building their businesses during a challenging time and plan for the future. Both groups are open to women in big business, small business and solopreneurial enterprises, who like the idea of a personal approach to business. "We share our stories and support each other in business. If somebody is having a bad time, they know they'll have 25 women to give them a hug," says Kilian, explaining that women business owners have a variety of challenges, from financial hardship while building a business to keeping up with constant changes in technology. "The struggles are real for small business owners, but
that is not based on being a woman," she says. The approaches women take to dealing with the issues, however, are different.
Lending a hand
Melissa Prandi, president and CEO of Prandi Property Management, Inc., in San Rafael and president of the Women Leadership Philanthropy Council at Dominican University—which is a women's networking and mentoring group that offers a speakers series in partnership with Elaine Petrocelli's Book Passage—was one of MWAW's first members. She's known Kilian for more than 40 years and says, "We've always been friends and supported each other." She observes that women are still working to attain equality, and it takes a group of like-minded women to empower and lift each other up. Unlike mixed networking groups, which tend to focus on sales pitches and
achievements, MWAW's meetings are a place for women to talk about their experiences—both positive and negative—and learn from them. Prandi points out that women have unique challenges, and as members tell their stories, they often discover they have common experiences. It could be a personal situation, a philanthropic effort or a career challenge, but whatever it is, "I like to be able to share stories to help people get through it. … I love to give back, and women seem to be very nurturing by their nature," she says. As a survivor of domestic violence, she's been able to tell her own story about how she got through a tough time. "You need to be comfortable and feel safe to do that, "she says, and while the memories might be difficult to relive, her fellow
members are supportive and nonjudgmental. "Marin Women at Work to me is a gentle
group," she says. "Everyone's welcoming, and Karen's very warm and caring." She adds that Kilian is skilled at coming up with ideas to stimulate brainstorming and always has ways to keep members engaged, even on the spur of the moment. Sometimes she'll say, "Let's go," and they'll head out on a hike spontaneously. Planned outings, such games of bocce at the Margaret Todd Senior Center in Novato and a visit to Charlie's Acres farm animal sanctuary in Sonoma, also give them a chance to have fun, often while supporting a worthy cause. "It's the leader that makes it," says Prandi, adding that Kilian went on to create Sonoma Women at Work, because she recognized the need.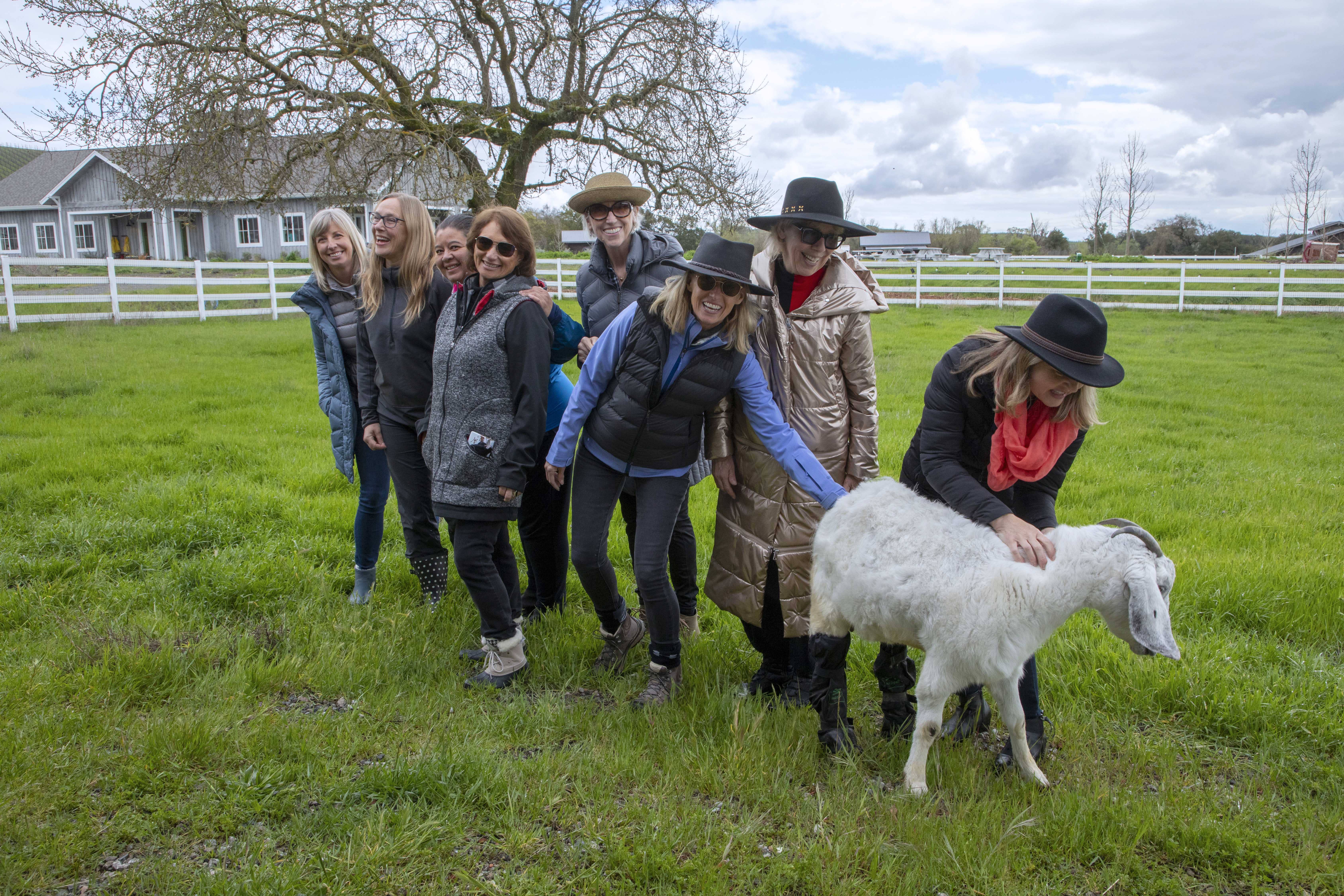 One-one experiences are as important as group activities. "When you go, and 30 women are there, you don't get to know them all," says Prandi, and so her advice to newcomers is to choose two or three individuals and invite them to personal meetings. As a successful businesswoman, she finds mentoring other women rewarding. Her role model was her late stepmother, Jeanette Prandi, Marin County's first female police sergeant. As the elder woman took exams and attempted to work her way up the law-enforcement ladder, her male superiors kept failing her, even though she did well. "She never gave up, even though she was in a man's world. That's empowerment to me," she says. She believes in giving back and helping women to find that their own power, and she loves to offer ideas. If someone reaches out and wants her advice, she's happy to give it. "I never say no," she says. She'll arrange a date for a conversation over coffee or tea and enjoys letting other women pick her brain. She observes that not all attempts to connect become successful relationships, but "It's OK if you don't connect with someone," she says. "Find people you resonate with and encourage them," she adds, and she cautions that it's wise to avoid negativity as well.
Someone to lean on
Letitia Hanke, owner of ARS Roofing & Gutters in Santa Rosa, was one of MWAW's first members, and she's now a member of SWAW as well. She first encountered Kilian at one of the trade shows in Mill Valley, shortly after Kilian launched the group and got it up and running. "I met a bunch of the women, and I immediately just knew that I wanted to be part of the group," she says. She had two reasons for joining. First, the group didn't have any other contractors, so she could contribute another perspective, and second, as a Black female, she was able to add diversity. Being able to network with women who are business owners and can understand what females go through, regardless of industry, was appealing to her as well. "That has been my favorite part," she says, explaining that she enjoys the conversations and being able to relate to other women. She also appreciates the referrals that allow her to find the businesses she needs. "I
found an appliance service. I found an acupuncturist," she says. "People tend to call me for referrals or connections, and I've been able to refer them to many women in that group." When she opened her roofing business in 2004, she didn't have a network of women to talk to. "It was really hard," she says, because men dominated every function. When she finally did have the opportunity to join a women's networking group, she didn't hesitate. She was grateful and has found the experience invaluable.
Although Hanke is a member of both groups, they are working jointly for now. SWAW had just begun when COVID-19 struck, forcing members to meet remotely using Zoom. However, she says, "I commend Karen for keeping it going through COVID. She kept finding ways to make it fun, and we still had each other," she says, adding that walks outdoors allowed the women to connect in person, when they weren't comfortable in indoor spaces. "We needed that connection. We needed to have people to lean on."
Connections
Brittany Keyes, a State Farm Insurance agent in San Rafael, learned about MWAW through word of mouth and joined after Prandi, with whom she was working on a volunteer committee, recommended she try it. She wanted to cultivate relationships and be part of a group of women who support each other, and she went to one meeting, liked what she found and continued going. She discovered that members found unique ways to support each other. "Karen kept it fresh every month," she adds, and somehow the word kept spreading, resulting in new faces at monthly events.
Keyes made the transition from the mortgage business to the insurance industry after being a member for several years, when Kilian has recently created a Morning Mastermind group. Meetings were in a convenient location, so she joined for several months during the State Farm internship leading to her new position as an insurance agent. The purpose of the committee is for members to share ideas, address problems
and discuss best practices and tools for business that others might not be aware of so they can share them with the larger group. The use of QR codes and Linktree, which allows users to share multiple web links on social media, were among the recent topics for discussion. The group met every couple of months, and other members acted as mentors and gave her advice on developing a business plan. "It was great to get encouragement," she says. She belongs to other groups that offer networking, such as the San Rafael Chamber of Commerce and Marin Builders Association, but being part of a group specifically for women in business offers something different. "I think there's a lot more collaboration," she says, observing that women seem to be more in tune and focused if someone is talking about a new project or making a pitch. "Being a woman business owner can be hard," she says. "Having like-minded business owners surround you and being intentional about supporting each other is uplifting. It helps you with another perspective."
She enjoys the relationships and collaboration that MWAW provides, but "You still must do your one-to-ones," she says. She finds it helpful to connect directly with other women, like in the insurance industry, so they can share ideas. However, she says, "When you're in the group meetings, then it's more like the icing on the cake."
Victoria Cota, a Farmers Insurance Agent in Sebastopol, was an early member of SWAW, and she found the group online. "I had just started my business and was looking for a women's networking group, and I found Karen's website and joined immediately," she says. The diversity of businesses that members represent attracted her, and she stays because of the friendships she's developed and the business ideas that women share. "It's a fun group of women with the spirit of entrepreneurship and helping each other succeed and then celebrating the successes," she says.
Friendship
Kilian calls the networks "the girlfriends approach to building businesses," and in true girlfriend style, the support often goes beyond the women's working lives and business referrals, as members make new friends. She's gone to showers, attended the speakers series at Dominican University and seen the shows of members who are performers. Hanke, for instance, is a drummer, and when her band competed in the Battle of the Bands, which they won, Kilian was in the audience. "That meant a lot to me. Karen supports all of us," she says. Friendship and the desire to understand another perspective led to an unexpected partnership as well, when Hanke, who has experienced racist incidents in business, and Kilian teamed up to make a podcast to
discuss racial issues, called "A Karen and a Black businesswoman"
(youtube.com/watch?v=BUFywLhZfCk). The experience was an eye opener for Kilian. "I thought we were more aware," she says.
The connections members make often bring pleasant surprises as well. Prandi recently met a photographer through MWAW and was pleased when the woman attended her birthday party and offered to take pictures. Now Prandi has a job for her. "I'm so excited to be able to hire her," she says, adding that she likes to do business with her connections, and as a member of the Rotary Club of Mission San Rafael, she gives business to other Rotarians too.
Making the most of it
Women's networking groups offer many advantages, but members need to take advantage of all opportunities available to get the maximum benefit. Hanke's advice to women who are either new or considering joining is to go all in. "Join the committees. Go to all the networking events you can. There's always a nugget," she says, explaining that she frequently meets interesting people and learns new things. "I have made some really great friends. Take the time to get to know people, and you'll be successful in business and make good friends with some really great folks," she says.
For women who are getting started in business and might be fearful, "The truth is, it's one step in front of another," says Kilian. "Whether you're big business or small, you're welcome to join our group. If you want advice from other women, there's plenty of information in our group," she says, adding that guests are welcome to attend and find what a meeting is like with no obligation.
Kilian no longer does trade shows, focusing instead on luncheons and Zoom meetings. Members of MWAW and SWAW currently meet as one group for lunch once a month in San Rafael, and she brings in food from outside. As a Sonoma resident, she finds the location at a church in Terra Linda convenient for women from both counties. Happy Hour socials on Zoom are also joint meetings and, in addition, in-person Happy Hour socials take place periodically and offer members a chance to give a 30-second introduction, hand out their business cards and connect with other businesswomen.
MWAW has now been active for more than seven years, and "It's exactly what I wanted," says Kilian. She envisions MWAW and SWAW growing to reach even more women, and she looks forward to finding more ways for them to connect and learn from each other. "The more members you have, the more referrals you can make and the more businesses we have to support," At its heart, though, isn't size, it's relationships and the satisfaction they bring. "Everyone's friendly; everyone's supported," she says. "I love it."