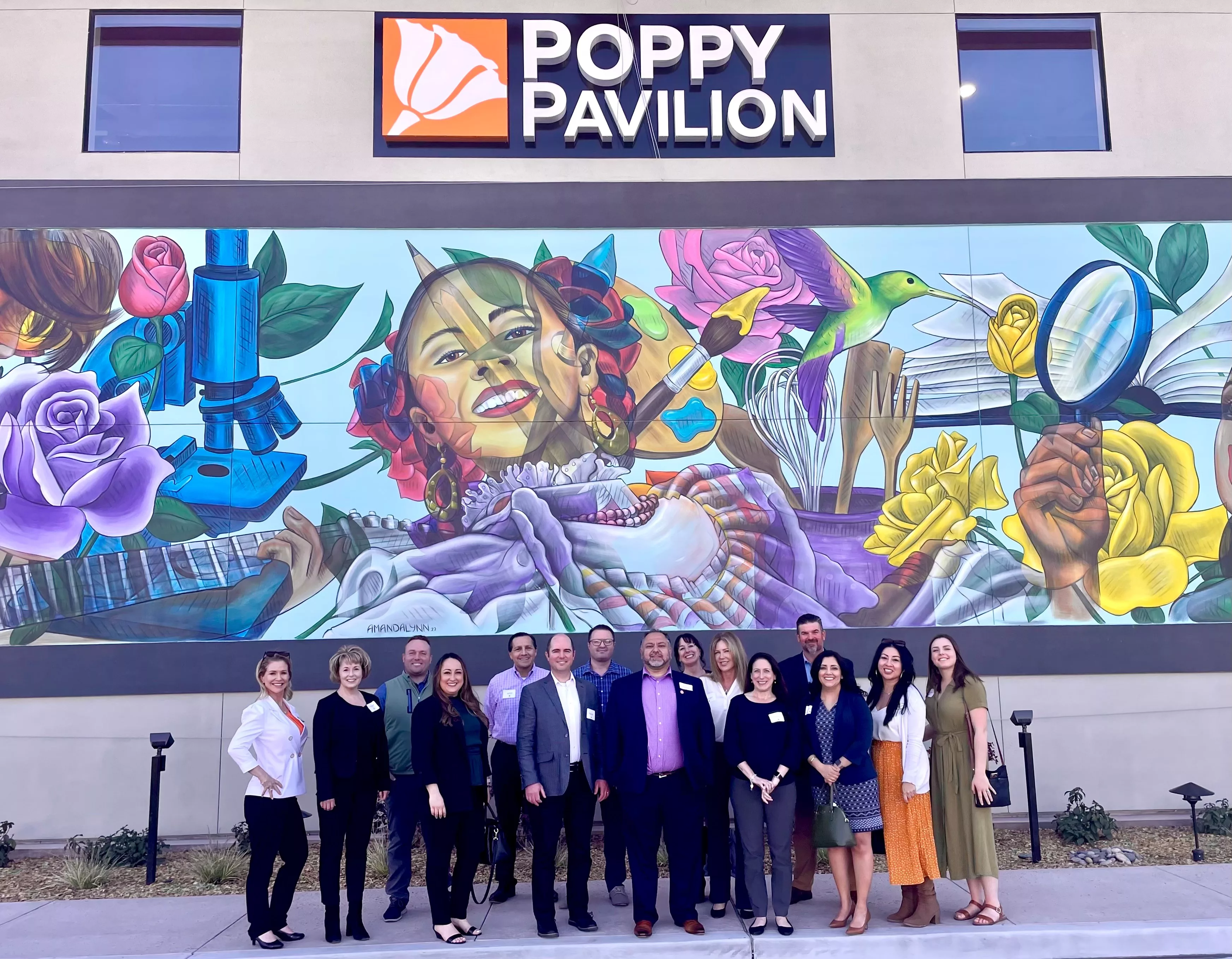 President and CEO, Khalid Acheckzai pictured with several Poppy Bank board and team members in front of the new Poppy Pavillion at the Boys & Girls Clubs Sonoma-Marin Roseland facility.
Like the radiant wildflowers that blanket the North Bay, Poppy Bank is in the midst of a superbloom.
The bank has grown exponentially since its establishment in 2005, and they have no plans of slowing down—another 10 branches are slated to open this year, totaling 31 throughout California.
President and CEO Khalid Acheckzai has been leading the company since 2015 after serving as Poppy's chief financial officer and chief operating officer. Under his leadership, the bank has expanded to include branches covering the San Francisco Bay Area, Sacramento area and Southern California. The bank has sponsored numerous local projects like the construction of the Roseland Boys & Girls Clubs and providing financing to the Poppy Bank Epicenter.
Luckily for Acheckzai, the hard work is enjoyable. "For me, it's fun," he says. "It may sound cliché, but I don't even think of this as a job—it's been great."
Poppy Bank has established itself as a trusted financial partner for businesses of all sizes and structures, specializing in services like treasury management, commercial real estate and construction loans. Whether it's a small business that needs a line of credit or a larger corporation that requires complex cash-management solutions, the bank has the expertise and resources to provide the necessary financial support.
This support was crucial for local businesses and their employees during the pandemic. Poppy Bank launched its Paycheck Protection Program to help businesses manage employee benefits, rent, worker protection costs and more, and the program was open to all—whether or not they were an existing client.
This year has been challenging for the banking industry. While three major banks have failed—two of them headquartered in California—Poppy Bank assures its clients that it will not meet a similar fate. "Poppy Bank is a very strong financial institution with strong capital, liquidity and risk-management practices," says Acheckzai. He reminds clients that the bank is consistently recognized as one of the top financial institutions in the country by a five-star rating from Bauer Financial LLC, and that Poppy Bank's conservative approach to handling clients' money will keep it protected.
For the second consecutive year, Poppy Bank has been awarded the title of Best Business Bank in the North Bay due to its dedicated service to the North Bay and beyond. "Our growth is positive for everyone—our employees, shareholders and the community," says Acheckzai. "Whenever the community needs financing or support from a bank, we are the ones that they think of."