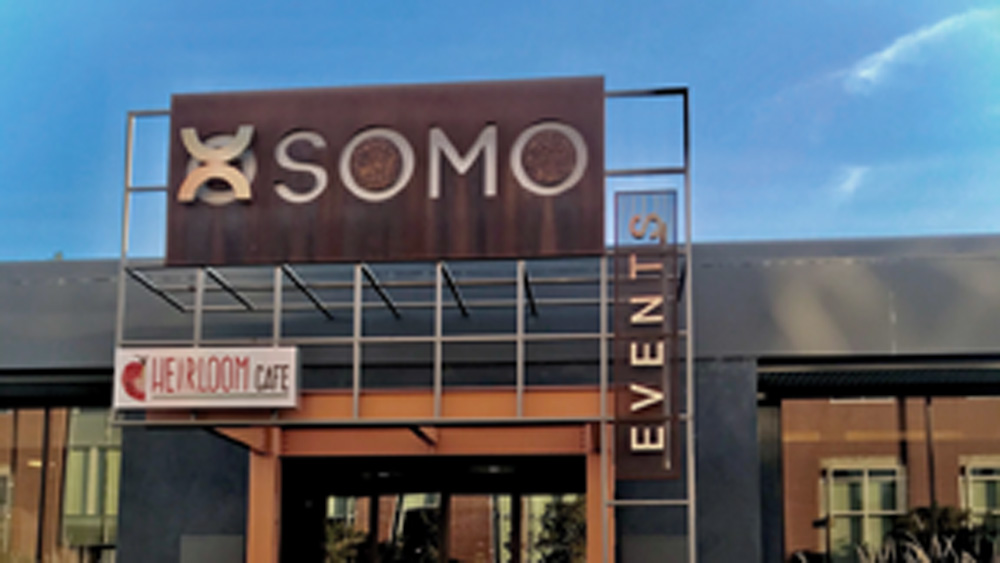 An heirloom is not your ordinary tomato. I love them for their idiosyncratic qualities—the colors, textures and sizes. As for flavor, an heirloom has that potential for greatness. So when the restaurant in Rohnert Park, formerly known as Sally Tomatoes, was renamed Heirloom Café, I admit I was intrigued. Last year, founders Gerard Giudice and Bill Pettibone decided to reinvent the dining experience there and changed the name of their restaurant in the process. "An heirloom is a more elevated rustic variety," says Giudice. "It gave us the creative license to propose a new type of menu."
Giudici and Pettibone have been cooking and catering together for 25 years. Giudici is a classically-trained chef and worked with celebrity chef Guy Fiere, as general manager at Johnny Garlic's in Santa Rosa for three years. Pettibone is a businessman, but working in restaurants put him through school, where he earned a master's degree in finance. They're both driven by similar values—family, community, celebration—and a passion for the business. "It's about love of kitchen, people and shared life experiences," says Giudici.
Located in SOMO Village, Heirloom Café offers fresh, locally-sourced organic foods, and there's something that will appeal to everyone on the menu, which includes gluten-free and vegan options. Though the restaurant was shuttered earlier this year, it's now open for outdoor dining and carryout. After weeks of being sheltered in place, it was a treat to go out and dine al fresco on a beautiful summer evening in the redwood grove behind the restaurant.
Alex and I begin with glasses of Sonoma-Cutrer Chardonnay, which is crisp and aromatic, and several signature starters. The Ahi tuna poke is paired with fried wonton chips and a side of wasabi whipped cream—try the cream on its own first and prepare yourself for an extraordinary taste, then assemble it all together and try it, again. A perfect summertime starter, it's bright, refreshing and won a gold medal at the Sonoma County Harvest Fair in 2003. The deep fried Brussels sprouts, tossed with red peppers and roasted garlic, is a crowd pleaser, and a great item for families to share, if you're hoping to elevate your child's palate. The crisp, honey-jalapeno glazed pork belly tacos are delicious—light and savory, and served with pickled avocado, radish and jalapeno (made in-house) that gives it a fresh note.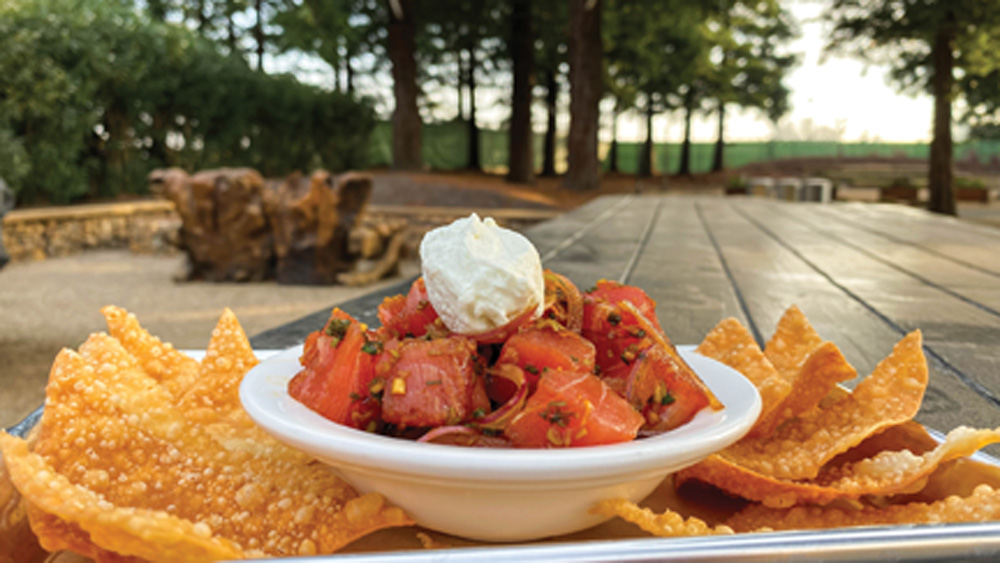 I tend to eat greens every day, and think you can tell a lot about a restaurant when it comes to the salad. Heirloom Café takes salad seriously and offers a variety of options on the menu, and it's clear fresh greens are not an afterthought. I heard about the Suzanne salad before ever stepping inside the door, so I was glad to see it was still on the menu. Made with organic greens, toasted walnuts, Mandarin oranges, cranberries and Point Reyes Blue Cheese, it hits all the right notes—savory and sweet with a crunch. It's no wonder this is their No. 1 catering salad, the invention of his Giudice's wife, Suzanne. If you're looking for gluten-free options, try the roasted beet salad, served with arugula, shaved fennel, Burrata (an Italian cow milk cheese) and pistachios. For those who love prosciutto, be sure to try the Katarina salad with arugula, shaved Parmesan, toasted pine nuts and capers with a lemon-mustard vinaigrette.
For entrees, Alex opted for the #SonomaStrong Schnitzel, a modern take on a classic. This fresh-cut pork chop, served with apple chutney, creamed spinach and crispy smashed potatoes, is a hearty plate of food and 10 percent of the proceeds go towards fire relief foundations. I enjoyed the pan-seared, Cajun spiced salmon, served with seasonal vegetables and a square of compound lemon-herb butter, which was decadent and delicious. And yes, you'll find tomatoes on the menu, either sliced or roasted, as part of a dish. And in season, heirlooms are the star in a classic Italian Caprese salad.
If you're looking to venture out, try Heirloom Café and prepare for greatness. (Picture me, kissing my fingertips and saying "mwah.") It's also open for brunch on Saturdays and offers the classic fare (eggs benedict, biscuits and gravy) and some other cool items—a breakfast bruschetta and pork schnitzel with poached eggs. (And did I mention the bottomless mimosas?)
At Heirloom Café food is art, the attention to detail is extraordinary, and its proprietors have put their heart and soul into this gem of a restaurant.