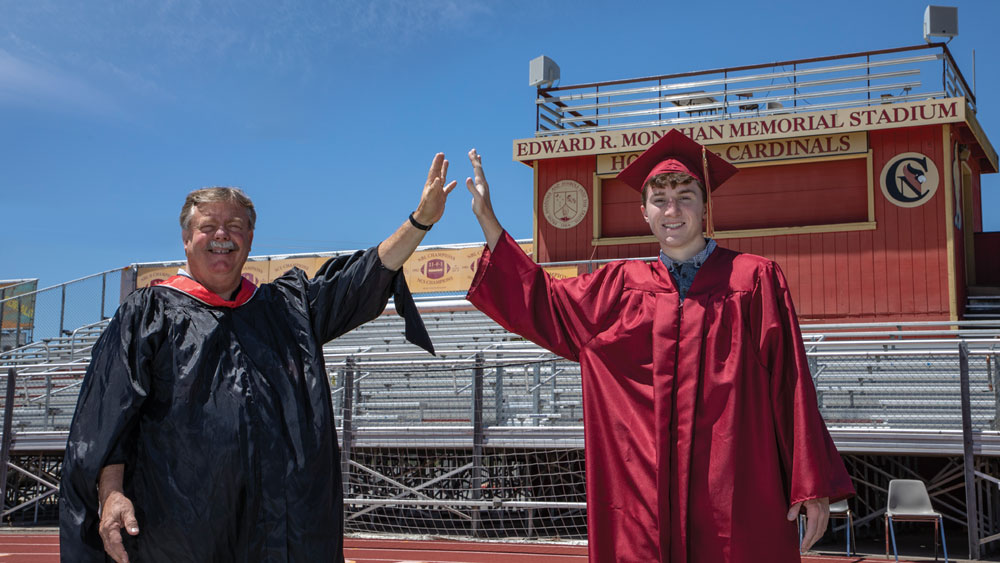 The last few weeks of high school are special for graduating seniors, as they prepare to step into adulthood. Traditionally, they're in the spotlight at events honoring them for their accomplishments, and they have one last chance to celebrate with friends before they head off in different directions in the post-high school world. For the North Bay's Class of 2020, though, nothing turned out as expected.
Instead of the usual whirlwind of events and celebrations to close their final semester, students spent much of their time without personal interactions and activities, as a tiny virus invisible to the human eye erased the usual rites of passage. They didn't get to say proper goodbyes when they left their classrooms for the last time, missing out on the hugs, tears and expressions of gratitude that make such farewells meaningful and give students a sense of completion. "It was a disappointment. We didn't even know what we were missing," says Creighton Anderson Soria, a 2020 graduate at Cardinal Newman High School in Santa Rosa.
Accountability 
The arrival of COVID-19, which led to the closure of local schools in mid-March, was the last in a series of disruptive events that Anderson Soria and his classmates endured during their high-school years. In October 2017, the Tubbs fire roared through the campus, destroying 20 classrooms, the library and administrative offices. Teachers and students relocated to four satellite campuses following the blaze, and when they returned, it was to a site with portable classrooms and a radically changed campus. Early in October 2019, classes were disrupted again with PG&E's Public Safety Power Shutoff, and just weeks later, the effects of the Kincade fire closed the school once more.
Despite the setbacks, by the time 2020 arrived, school life was proceeding normally, and seniors were entering the home stretch. They had completed college applications and were waiting to hear back from the universities where they'd applied. "Right before corona hit, our soccer season was ending," says Anderson Soria, who served as senior team captain. The Cardinals' soccer team played in the North Coast Section semifinals, and though the team didn't make it to the finals, they completed the season. Then the shelter-in-place order designed to mitigate the spread of COVID-19 went into effect, forcing the campus to close yet again. "We were getting news of one event and then another," Anderson Soria recalls, and then finally, they received the announcement that on-campus classes and activities were suspended for the rest of the academic year. Interactions that make in-class learning special disappeared, as did long-awaited events that traditionally lead to graduation.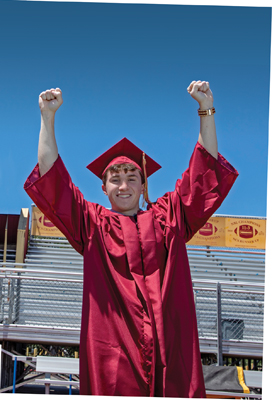 The first step in dealing with the interruption was making a transition to distance learning that allowed students to maintain academic standards. The last quarter of the school year is important because seniors must complete certain requirements. "They can't blow it, or they'll lose their [college] admission," explains Graham Rutherford, dean of student life and AP history teacher at Cardinal Newman. On March 13, the faculty met to plan for the coming shutdown, and maintaining contact with students was a priority. Students had to check in every day and attend regular classes online. The goal was to give them a degree of normalcy, and it was business as usual when it came to attendance and expectations. Students were accountable for their own learning and had to figure out new strategies, but with the support of their teachers and families, they were up to the challenge. "The kids have done extremely well," says Rutherford, who reports that they maintained their grades in spite of the challenges, and attendance increased. He credits both students and teachers. "It's not nearly as nice as being in class, but educationally, it's been really well run," he says. While everyone had to work harder, both students and faculty made the best of a difficult situation.
Anderson Soria found distance learning agreeable and was relatively pleased with the way teachers adjusted lesson plans. He missed the engagement that takes place when students and teachers are physically in a classroom, however. "I'm a talkative student, so I definitely miss the energy in the room." The loss of other activities, such as senior prank day, prom and the last Friday, when seniors leave with the knowledge they're never going back, also were disappointments.
"The big thing is the lost opportunities," says Rich Herrmann, dean of curriculum and instruction and co-teacher of AP history with Rutherford. "For seniors, this is a time of social celebrations, and many of them, the way they would expect them to be is gone." In addition, high school was the last opportunity for some students to play team sports. "They may never play again," he says. "It's hard to wrap your mind around that. It's just over and hard to process fully."
Challenges
As a large, public secondary school, Santa Rosa High School has a diverse student population, and that created additional challenges. Its senior class also experienced the disruption of fires and power outages, and then students and teachers were unable to return to classes after spring break this year as a result of COVID-19. Teachers reconfigured their lessons for a new format, but making the transition to online classes didn't work for everyone. "We're not a school that has one-to-one devices," explains principal Kimberly Johnson-Clissold. The school distributed Chromebooks and hotspots to students who needed them so they could complete schoolwork at home but had no control over whether they had reliable internet access. In addition, many students had other demands in their lives, which made prioritizing school difficult. Others were enrolled in programs that weren't suited for virtual learning. Agriculture students, for example, had to forgo the work they usually did in the school barn.
Nevertheless, Johnson-Clissold had a strong sense that students would carry on, and the school was there to support them. Teachers transferred the lion's share of the curriculum into a new format, and virtual offices hours allowed students and parents to ask questions. "That was something that we tried to put into place quickly once we knew we weren't coming back," says Johnson-Clissold. She points out that curriculum is just one way to learn, and, viewing the situation philosophically, she suspects that while students didn't have the usual exposure to the prescribed learning plan, they might have advanced in other ways that weren't immediately evident. Throughout the shutdown, she was able to connect with students, communicating by email and speaking to them on Zoom, and she found those interactions special. She would have preferred to see students on campus, but says they still had a sense of belonging. "Even when we have to practice social distancing, school can still be a touchstone and a place that students can call their own."
Rocio Jimenez was enrolled in a career technical education program at SRHS with hands-on classes in floriculture and agriculture. Usually in the spring, students are making floral arrangements and corsages, but this year the floriculture teacher showed them how to do arrangements on Zoom, posting each lesson on Instagram with step-by-step instructions. "We could do them by ourselves at home with whatever supplies we had," says Jimenez. For agriculture, rather than activities such as planting trees and learning about grapes, she did assignments and small projects. Even with the challenges, Jimenez was ready. "I adjusted pretty well," she says. "It was just very sad not to be in the classroom." She's also a member of Santa Rosa Future Farmers of America and was disappointed to miss her last FFA banquet, which is a highlight of spring.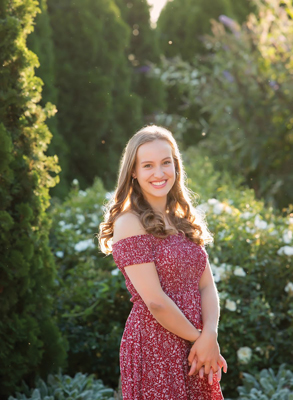 Drama is Ava Domenichelli's passion. "I've always been drawn to theater, and it's what makes me happiest," she says. She's a student in ArtQuest, a magnet program in the visual and performing arts department at SRHS, led by teacher Jereme Anglin. This spring, she was looking forward to a production of Thornton Wilder's The Skin of Our Teeth, a Pulitzer Prize-winning play that shows how one family reacts to several cataclysmic global events. The show was canceled, but in what turned out to be a high point of the semester, Domenichelli went to the Lenaea High School Theatre Festival in Folsom in February, where ArtQuest Advanced Theatre Company students won several awards for their performances. The whole class won a gold medal for an original one-act play, and she won gold individually in musical theater for a performance from Heathers. "Walking across the stage for the final time, holding the plaque was the best thing," she recalls. She stepped inside SRHS's Black Box Theatre for the last time on March 13. After that, students had meetings and drama classes on Zoom, but it wasn't the same as being in a regular class. Sometimes the Wi-Fi connection dropped, and the improvisation that's a key component of drama classes didn't work well remotely. She says, however, that the teachers in all her classes went above and beyond to help students with any issues, whether they were academic or technical, and gave them "super-great" assignments to help them in the real world. "I love every single one of the faculty members," she says.
As ASB president, Will Averbuck was involved in planning school events, and he intended to excel in that department, as well. "I wanted to make it the best year ever," he says. On the last day of school before spring break, students had a feeling it might be their last day on campus. "I couldn't say anything," he says. "I was just speechless when I found out we might be closing for the rest of the school year." Prom and the senior trip were canceled, but students made some special memories nevertheless. One of the best events was a Special Olympics basketball tournament SRHS hosted before the shutdown. Plus, the soccer team won a league pennant, and for the first time in 60 years, so did the football team—though nobody expected them to win. To conclude the regular season, Santa Rosa defeated in-town rival, Piner High School, which carried a 10-0 record into the game. "We won, 31-27," says Averbuck, an offensive tackle. A trip to Puerto Rico with his friends had to be put on hold, and he regrets not being with his fellow students on the football field and walking across the stage at graduation. Most of all, he's missed not seeing the people he was with for four years. However, being a part of SRHS's class of 2020 during a momentous time in history is an experience he'll likely never forget. "Experiencing it with others who are going through the same thing is the best part," he says, noting the multiple disruptions his class faced in its tenure, with wildfires and power shutoffs. "It was only right that we could get through COVID-19 together."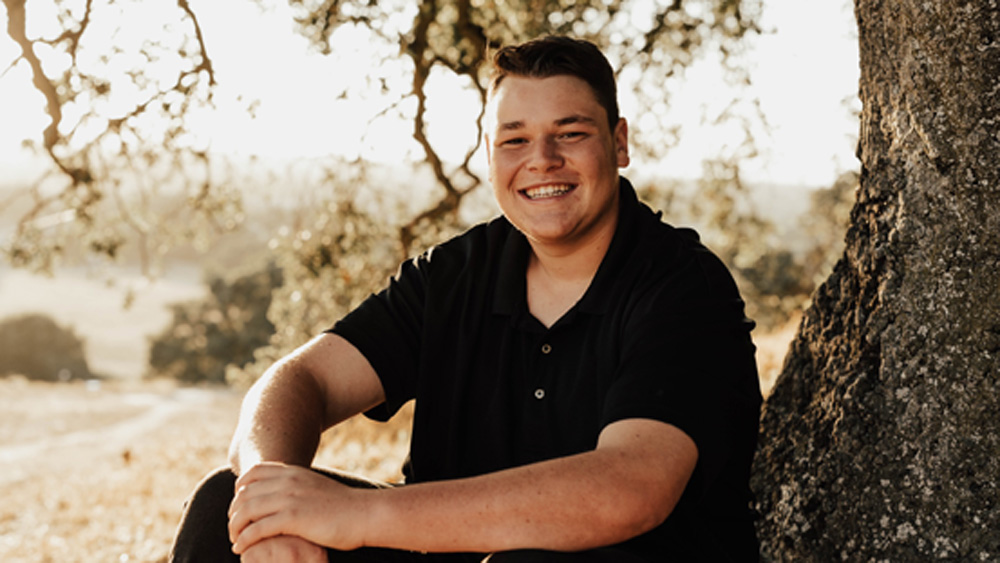 Will Averbuck, ASB President, Santa Rosa High School
Adapting
At The Branson School, a college preparatory school in Ross with just 320 students, the staff realized in January that the novel coronavirus could impact them, so they began preparing early. They started with the basics of using Zoom and other platforms and worked on how to transfer and implement best practices. Marin County announced the shelter-in-place order on March 16, and distance learning was up and running three days later. "We could be nimble, because we're small," says head of school, Christina Mazzola.
"Students can learn anywhere with the right conditions," she adds.
Though it took a new level of commitment, she was confident they could be successful academically. Some of the sense of community that comes from students, faculty and staff working together on campus sharing common values was lost, she says. "[But] all things considered, I'm very content with the way things have gone at Branson."
When the shutdown began, Mazzola was teaching a Shakespeare and social justice class in partnership with Shakespeare at San Quentin, using some of Shakespeare's themes and connecting them to the criminal justice system and incarceration in the United States. Students were scheduled to visit San Quentin State Prison and watch inmates perform a play, but the visit had to be scratched. Still, students had some illuminating experiences. Student body co-president Benjamin Wu reports that some former inmates visited the class before the campus closed and told their stories. As a cellist with the San Francisco Symphony Youth Orchestra, Wu was grateful for the opportunity. Some of the former inmates are talented musicians who expressed their feelings with a touching musical performance. "That will stay with me for the rest of my life," he says.
Students at Branson do a capstone project for their last semester and spend time off campus doing internships. "I was lucky enough to set up an internship that I could do remotely," says Wu, explaining that he did an image analysis project at the San Francisco VA Medical Center, where he had worked for the previous two summers. "I got to set up the reference section for one of the papers I've been working on," he says. However, he was unable to work a second internship at the Smithsonian Environmental Research Center in Tiburon, where he planned to study San Francisco's aging sea wall and assess potential replacement designs.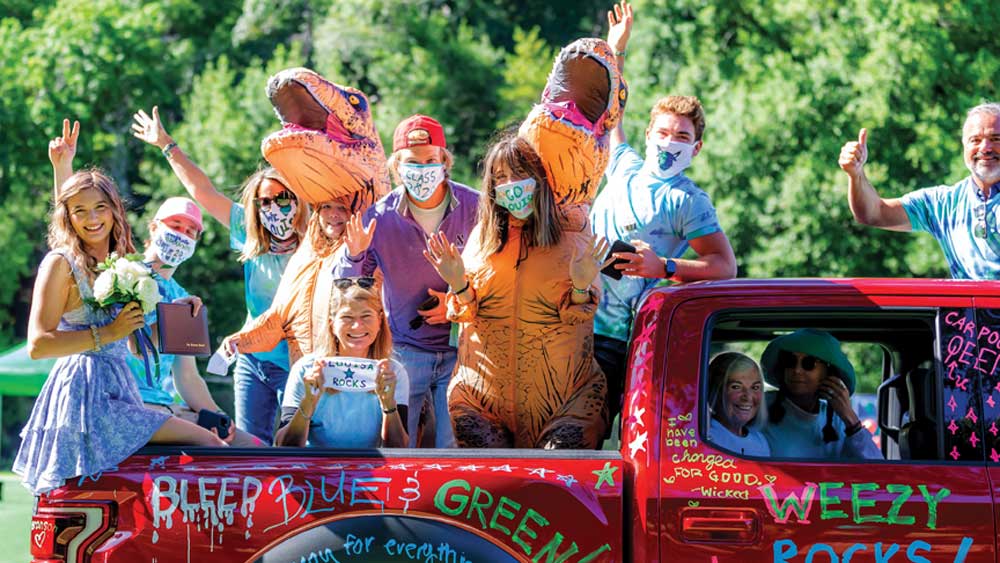 Student body co-president Louisa Conte planned to do her capstone project at Berkeley Repertory Theatre. "I was super excited to do that," she says, but health restrictions made it impossible. Instead, she did a personal project that looked at accelerating trust. She took several questions from a New York Times article, "The 36 Questions That Lead to Love," and discussed them with a variety of people. "I was excited to test out the questions and see how I could use them in everyday connections," she says, and she made a podcast to post on her capstone website. Conte, a theater student, was disappointed to miss her last play, and she was also sorry to miss Fine Arts at Branson, a highlighted day in spring that features the work of students in the creative arts. "That has been my favorite day of school since freshman year," she says.
Resilience
Everyone agrees that graduation for the Class of 2020 had a disappointing end. "It's not just the curve that's being flattened by all this stuff. It's the fun," says Rutherford. However, the greatest lesson of all for students of this class was learning to deal with the inevitable challenges in life. "I think the students are remarkably resilient. They've been great troupers."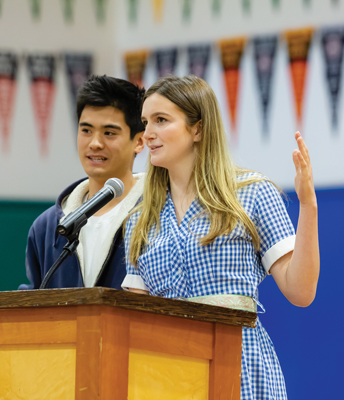 Mazzola agrees that learning to adapt and move forward is a valuable life skill. "We all work so hard to make sure our children's paths are smooth," she says. "As difficult as this spring was, I like to think there was a silver lining. Students were forced to adapt. The sadness and disappointment that they encountered helped to build their resilience muscle, which will help them as they encounter the inevitable challenges they will face as adults." As for Johnson-Clissold, she's observed increased empathy and compassion in her students, who think about others as well as themselves and have balance.
"We had so much taken away from us," says Domenichelli. But at the same time, she's learned coping and problem-solving skills, appreciates things more and looks for positives. "We've really been dealt a special hand, but we're such a special class," she says. "As sad as I am with everything that's happened, I'm trying to look at myself as fortunate. It's going to make us a stronger generation. We're going to be able to make changes." Adversity, it appears, has given the Class of 2020 unique advantages, and they're ready to use them to make the world better. The future is in good hands.