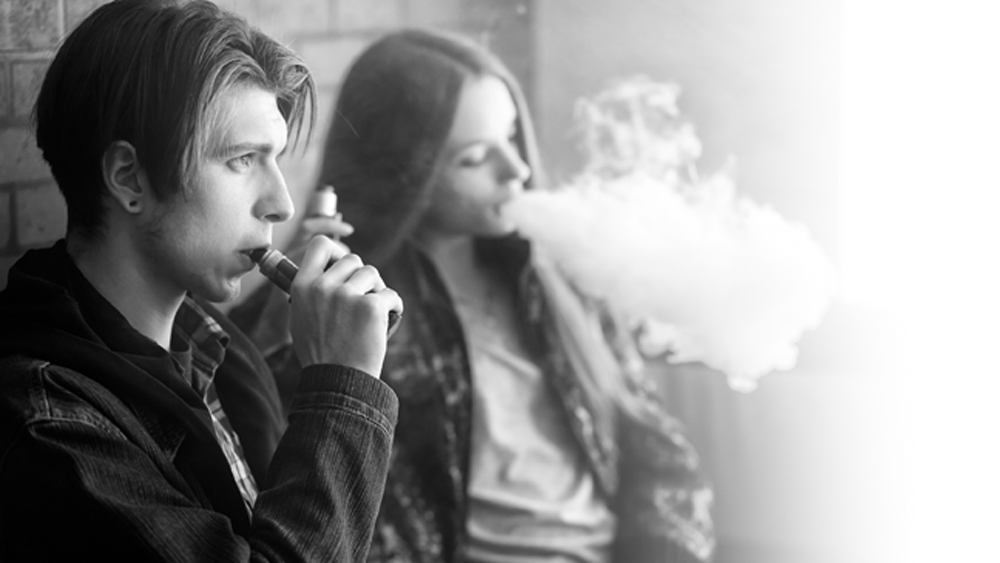 Smoking significantly worsens COVID-19, according to a new analysis by UC San Francisco. In a meta-analysis of studies that included 11,590 coronavirus patients, researchers found that among people with the virus, the risk of disease progression in those who currently smoke (or previously smoked) was nearly double that of non-smokers. They also found that when the disease worsens, current or former smokers had more acute or critical conditions, which could lead to death. The report was published in Nicotine & Tobacco Research in May.
E-cigarette Use Among Middle & High School Students
Findings from the 2019 National Youth Tobacco Survey (NYTS), released by the U.S. Food & Drug Administration and Center for Disease Control and Prevention, show disturbing rates of e-cigarette use among both middle and high school students. In 2019, more than 5 million youth reported having used e-cigarettes in the past 30 years and nearly 1 million reported daily use.
While cigarette smoking is at an all-time low among high school students, increases in e-cigarette use have reversed progress made in the decline of overall tobacco use. What are the top reasons young Americans use e-cigarettes? The CDC and FDA analyzed data from the 2016 NYTS to assess the reasons. Among those who had ever used an e-cigarette, the most commonly selected reasons for use were:
Use by a friend or family member (39 percent)
Availability of flavors such as mint, candy, fruit, or chocolate (31 percent)
The belief that they're less harmful than other forms of tobacco such as cigarettes (17 percent)
Smoking Loses Its Spark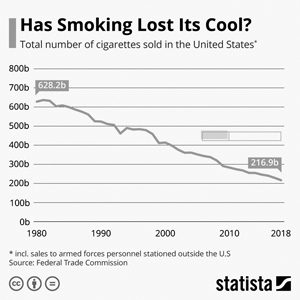 While lighting up a cigarette was once considered a sign of class and sophistication—or at the very least, an act of coolness—it seems to have lost its spark in recent years. According to a new report published by the Federal Trade Commission, cigarette sales in the United States dropped to $216.9 billion, the lowest level since the FTC started tracking cigarette sales in 1967.
The chart below illustrates that cigarette sales have declined more or less continuously over the past 40 years, dropping by 66 percent since peaking in the early 1980s. Over the same period, cigarette advertising and promotional spending increased from $1.2 billion in 1980 to $8.4 billion in 2018, most of which came in the form of price discounts for retailers and wholesalers.
Interestingly, the number of cigarette smokers in the U.S., while also declining, hasn't dropped at a similar rate as cigarette sales over the past four decades. According to the Centers for Disease Control and Prevention, an estimated 34.2 million adults in the U.S. were smoking cigarettes in 2018, down 34 percent from 51.6 million in 1980.