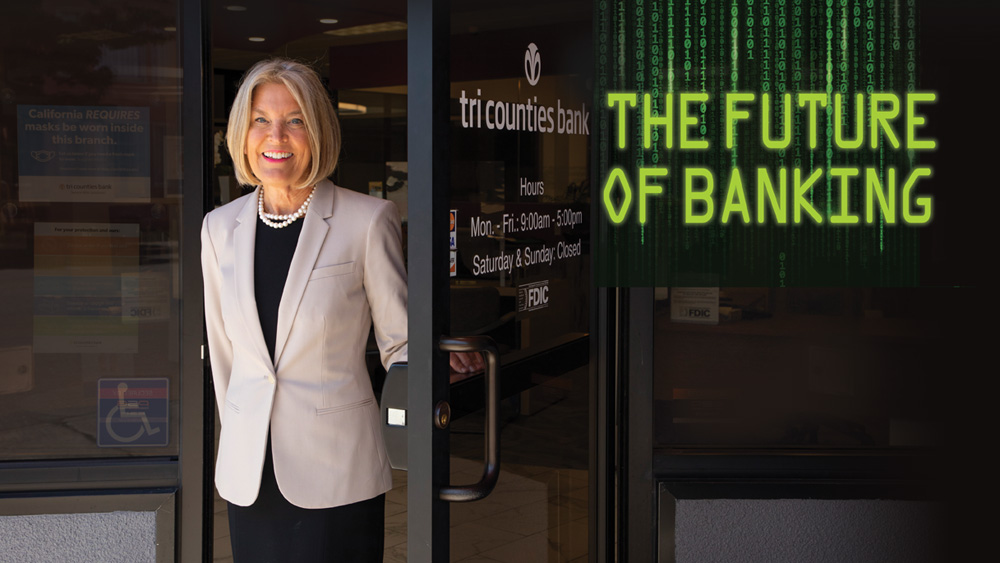 Though nearly every industry has been significantly impacted by health restrictions and business closures in response to the pandemic, banking may be one sector that's well-positioned to smoothly navigate this new way of life. Having digital systems in place to help business owners apply virtually for the Paycheck Protection Program (PPP), for instance, saved the day for thousands of employers and their employees.
"When you think about what the industry accomplished over a period of three months, it's quite remarkable," says Julianna Graham, senior vice president of Tri Counties Bank, which operates branches throughout Northern and Central California. "As an SBA Preferred Lender, we have experience collaborating with the Small Business Administration, but the SBA Paycheck Protection Program was different. The process was being developed as the program was implemented. In that regard, banks were the financial first responders in the COVID-19 crisis."
Having the capability to process PPP loans 100 percent online was a must, given business shutdowns and stay-at-home orders. Tri Counties Bank adapted to the changing pandemic environment by quickly developing an online application system specifically designed for PPP loans. As of June 30, Tri Counties Bank had funded nearly $437 million to small businesses in need throughout California.
Customers across the U.S. recently accelerated their adoption of digital channels, like online and mobile banking, according to Graham, who says this is great news for the industry. "Our customers increased their usage of our digital banking features due to their own increased desire to bank from home," says Graham.
Some customers worry about a lack of personalized service, but regardless of how clients perform transactions, the standard at Tri Counties Bank remains the same. "Our service model focuses on Service With Solutions, which means we take the time to really get to know our customers and help them achieve their financial goals." Graham says. "We strive to uphold that commitment through every interaction we have with a customer across all convenient bank channels including branch, live banker telephone support, digital communications, etc."
Though local banks still provide multiple options for service, the rise of digital banking has proven vital in today's business climate. It can't completely replace face-to-face transactions with knowledgeable staff members, but the practice continues to catch on in all areas of banking, not just PPP loans. "It provides convenience when customers need it most," says Graham. "Tri Counties Bank continues to invest in digital banking technology that's not only secure, but is also very user friendly."
Unprecedented surge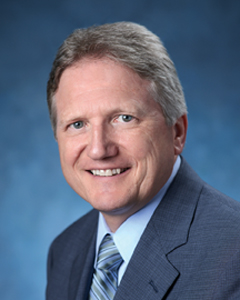 In July 2019, Exchange Bank rolled out its mobile banking app for personal accounts, followed several months later by the mobile app for business customers. "We did an excellent job of communicating with existing customers about the app, and we tried to make the transition for them as seamless as possible," explains Craig Bainbridge, senior vice president and product innovation manager. "The feedback has been good, despite the challenges that converting to a new technology can bring. The bank previously had operated two separate electronic platforms for business and consumer customers. We were able to consolidate all customers onto one platform, plus provide additional features and functionality.
With customers already converted to its new platform, Exchange Bank was ready for the pandemic and its immediate fallout. "We had a robust infrastructure in place for when we had the unprecedented log-in surge this April, when people began receiving their coronavirus stimulus checks and needed to make those deposits. It was beyond anything we'd ever seen before, but our system scaled up well to meet that demand."
During the lockdowns, Exchange Bank ramped up its efforts to assist its customers' transition to online and mobile banking. According to Bainbridge, the bank launched an aggressive campaign to highlight its mobile app and its many features. "We reached customers through ads on television, billboards and through print and digital advertising. We also communicated via customer statements, email, mobile app messaging, sponsored articles online and on our website and social media platforms."
Tony De Mattei, vice president and digital product manager at Exchange Bank, says fewer than 10 percent of its customers have chosen not to bank electronically. "This could include customers who not only prefer the in-branch experience, but who also don't have access to computers or smartphones. We also continue to have fairly large use of our voice banking service. It's an old-school solution, but there's a concentrated and dedicated customer base that depends on that channel." The bank also promotes drive-up banking services, currently available at five of its Sonoma County branches.
In the near-term, De Mattei says, the bank will also introduce a new online account-opening solution. "Exchange Bank is focused on monitoring banking technology and making sure we are staying abreast of where customer needs are headed."
Streamlining and upgrading
Bank of Marin's Brandi Campbell, senior vice president of retail banking, says there's been an uptick in customers who seem to enjoy the online banking experience.
"Our employees are using every opportunity they can to introduce customers to digital. Many customers don't realize how they can access it quickly and efficiently. We've created additional marketing materials to educate customers on how we can help meet their digital banking needs."
Campbell also points to such advancements as the use of digital signatures, which is becoming more frequent. "Customers who received loans from the government's Paycheck Protection Program through Bank of Marin used digital signatures to process their applications virtually."
Even so, Bank of Marin is "still a high-touch, personalized bank," she says. "Regardless of their generation, we have customers who want to come in and see us in our branches, and most want to have the option of speaking with someone who is knowledgeable and available. Seeing our customers is one of the best parts of our day."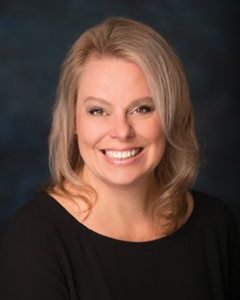 Bank of Marin has also made transactions easier for customers during health restrictions by adjusting its daily processing times. "This was to better support customer needs later in the day, to give them access to their funds the same day. We streamlined many of our processes to allow more virtual options. In addition, our night deposit drops are now monitored all day, so those transactions from customers who don't want to enter the branch are taking place throughout the day instead of just in the morning."
She says it's a tricky balance of serving customers while keeping everyone safe and continually measuring what that looks like. "As an essential business, we went through multiple phases of changes to monitor how to improve our services, and we continue to fine-tune our processes."
A year ago, Bank of Marin changed its digital vendor, which provided an opportunity to reevaluate systems and make some welcome upgrades. "It's now a better system for training and for assisting customers at all of our 21 branches on how to use our digital products more effectively. The timing for that has worked well. It's a big win-win for our customers."
Anticipating customer expectations
Graham says the generational differences in how people bank are disappearing faster than ever before. "People have transitioned from reading books to using a Kindle, and they are learning to use Zoom, for example. There's a willingness to adapt to new technology and figuring it out."
At Exchange Bank, customers who use branches are well informed of the benefits of digital banking. "Our in-branch video displays highlight the ease, features and benefits of digital banking," says Bainbridge. "We have created instructional videos, webinars and interactive guides that are available on our public website to supplement this messaging. Additionally, our local Customer Care Center team is trained and available to provide support for all digital banking questions."
De Mattei adds that most customers are very satisfied with the bank's digital products. "We offer a complete suite of consumer and business banking products and services. We're constantly looking into the marketplace to explore what services we can expand on and how to make our services more beneficial to our customers."
One issue on people's minds much more these days is cyber security, says Bainbridge. "With the surge in online and mobile banking, there is an increased awareness of cybercrime. Exchange Bank implemented some additional protection technology to catch fraudulent transactions, and we have defenses in place to mitigate that threat." According to Graham, online security is a top concern for customers, as is the overall safety and soundness of the their bank, and Tri Counties Bank invests in the latest technologies that are both easy to use and secure.
With concerns about security alleviated, the evolution in banking continues to evolve, according to De Mattei. "Customers still enter the branch for complex financial needs and advice, but have moved to our digital channels for many transactions," he says. "We believe that our digital banking technology, combined with 130 years of local presence and community commitment, gives Exchange Bank a competitive advantage."
Customer expectations are driving the change, says Bainbridge, and the bank must ensure that they can access service through multiple channels whenever and wherever they choose. "As digital technology continues to transform the banking industry, we see technology as a way to enhance, not replace, the personal and trusted relationship between our employees and our customers."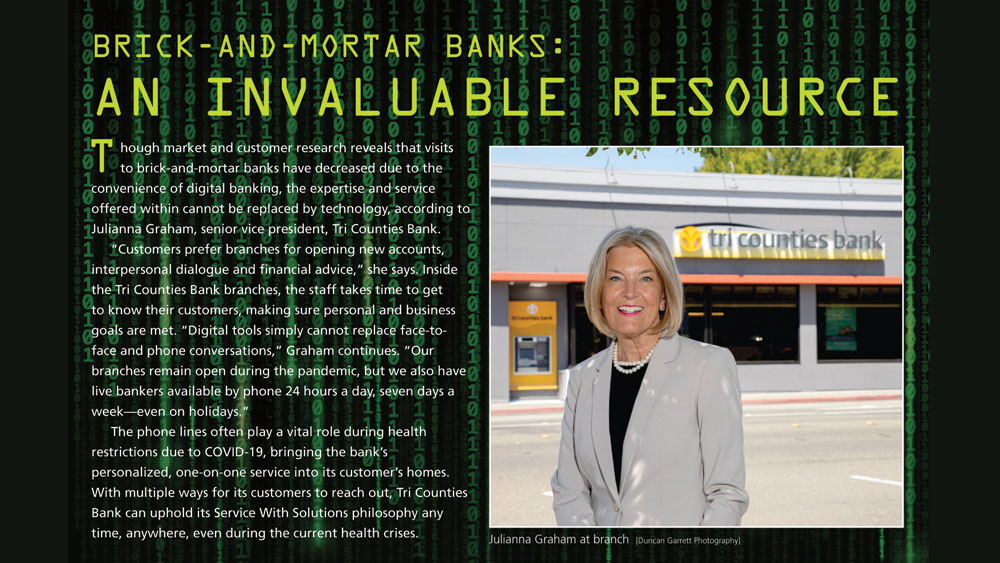 Foundation for the future
In general, banks entered the pandemic crisis in good shape, Graham says, stemming from the fallout of the Great Recession that rocked the banking industry from 2007-09. "Because we came through that earlier crisis, we have a lot of liquidity and a lot of capital, so we are poised for what lies ahead."
Tri Counties Bank has an eye on the future of digital banking, as well. Though technology has made vital transactions possible during a pandemic, further advancements, including live online conversations—which have been normalized now more than ever—are on the horizon, further strengthening technology that's performed well for banks and their clients.
"Digital banking will become more personalized to each customer, offering tailored advice specifically relevant to them as individuals," says Graham. "More automated tools will be developed for real-time financial management that will increase security, enhance time efficiencies and improve customer revenue and/or lower costs.  Live personal banker conversations will become more available through common customer digital devices."
As the North Bay adapts to reality regarding the pandemic, local banks have the region covered. Moving forward, the industry is working to make transactions easier, no matter the circumstance, just as they always have. Their advancements happened to be a lifeline for many businesses in recent months, and will continue to be so in the years ahead.