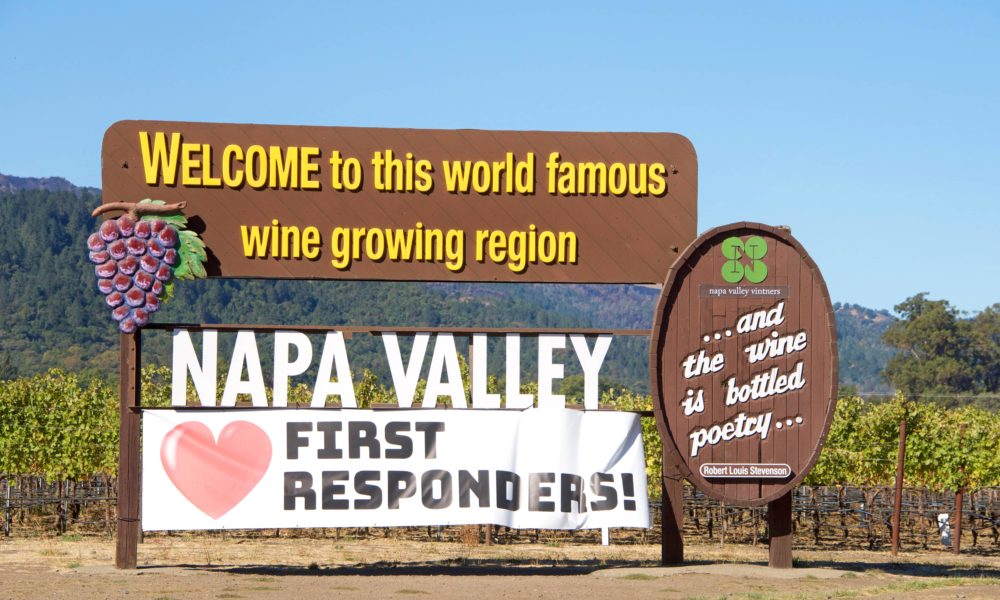 Growing up in a family where creative pursuits were viewed more character flaw than career path, I naturally bucked family expectations to become a writer. I would've never predicted how a honed sense of creativity could serve not only my writing, but my ability to maneuver during a pandemic, where I'm now called upon to work, entertain and educate my six-year-olds at home during a mandatory lockdown. Ten months in, Napa County businesses and citizens tap their own brand of ingenuity to navigate closures and social-distancing protocols, while creating innovative solutions for home office and school configurations.
During the summer, the City of Napa launched the Napa Al Fresco Program, to resuscitate businesses that were forced to close at the onset of pandemic, only to reopen and close again when government officials mandated closures for indoor dining, tasting rooms, gyms, hair salons and more. The campaign is comprised of three programs to help businesses replace lost seating due to social distancing protocols. The Outdoor Business Expansion Permit Program enables businesses to apply for permits that enable dining on public and private property in outdoor spaces such as sidewalks. The Shared Spaces Permit Program allows businesses citywide to maximize outdoor dining and wine tasting in public parking spaces in front of their business. Similar in scope, the Parklet Permit Program allows business owners to install platforms in front of their establishments to create parklets at sidewalk level.
To aid the campaign, the Napa Downtown Property and Business Improvement District allocated $140,000 to the Downtown and Oxbow parklet program to aid businesses with the design, development and installation of parklets and shared spaces. Businesses within those districts can apply for $5,000 grants to help finance such development. According to a city news release, the goal is "to support businesses during COVID-19 and provide a safe experience to people who visit and enjoy the city of Napa's world-class dining and wines." As of August, more than 14 businesses had applied for parklet permits with many more in progress. Up Valley restaurants and tasting rooms have also taken creativity to the streets. Businesses such as Cook in St. Helena, and Veraison, Lovina, and Tank Winery in Calistoga, have transformed parking lots into luxe outdoor spaces, inviting guests to partake in a decidedly different experience.
Others in the food and beverage space have enacted creative solutions to assist those impacted by minimized operations due to COVID-related closures. The Supper Share was created at the onset of shelter-in-place orders, to support sommeliers and restaurant professionals, with the creation of a digital concierge to connect corporate groups with food and beverage professionals' services. Chris Struck, a New York City-based Sommelier on The Supper Share, says, "The Supper Share has brought sommeliers yearning to serve and educate together with wine-lovers, who yearn to gather together and sip wine, in ways once familiar to both parties. It is a perfectly matched meeting of the minds, delivered in the safest format of connectivity that's presently available nationwide."
Since its inception in May, The Supper Share has executed more than 34 events, in support of out-of-work hospitality professionals. SevenFifty, a company, which advocates for those operating in the three-tier distribution system, launched a job board to assist qualified beverage professionals in finding new career opportunities amid the pandemic. "We know people across our industry have their hands full right now—navigating reopening, keeping up with safety protocols, and just facing a lot of employment unpredictability—and we hope this is a resource they can turn to by providing a tool that connects people with opportunities for career mobility," said Gianfranco Verga, SevenFifty President and Co-Founder. Larkmead Vineyards continues to host industry salons, including the widely attended, "What Matters in Wine," session that sported an All-Star panel featuring wine critic Eric Asimov (New York Times), Esther Mobley (San Francisco Chronicle), and Ray Isle (executive wine editor at Food & Wine magazine).
Others in the community created programs aimed at easing the stress and monotony of the times, including the Cameo Cinema and Gott's Roadside in St. Helena, which launched a fully digital cinema, located in the Gott's parking lot. The screenings have played to sold-out audiences since the makeshift drive-in opened in June. A similar concept is in discussion for the Napa Valley Expo, which scrapped most of its cornerstone events, including BottleRock and the Town and Country Fair.
Enduring the unknown
When I began this column in mid-August, stress over the virtual school year consumed my thoughts and ensured a never-ending streak of sleepless nights. Only days later, Napa County fell into a state of emergency as thunderstorms struck, temperatures soared and the LNU Lightning Complex Wildfires engulfed our valley. As endless unknowns dance in the distance, I can only hope that by the time this column hits your mailbox, county and worldwide devastation will be on the downturn.