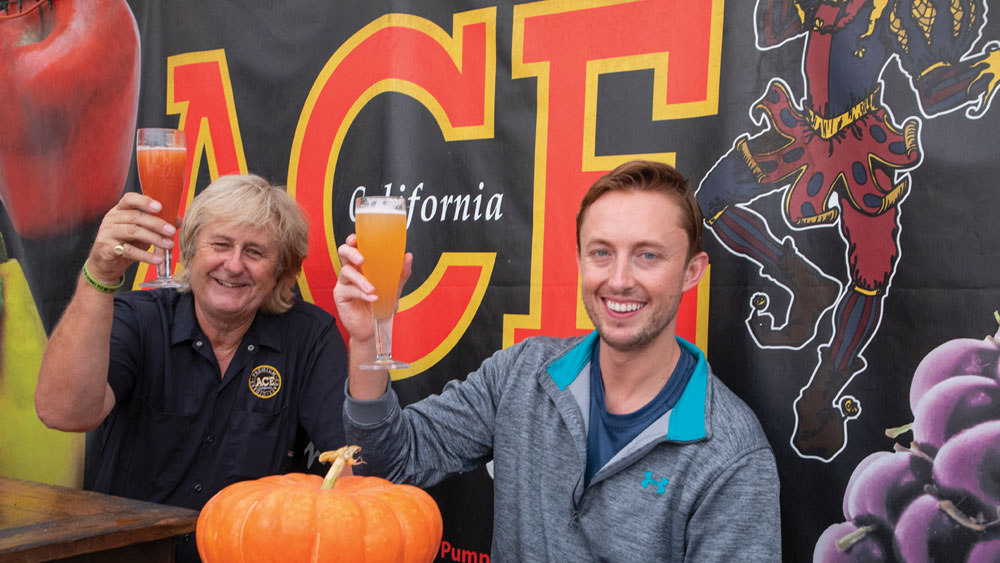 As Jeffrey House, founder of ACE Cider in Sebastopol, was working the sales side of the beverage industry during the 1980s, he entered an Irish pub in San Francisco. It wasn't apparent at the time, but walking through that door would ultimately alter his life's path—and eventually impact the beverage scene in the North Bay.
The owner was only interested in what House didn't have at the time: hard cider. "He asks me, 'Where is your freaking cider?'" says House, who hails from the UK. Though he knew of hard cider's roots in the British Isles, House figured there was little reason to sell it stateside, and he expressed as much. "Well, we drink it like it's going out of style," the man behind the bar replied, referring to his homeland, Ireland. With Irish and English pubs gaining popularity in the city, House saw an opportunity.
He began importing and selling hard apple cider from England, building its popularity on the West Coast. After a while, he started ACE. The company opened the first hard cider pub in the United States in decades and is currently an industry leader nationwide, specializing in high-quality, craft cider. It's shifted the market, too, via a diverse product line, which includes its seasonal pumpkin cider and popular pineapple and guava options.
Now, 27 years after ACE was founded, the North Bay is a hard cider hotbed, with an epicenter in the apple-rich Sebastopol area. Each company relies on the yearly harvest from Mother Earth, sprouting from a region that left an immediate impression on House during his first visit. "Coming out this way, I thought, 'Well, this kind of looks like England with sunshine.'"
Revived history
Coincidentally, cider first arrived in the U.S. from across the Atlantic, just as House did. Roman leader Julius Caesar noted that Celtic Britons were fermenting apples in the year 55 BCE, in the first recorded reference to hard cider. The Norman Conquest of England in 1066 introduced more apple varieties from France, increasing the drink's popularity on the island.
In the 1600s, British colonists in America planted apple trees after arriving in Massachusetts via the Mayflower, and hard apple cider was their most common beverage. In some cases, the water wasn't safe to drink, and most homes had an apple orchard. Additionally, fermenting fresh apple juice was the best way to preserve the large apple harvest. The beverage was so prevalent that children would drink it in a diluted form.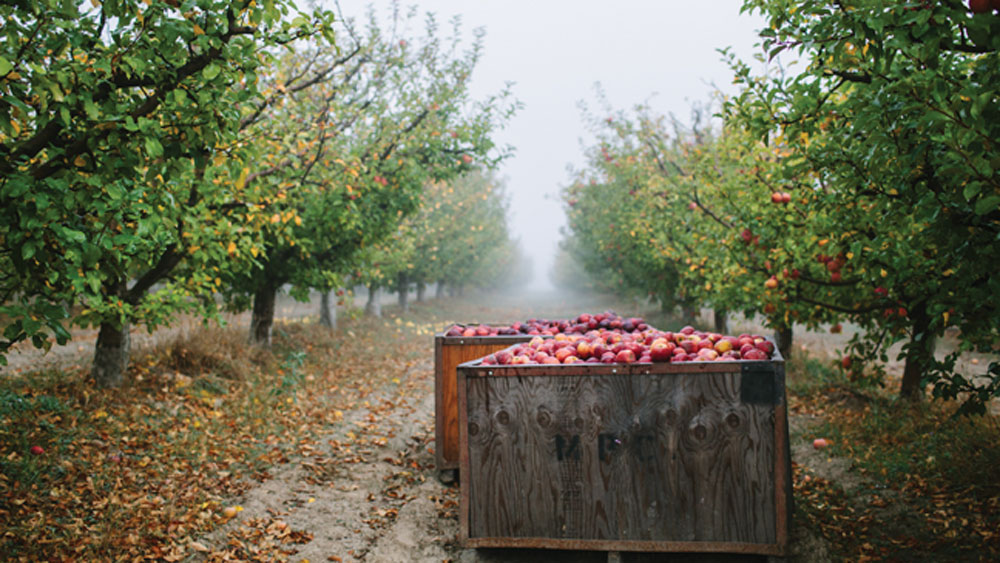 In some communities, residents paid taxes with cider, and employers paid wages with it, as well. By the late 1800s, however, cider lost its steam. The industrial revolution pulled workers away from the farm and into the city, and many orchards were abandoned. American immigrants from Germany and Ireland began to make beer with inexpensive grain. When Prohibition was enacted, U.S. production of cider, which had already slowed, nearly vanished, and what was once the most popular drink in the America was largely forgotten.
Many years later, however, craft beer gained traction in the 1990s and helped increase interest in fermentation. The slow food movement, which promotes the preservation of local food cultures and traditions, also gave hard cider a boost. Furthermore, demand for gluten-free products have boomed, and that provides cider an advantage over beer, since it's naturally gluten free and beer is not. Today, the hard cider industry is 10 times larger than it was a decade ago, with retail sales totaling $428 million in 2019, according to Beverage Insider magazine.
And cideries with a focus on quality, not quantity, are having the most growth. That description fits local cider producers, who are well positioned to make a leap in sales in the coming years—unless they're not looking to expand, that is.
AppleGarden Farm
In 2007, Jan and Louis Lee started AppleGarden Farm with the intention of making hard cider. In 2020, they're happy with their niche in the market and aren't looking to expand production. That's largely because it's a two-person operation, from planting, to picking, fermenting and bottling. The farm is located in Tomales, which is in North Marin County and has a climate similar to that of Sonoma County's. The AppleGarden Farm is distinctive, however. It's on a long north-facing downhill slope that gets cold in the winter, which is perfect for the apples the Lees want to grow. The couple bought their plot of land after a 25 year run in the commercial construction business, with a clear vision in mind.
"When we first bought this property, there was nothing here. Absolutely nothing. So the first thing we did, because we knew we were going to do apples, we put up a fence to keep the deer out. And then we prepped our ground and ordered our trees," says Jan. The Lees built all of their own equipment on the production line and bottle a limited quantity of hard cider, adding up to roughly 400 cases per year. The cider is sold at some of the finer grocery stores and restaurants in Marin County. It's also available at Upcider, a popular cider house and gastropub in San Francisco, as are other popular North Bay hard ciders. AppleGarden Farm also offers tours and has a cottage designated as a bed and breakfast, and guests can enjoy a short walk to Tomales' restaurants and shops.
On the farm, which is certified organic, there are more than 300 apple trees, with about 40 varieties. There are Kingston Blacks, Golden Russets, Wickson Crabs, Hauer Pippens and many more. Each harvest is different, with the climate impacting what time the fruit ripens each year. Lou picks all the apples, and this harvest season, it was an early haul, due to warmer than usual weather. In addition to cider apples, the couple planted Gravenstein apples for their guests to eat. They ripened by the first of August this year, which is highly unusual, according to Jan. If there are extra apples, the Lees make non-fermented apple juice to distribute to neighbors and friends.
But cider is the name of the game on the farm. The Lees method is traditionally simple, with no concentrates or added sweetener. After picking the apples as they ripen, the fruit is stored in a controlled temperature for an extended amount of time so the sugar content can further develop. Then, the apples are washed, sorted and pressed, and the juice is left to ferment. After the cider is ready—as determined by Lou and Jan, of course—it's bottled and pasteurized to stop fermentation, using their custom built equipment, and labeling is done by hand after the bottles cool.
What Jan describes as the couple's "gardening project" has grown into something more, which the entire community can enjoy. The Lees' operation is still going steady during the closure or partial closure of many restaurants due to the coronavirus pandemic, though they have certainly felt an impact. "That brought sales to a halt. Dead to a halt," Jan says. "But it hasn't shut down our operation in the sense that we're still making cider. And we're happy with what we're doing. We're happy with our small niche. We're happy it turned out the way it has."
Golden State Cider
While AppleGarden Farm is more than happy to remain the same size, and reasonably so, other cideries in the North Bay are embracing the opportunity to grow with the industry.
In 2012, Golden State Cider entered the market, but its relationship with apples goes much further back than that. Jolie Devoto and Hunter Wade founded the company on Devoto Orachards in Sebastopol, which has a rich history. It was built by Susan and Stan Devoto in 1976, and today, Golden State Cider is on a mission to increase the amount of apple orchards in the North Bay by increasing demand through cider sales. "At GSC, our mission is to grow apples through cider," says Chris Lacey, chief executive officer.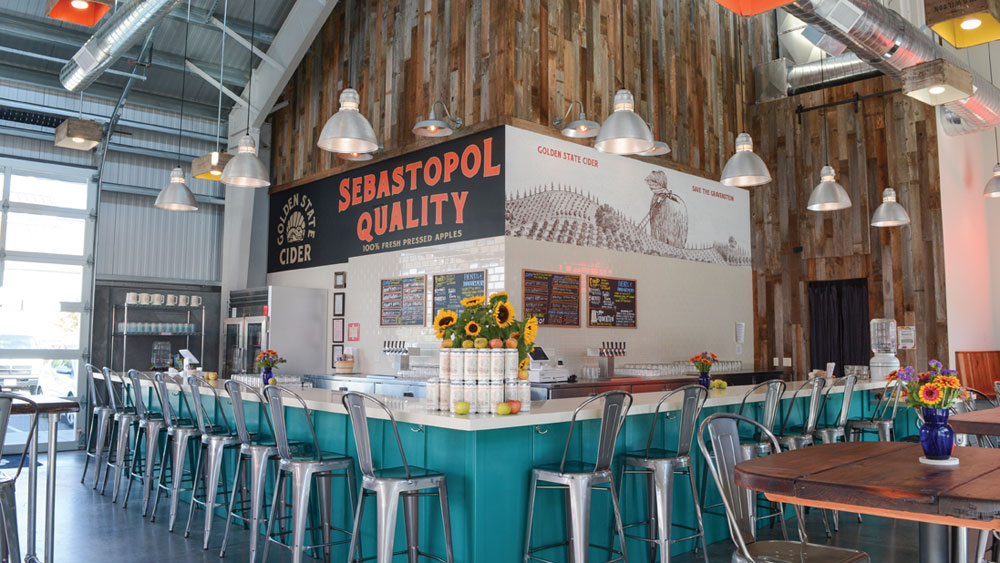 The mission is perhaps best expressed by Golden State Cider's Harvest Series. The flagship of the series, called Save the Gravenstein, aims to bring awareness to this local heirloom apple and preserve its presence in the North Bay. Sonoma County used to be the Gravenstein capital of the world—in the 1940s, there were more than 9,700 acres of Gravenstein apples in the area. Today, there are fewer than 600.
"We want to help revitalize Gravenstein apples from Sebastopol and introduce them in elevated expressions and to new consumers across California. Save the Gravenstein is distributed across California through our new cider club, and it's available at our taproom in Sebastopol year-round," says Lacey, who adds that Golden State Cider is excited to release its first barrel-aged brandy made of 100 percent Gravenstein apples in October.
"In addition to Gravenstein apples, we also work with other local heirloom apple varieties through our Harvest Series and tasting room exclusives. The overarching vision for these ciders is to focus on heritage apple varietals that can help sustain the apple industry in our home county, keep apple trees in the ground and educate consumers on the amazing diversity of apples," Lacey says.
The company strives for education outside of the apple world, as well. Golden State Cider promotes its core value of embracing diversity, respect and equality by giving to organizations that promote the same ideals. The cidery has proudly donated to The American Civil Liberties Union, Black Lives Matter and Asian Americans Advancing Justice, while also matching all employee organization donations advocating for justice. It also contributes to the Sonoma County Resilience Fund and the Redwood Empire Food Bank, among other charities.
And like much of life, it's all possible thanks to the yearly harvest, as the company uses bounty provided to revive a beverage that was once the most popular American drink. "Our goal is to express the fruit in the best way possible—with minimal intervention—for our customers," Lacey says.
An industry leader
ACE Cider is not only the original craft cidery in the North Bay, producing its product 100 percent from the best apples available and with no added sugar, its brand is listed right next to the heavy hitters of the industry nationwide. And though other, corporate brands may have more sales, they aren't seeing the growth that ACE has enjoyed.
That's because while the U.S. cider market is 10 times larger than it was in 2010, according to Nielsen data, not every cidery was in the black as the last decade came to a close. According to Beverage Industry magazine, hard cider sales dropped 2.2 percent in 2019. Previously, as the sector grew rapidly, behemoth companies invested vast amounts of money into the segment, but they haven't seen equal return. For example: Angry Orchard, which is owned by the same company that makes Samuel Adams, The Boston Beer Co., commands roughly 50 percent of the market share, but its sales declined by 10 percent in 2019.
It's those that focus on craft cider, as ACE and other North Bay cideries do, that are having the most growth. ACE's retail profits rose 12.5 percent in 2019, per Beverage Industry, with its cider is available in 49 U.S. states. When ACE lands in New Hampshire later this year, the company will be in all 50. Including on-premise sales, ACE is the No. 3 cider company in the nation, according to House, behind two large corporate firms. "It's quality, bottom line," says Simon House, one of Jeffrey's three sons and vice president of marketing. "It's a matter of building this conversation about cider with the American consumer for almost three decades now."
The conversation began in earnest after Jeffrey had been importing cider from the UK for years, and he had a thought about making his own cider. He took a drive north and found himself on Graton Road. He had heard about a small cider operation in Occidental. "The sun was shining; the fields were green; the cows were all happy. I looked around and said, 'Well, this place is beautiful,'" House says, recalling this moment happened on a day in March. His office was in San Rafael at the time, and he found the temperature in Sonoma County too hot on previous trips to Santa Rosa. "Coming out this way, I thought, 'Well this is nice. This is different.'"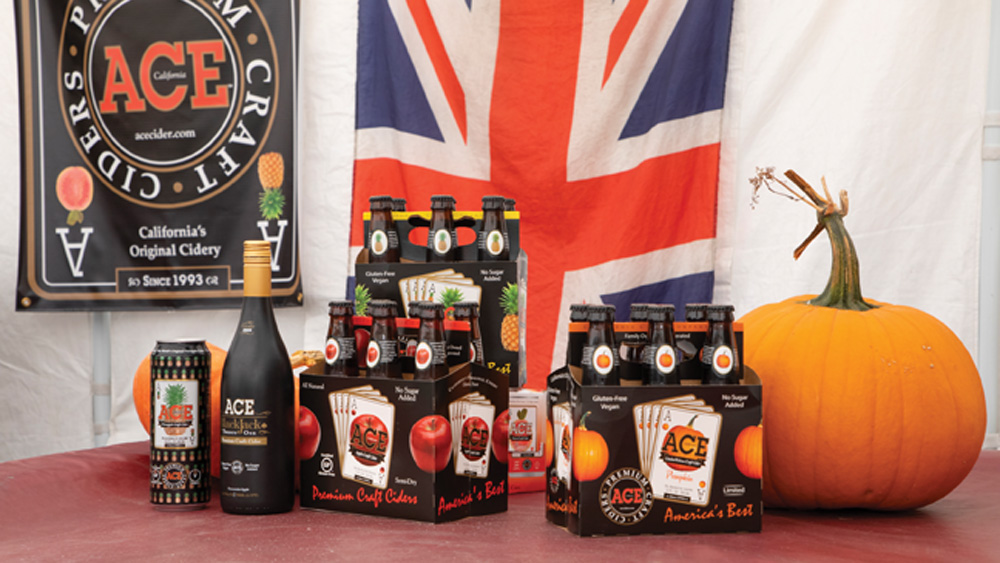 He came across the commercial area where his cidery currently sits, which is now Sonoma West Holdings. House saw apples on the site and thought someone had already started to make cider, beating him to the punch. House inquired, and he found that they were selling apple product to flavor mass-produced items. "I was thinking there is opportunity here. You've got the fruit here. You've got the facilities here. We should build a cidery."
The only other question was what to call his new company. Officially, House's operation is named the California Cider Company, but the ACE brand is known for its playing-card theme. Since some over the years had called cider "Jack," House looked to launch with that name. It was trademarked already, however. He considered the name "Kings," but decided that wouldn't fly in America as it might in the UK. After considering a few other names, House settled on ACE. "We went with ACE and I'm glad we did," he says. "Nothing beats an ace."
Jeffrey took his knowledge of popular cider in the UK and applied to his ACE's flavor profile, sourcing only the best apples in the area, such as those from Walker Apples, the Kolling family and Nana Mae's. "Obviously, quality is paramount to us, but it's the balance. Our ciders aren't too dry that your mouth puckers up," he says. "They've got the fruit, they've got the acid dryness, and they've got a little bit of sweetness, too. It's all in balance. That's very important. The product has to flow. It has to be very quaffable. I don't want to be thinking about the drink. I want to be drinking the drink."
Customers can drink cider with Jeffrey, if they're lucky. The Ace in the Hole Pub, which originally opened on the site of the Dutton-Goldfield Winery, is now located at ACE's cidery, and House can be found there at times. He's afforded the opportunity, in part, due to his three sons, Jason, Simon and Jeremy, who joined the company after graduating from college and working elsewhere. According to Simon, the company's sales have risen every month since he's joined the family business, save for some recent totals that were affected by the pandemic. Even then, the company has the confidence and experience to push through rough times, and that includes taking care of its 60-plus employees. "Though we had two or three months of our first negative sales in about 10 years, we didn't let anybody go. We were vigilant on transitioning the employees into doing different jobs, especially our sales team, who would usually be calling on restaurants and bars. We've transitioned them to focus on off-premise, and we've been successful with that."
House says he's fortunate to have a succession plan. "It's wonderful. I don't have to worry anymore because I've got successors. A lot of people don't have that. Fortunately, the boys wanted to get into it," he says. Also luckily for House, he raised his sons along with his wife, Angela, who hails from the UK as well. She's a former model, and incredibly, she appeared in the famous cantina scene in the original Star Wars. She still garners a nice fee for her signature at fan functions. ACE celebrates her immortal fame with its special SpACE blood orange cider, which has its own playing card in a custom deck available at the ACE tasting room.
It's one of 14 current ciders—many with its own card in ACE's deck—in the company's lineup, which highlights another key to the company's success: innovation. The company introduced the first pear cider in the U.S., and ACE Pineapple is the world's first pineapple cider. ACE Pumpkin was also the first of its kind worldwide. ACE Guava is the fastest growing cider in the U.S. this year. Of course, the cidery also strives to create the best hard apple cider available, such as its ACE BlackJack 21, made entirely of local Gravenstein apples. "Our goal is to develop the cider market. We're one of the few out there that isn't doing anything else," says Simon. "We've only been making cider for 27 years. We believe in all the different flavors that come out of the segment and building those up."
Though there has been added competition with increasing sales of hard seltzer and other alternatives within the industry, ACE and other local cider producers have at least one important factor on their side according to Simon, and that's flavor. "Cider will continue to exist in the craft portion of the beer isle, where consumers are looking for something that's not beer but with more flavor than a seltzer. If you're looking for something that's more craft, more artisan and more flavorful, that's where cider will develop and blossom," he says.
Each harvest brings new possibilities for the House family to develop its brand. "We love the fall because Halloween and Thanksgiving are traditional cider times," says Jeffrey. Simon adds, "Harvest season in the North Bay is significant for ACE because it's when Sonoma's cider and overarching beverage industry is busiest. It's a beautiful time of year, when residents can reap the benefits of months of effort and preparation."
A cider moment
It was in the cards for the North Bay to be a cider hotbed. Led by ACE, the region has been a major player in reviving what was once America's favorite beverage. The future for the industry is bright, with customers continuing to look for alternatives to beer and wine, especially tasty alternatives. "Part of the reason cider is having a moment right now, especially craft ciders, it's that these ciders are developing flavors that are more than just sweet apple. Developing different fruits, developing farmhouse flavors, developing dryness," says Simon.
Now, more than 30 years after House recognized an untapped cider market in the United States, the answer to the question, "Where is your freaking cider?" is obvious. The home of some of the best hard cider in the industry is right here in the agriculture- and apple-rich North Bay, and it appears it's that way to stay, though this harvest season and many to come.