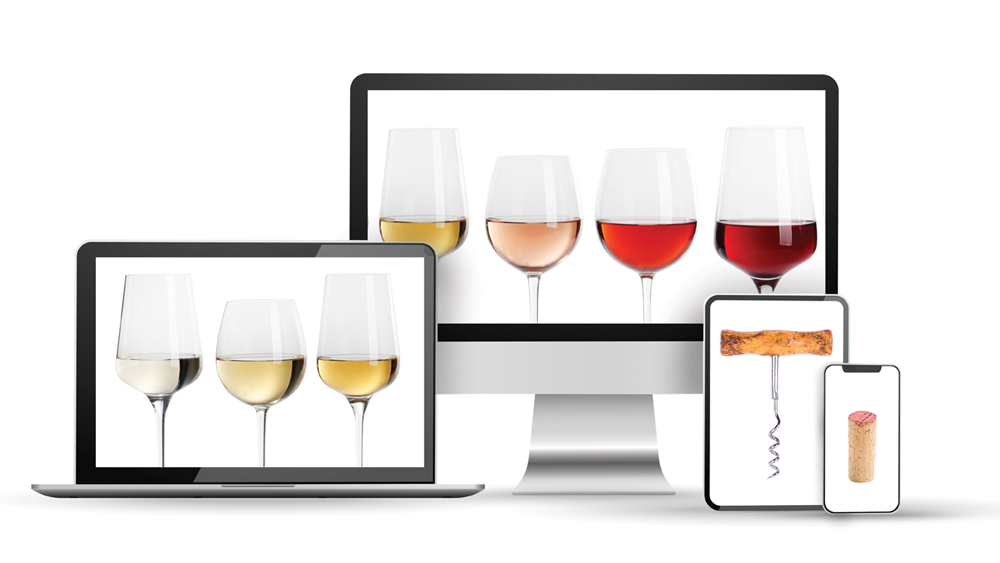 On a sunny afternoon just before autumn, three wine bottles are perched on my outdoor coffee table, a plate of cheese and crackers at the ready. Several family members and I sit on comfy outdoor furniture, gazing at a computer screen as Jake Claus, an estate host for Cardinale winery, leads us, via Zoom, through an explanation of the wines we're about to savor. This is wine tasting, 2020 style. In a friendly, approachable manner, Claus begins to explain the virtues of the winery and its winemaker, Christopher Carpenter, giving us a sense of the abundant factors that contribute to each distinct vintage.
It's a welcome and enjoyable distraction from the reason we are meeting virtually to begin with—to accommodate social distancing protocols. Yet it doesn't feel like a second-best option, the first obviously being an in-person visit. While a day in Wine Country—exploring the vines in person, sidling up to a tasting bar and smelling the acrid, oaky air so ubiquitous in many wineries—is a day well spent, this virtual tasting experience admittedly has its own benefits. There's no need for a designated driver, no travel required and we can sip featured wines in a comfortable, crowd-free environment, all while staying connected to the winery. But is this just a passing pandemic trend amongst wine lovers, or are virtual tastings here to stay?
This NorthBay biz reporter was on assignment during this tasting, tasked with finding answers, and discussions with local wineries provided clarity on this increasingly popular way to spend time at home during a most unusual year.
Cardinale
Cardinale, based in Napa Valley, started in 1982 with a mission to produce a singular Cabernet Sauvignon from the highest-quality vineyards throughout the North Coast. Carpenter has been crafting the limited production wine since he started as winemaker in 2001, and today the winery uses grapes from a blend of multiple sub-appellations in Napa Valley, primarily Mount Veeder, Howell Mountain, Spring Mountain and Diamond Mountain.
When COVID-19 related restrictions first started in the middle of March, the winery had to cancel a number of scheduled visits with key clientele. They wanted to find a way to continue to connect with them and decided to explore the virtual tasting option. By April and May, when people had been home for a couple months, the winery found a receptive audience with clients eager for something enjoyable that they could do from home.
Cardinale chose a location in the tasting room that would be recognizable to anyone who has been to the winery and set up special lighting, making the virtual environment as aesthetically pleasing as possible. With the backdrop being one of its memorable, signature art pieces called "The Life of the Vine," Cardinale's clientele could feel like they were right there in the tasting room with the host, or even the winemaker.
"One of our estate hosts or our winemaker host the tastings," says Ross Anderson, estate director. "They go through, almost like you're on-site, introducing the estate, what is going on there right now, and then move into the education and explanation of the wines. We typically focus on two to three wines. We usually start with our unique Intrada Sauvignon Blanc so that we have a white wine to start with and then a couple of Christopher's signature wines. The Cardinale Cabernet Sauvignon is kind of the headliner—we finish with that."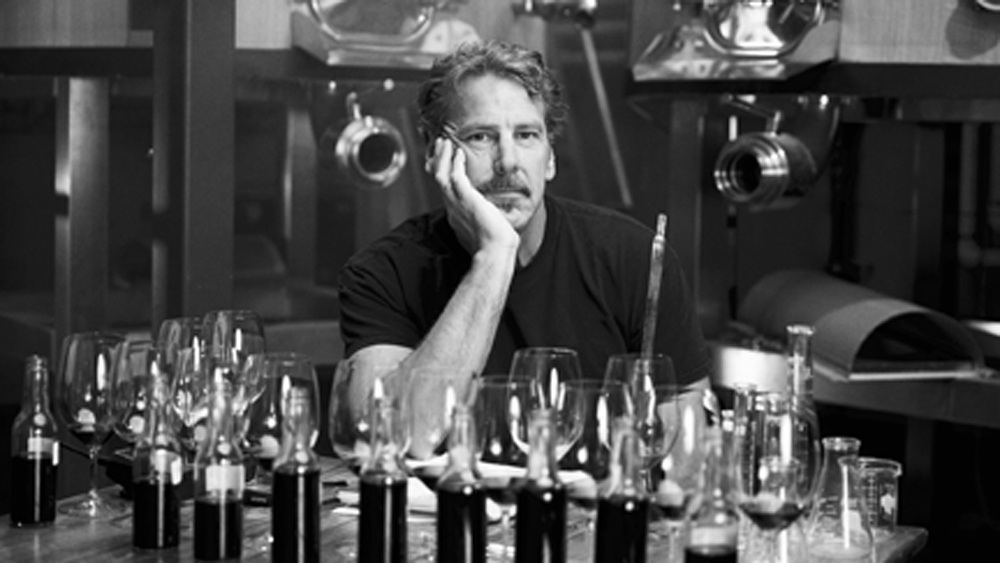 Because Carpenter makes wine for several other wineries, Cardinale has some flexibility in creating the various tasting packs, often including wines from those wineries as well. The winery ships the customized tasting packs to customers, along with instructions on how to cellar the wines, when to open them, and even recommendations of food accompaniments that pair well with the wines. The customers then schedule a day and time to taste, virtually, usually through Zoom.
"One of the other big successes we have had in virtual tastings has been in the corporate environment," says Anderson. "The customer base that we have collecting Cardinale are typically very high-level business people or they are recently retired. They are high net-worth individuals. A lot of them have corporate relationships. For example, a c-level employee at a Silicon Valley company is a collector of ours. He had someone on his event-planning team contact us. They wanted a chance to reach out to their customer base in some form and thought a virtual tasting could be the way."
For this particular collector, Cardinale set up a virtual tasting for the company's customer base. In most cases, the winery purchased the tasting packs for its customers, at a cost of more than $1,000 per shipment. Cardinale sent more than 50 tasting packs to those key customers all over the world. On the day of the Zoom tasting, the company had a chance to say hello to its customers before the winemaker led the group through the virtual tasting.
Because Cardinale's collector base is nationwide, the virtual tastings are easier to coordinate. The estate hosts can complete East Coast tastings earlier in the day, and then schedule West Coast tastings later when appropriate for the time zone. That flexibility allows them to schedule many more tastings than could be done in person.
From the perspective of the customers, the virtual tastings are also an easy, entertaining activity they can do while social distancing protocols inhibit many other types of events. No travel is involved, and the only cost is purchasing the tasting pack.
"I think in most cases they were looking at this as an experience, an event within their house," says Anderson. "The key to it was the opportunity to join with some of their friends. Throughout this [COVID-19] situation, everyone has been in their bubbles. We all deal with our own frustrations with that. Our collectors showed an appetite to meet with friends. That was an advantage because we saw new customers coming from that."
Frequently, a group of six to eight would join the virtual tasting together, each receiving their own tasting pack to their collective homes and then joining the Zoom meeting at the same time. It was a way to connect and engage with friends, with some in different time zones, as well as giving Cardinale the opportunity to reach out to new prospective customers.
"Zoom has been a blessing to enable us to do business in some form or fashion within the wine industry," says Anderson. "Zoom became so widespread and well known so quickly. Thankfully, everyone was comfortable with Zoom, and any security concerns early on were quickly alleviated. We've had a lot of good success with the virtual tastings. I would much rather be hosting our guests on-site at the Cardinal estate in the normal way, but in these situations, you have to adapt. That is what the virtual tastings gave us—a chance to adapt and continue to do business and continue the relationship with our existing collector base."
Gary Farrell Vineyards & Winery
Gary Farrell Vineyards & Winery is a 38-year pioneer in the Sonoma County. Winemaker Theresa Heredia joined in 2012, and she has carried on the winery's legacy of crafting Burgundian-styled, small-lot artisan wines, capturing the essence of vineyards in the Russian River Valley and beyond. Today, the winery produces 12 to 15 different single vineyard Chardonnays and Pinot Noirs, and two Russian River selection blends.
Interestingly, it was not the pandemic that prompted Gary Farrell Winery to consider virtual wine tastings. The winery already planned to implement virtual tastings when they received positive feedback from customers who watched Facebook Live videos produced by the winery detailing tasting notes for wine shipped to club members.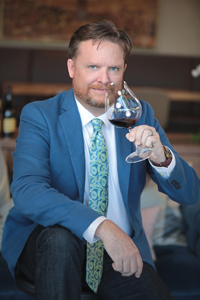 "When we had put together our budgets and plans for 2020, we had put in a program to start developing some sort of virtual experience," says Brian Shapiro, business development manager. "We had been doing Facebook Live videos for all our wine club releases and had seen a great response from our members. Maybe not right when we did the Facebook Live videos, but we noticed in the week before the club shipments went out, they were referencing these videos a lot. We realized there was definitely an opportunity to engage our national members. We already had a tentative framework for virtual experiences when this all happened."
While the virtual tastings materialized sooner than they had planned to implement them, having the idea in place allowed the winery to pivot quickly, and within 72 hours of the shutdown in mid-March, it was already receiving RSVPs for the virtual tasting packs.
Gary Farrell started out promoting three different styles of virtual tastings. When COVID-19 first hit, the winery responded by offering a virtual tasting pack with wines from the many Russian River vineyards it works with. After receiving the wines, customers would sign up for virtual tastings at a later date, led by one of the two estate sommeliers. After receiving a positive response from this first pack, Gary Farrell launched a similar pack of wines outside of Russian River Valley. The sommelier on the virtual tasting would choose two of the wines to feature, leaving the opportunity for customers to schedule another Zoom tasting to open up the other wines at a later date. This would allow customers to break up the tastings and not have to open all the wines on the same day.
"We also created another style of tastings which we call our cellar parties," says Shapiro. "These are more for our club members and it gave them an opportunity to pull a bottle out of their cellar, and just have a real casual, happy-hour conversation with our sommelier and our winemaker, open a bottle and relax and talk about what makes the wine great. There was no purchase necessary for the cellar party program."
The winery also provided private tasting opportunities led by a sommelier for a group of family members or friends spread out across the country. Each participant would purchase the wines and then get together on a Zoom call for the formal tasting. It was a great opportunity for the winery to connect with members they don't see often, and for families to connect amongst each other.
Finally, another program, which ran through the end of September, was the "Sunday Supper Program," in which estate sommelier Tiffany Kuhn developed a three-course meal paired with Gary Farrell wines. Customers would order the packs about a week in advance and receive the wines and recipes. Kuhn also made a series of videos explaining how to make the dishes, sharing pro tips and demonstrating various cooking techniques. On a Sunday, all who signed up made their dishes and then gathered on a Zoom call to eat, share in the experience, and enjoy the wines together. The winery generally limited these experiences to a maximum of eight "Zoom screens" to ensure an intimate environment.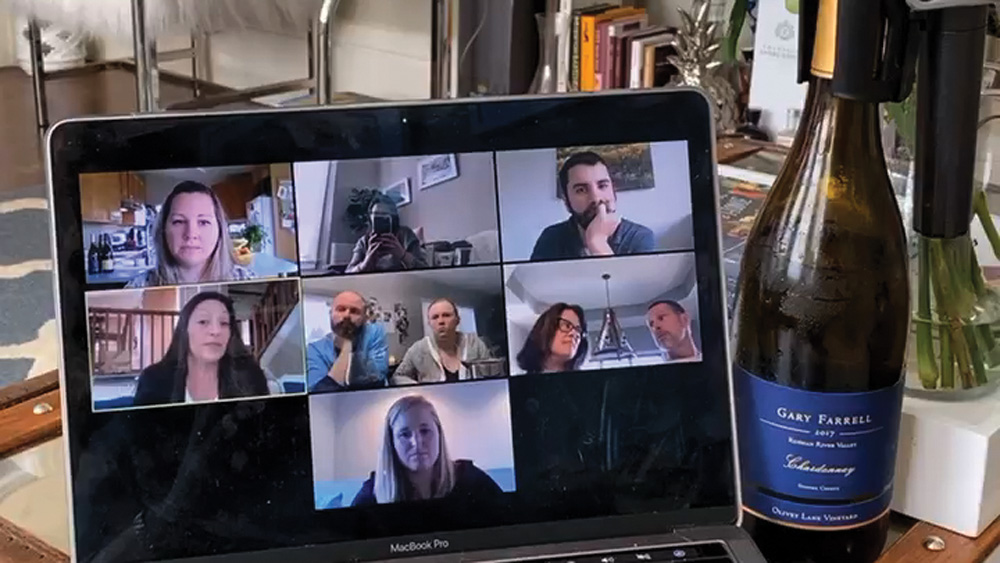 Always one to think of another creative way to reach its customers, Garry Farrell Vineyards will launch another new series of tastings in October. "We're realizing that sometimes people don't have time to get on a Zoom call with us and have a tasting," says Shapiro. "Sometimes they just want to sit down and go through the wines and have the experience themselves. So what we've done is put together packages of wine that have a virtual tasting menu, specifically to that package. It gives the purchaser the opportunity to get a fully immersed experience. We have harvest videos that show how we're harvesting the grapes. We have in-depth tasting notes that cover everything from the chemical analysis of the wine, to the winemaker's musings of what that vintage was like. We have the maps of where the vineyards are located. It's all you would get if you came to Gary Farrell and did a formal tasting with us in our salon, but it's from the comfort of your own home, at your own pace."
No matter what type of virtual tasting session customers choose, the response has been positive. With few entertainment opportunities available due to the pandemic, wine consumers are itching for ways to engage with their favorite wineries, a means to connect with their families and friends in a safe environment and ideas for fun activities they can do from home. From the winery's standpoint, virtual tastings became an effective way to market its brand and stay at the forefront of its customers' minds.
"To us this is just another way to keep in touch with those folks who are passionate about Gary Farrell," says Shapiro. "It's so much easier to engage with somebody who can just get on a Zoom meeting with us. There's a casual component that makes it so easy and so approachable. That's what we want to be—what we call approachable luxury where you don't have to be overly formal. You just get together and have a conversation and drink a glass of wine and do what wine is supposed to do, which is bring people together."
As wineries were compelled to innovate to engage with customers, brand new platforms appeared and have made an impact. In the early days of brainstorming once the pandemic hit, the staff at Gary Farrell had a plethora of creative ideas, including creating a new app and a new website with tasting notes. However, the virtual tastings proved to be the most cost-effective and impactful solution. Even post-COVID, Shapiro believes that virtual tastings will continue as a trend, given the breadth of opportunity it affords.
"The wine industry almost invented the subscription model for wine deliveries," says Shapiro. "There are a lot of other industries that have taken cues from us. It's a great opportunity to innovate again. There are great opportunities to take that virtual experience and bring it into the consumer's home. So, I think this is here to stay. We've been forced to innovate quickly, and I really do hope that other wineries in the industry look at it as an opportunity to engage and sell more wine."
Inglenook
On a Zoom virtual tasting with Inglenook, Jesse Erickson, member and guest relations manager, leads his virtual guests through a tour of the majestic Inglenook estate, located on 1,700 acres in the Rutherford AVA in Napa County. While savoring the estate's premier wine, called Rubicon and produced since 1978 with predominantly Cabernet Sauvignon, we view rolling vineyards, dark caves and inside of the estate chateau, which boasts one of the very first tasting rooms in Napa Valley. Erickson first gives a brief history of the property, explaining that it is the largest contiguous estate vineyard on the famed Rutherford Bench, Napa Valley's finest area for producing Cabernet Sauvignon, and that it has been continually operating since 1879. Then he explains the breakdown of varietals and shows on a map exactly where on the property the grapes were grown for each wine we taste. It is an immersive experience that leaves us with a desire to visit the estate in person.
Francis Ford Coppola, five-time Oscar-winning director, writer, and producer, and his wife, Eleanor, purchased the historic Inglenook estate in 1975. At that time, it included more than 1,400 acres of land including founder Gustave Niebaum's Victorian home and carriage house. In 1995, the Coppolas purchased the remaining part of the original property, which included the Inglenook Chateau and approximately 90 acres of vineyards, thus restoring the estate to its historic dimensions. In 1994, all of the 235 acres of vineyards were certified organic, and all the wine is still grown, produced and bottled on the property. Above all, the Coppolas have worked to sustain the heritage of the property and become stewards of the land. Today the winery, under the direction of Philippe Bascaules, director of winemaking, produces Rubicon; Cabernet Sauvignon; Blancaneaux, a white Rhone-style blend of estate-grown Roussanne, Marsanne and Viognier; Edizione Pennino Zinfandel; RC Reserve Syrah; and a Sauvignon Blanc.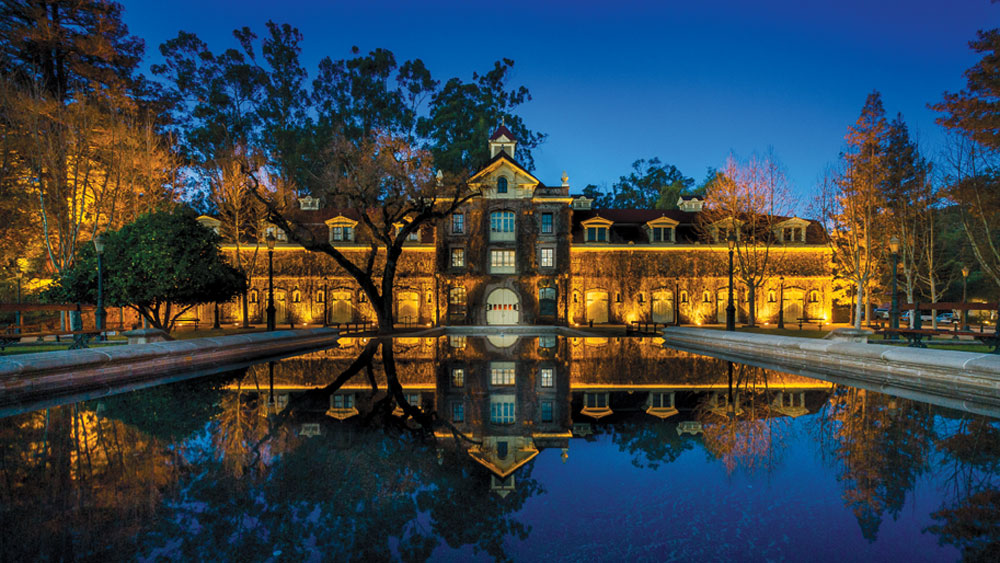 Inglenook first considered the idea of virtual tastings during the pandemic, when guests in different parts of the country who had scheduled visits to the winery in March and April were calling to cancel their appointments because they couldn't travel. They were still purchasing wine to drink at home and Inglenook thought they could add to their experience and provide some entertainment.
"We started hosting virtual tastings after the onset of COVID, and though our tasting room is open, we are going to continue them throughout the year," says Catherine Durand, estate president. "We have found them to be a fantastic way to engage with folks across the country and around the world."
Inglenook offers several different virtual wine tasting experiences. One option, which is ideal for those who simply want to taste various wines without the expense of buying full bottles, provides guests with three wine samples. The samples are shipped, or if local, delivered, and a Zoom meeting is set up with a wine educator who presents the samples and shares stories of the wines and the history of Inglenook.
Inglenook's wine educators also host virtual wine-trivia experiences that feature a specific Inglenook wine. Once or twice a month, the winery's estate chef, Alex Lovick, does a wine and food pairing demonstration. He recently partnered with a cheese purveyor in Petaluma and shared how to best pair cheeses with Inglenook wines. Virtual tasting events can be booked as private experiences from two guests to up to 50 or more, or customers can choose to join group virtual tastings that are open to the public. The public tastings, such as the chef demonstrations, wine-trivia events and tastings with the winemaking team, can have as many as 100 attendees. Whether private or public, all the virtual experiences are designed to produce ample participation between the guests and presenters.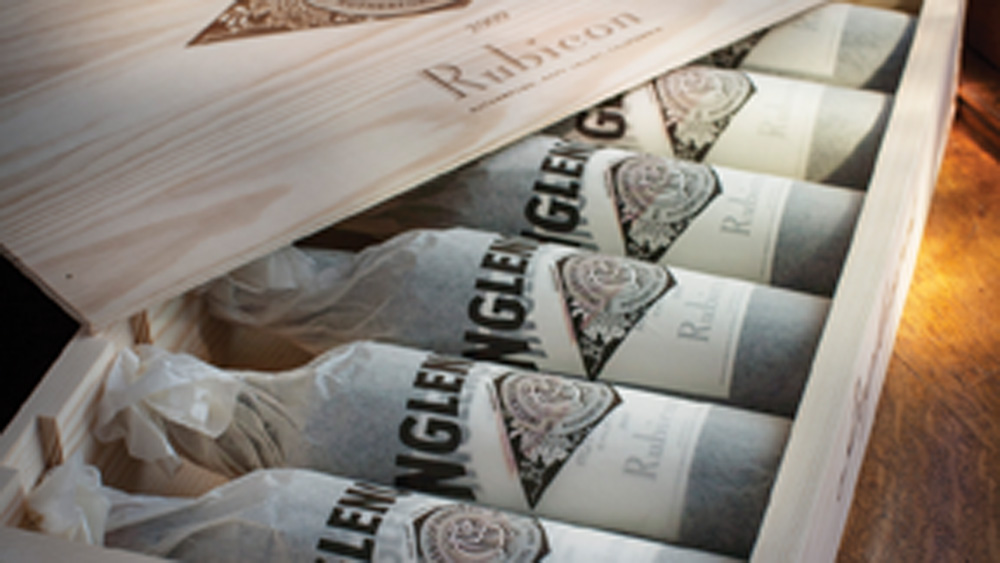 "Sharing our wines and history with guests who can't travel to Inglenook is definitely in the pro column for virtual tastings, but we do miss the direct interaction," says Durand. "We have introduced our wines to people who have not experienced them before. Weather conditions can sometimes make shipping out the virtual tasting kits a bit tricky, but that's a minor issue."
Thus far, Inglenook finds its virtual tastings well attended and an effective way to market its brand. The winery has been getting the word out through the press, social media and direct communication with its wine club, the Heritage Society. The winery feels that this new trend is here to stay, even after the pandemic is over. "With both personal leisure and business travel continuing to evolve, I think virtual experiences will continue and expand into new forms of entertaining, connecting and team building," Durand says.
The future of virtual tastings
Whether virtual tastings are indeed here to stay or simply a trend that has materialized during the pandemic, it certainly has wineries thinking outside of the box. Whether necessity or not, this era has opened up new possibilities for wineries to engage with customers, expand their global reach, and increase brand awareness. Even as some wineries reopen their doors for in-person tastings, it will likely be quite a while before larger groups can gather, making virtual tastings especially appealing for larger, corporate events.
"Once the COVID-19 situation came into effect, we adapted," says Anderson. "Based on the success of these virtual tastings, we don't see them going away in the future. I envision that it will be something we'll continue to offer for visitors and collectors of Cardinale. I don't see that going away at all. We're still getting a number of inquiries for them. It's become a good part of our business."