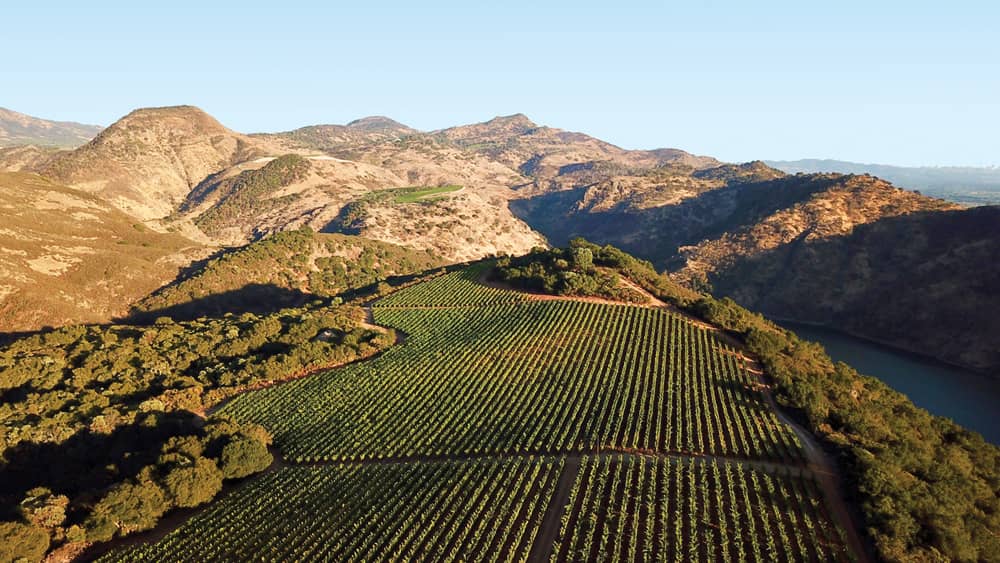 Ecology and enology are two words that don't often go together. But perhaps they should. At Mark Herold Wines, those fields of expertise collide to wondrous effect, thanks to winemaker Mark Herold. His creations are much like Herold himself: governed by scientific data, but quick to express themselves with unmistakable eloquence and distinction.
Growing up in Panama before making his way to the U.S., Herold was working on his Ph.D. in ecology at UC Davis when his biochemistry professor, who luckily owned a winery, invited him to work the harvest. Herold was hooked, creating his first barrel of wine in 1992 before joining Joseph Phelps Vineyards as a research enologist in 1996. There, through a bevy of scientific experiments, Herold refined his winemaking style.
After a series of successful early winemaking ventures, Herold created Mark Herold Wines, quickly forming partnerships to ensure access to the region's top grapes, especially Cabernet Sauvignon. The varietal is Herold's specialty, dating back to his famed first label, Merus, which was crafted in his home garage in Napa.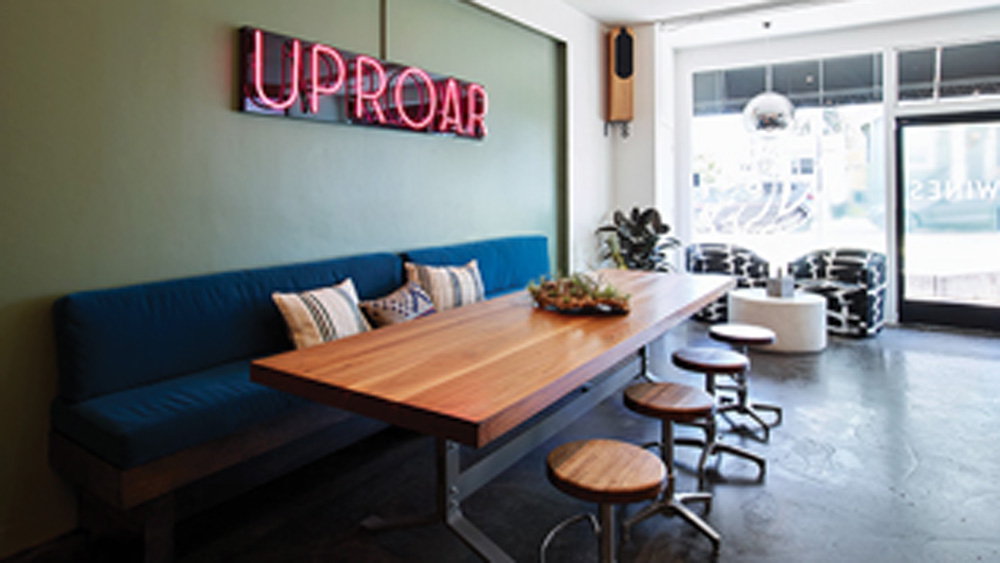 Now, Herold has a tasting room in downtown Napa's Oxbow District. Newly renovated in 2018, it's eclectic and modern, with funky-sophisticated armchairs, silver spheres hanging from the ceiling, a faux stuffed marlin displayed behind the main bar and the word UPROAR illuminated in neon lights. (More on that word later.)
The tasting room is open for walk-ins and reservations, and Herold Wines' virtual tasting program, Herold at Home, has been a success thus far, according to Kaetlyn Bartlett, director of sales and marketing. She says the program will continue, pandemic or not. As for Herold, he calls on his background in science to synopsize the region's current situation. "It's not dissimilar from ecology. We're just organisms wrapped into a new environment. We have to adapt and change and embrace what is normal now."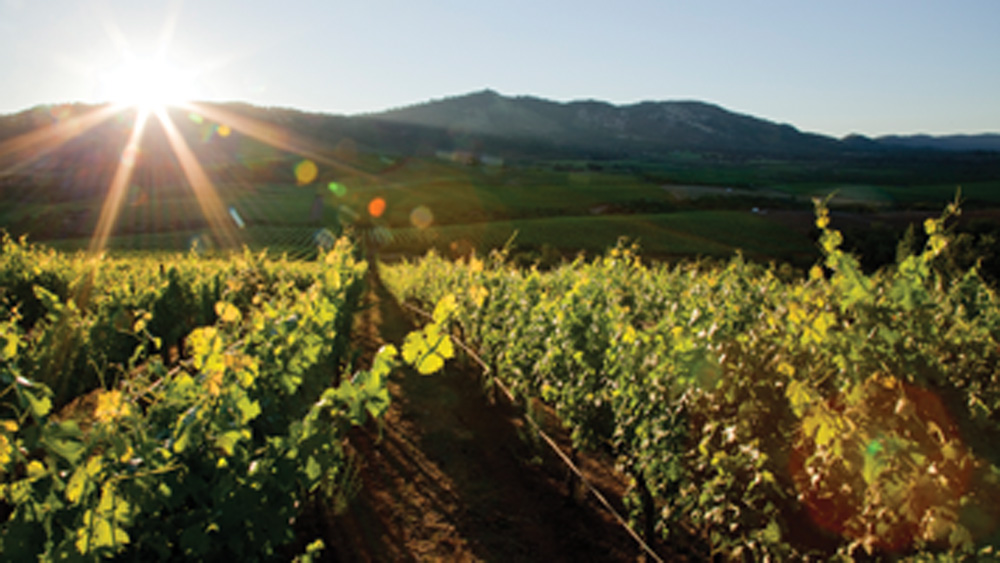 My visit to Herold's tasting room on this warm autumn day is a great way to adapt. Herold, Bartlett and Sierra Millet, hospitality manager, provide a warm welcome, and we take a seat at the room's beautiful communal table, right underneath the hip neon sign.
We start with a sip of Herold Sauvignon Blanc, sourced from the Uboldi Vineyard in Sonoma. Aromas of lemon and pear jump from the glass, giving way to lovely flavors of apple and nectarine. Herold achieves a crisp acidity by aging the wine in egg-shaped concrete wine tanks. "What concrete does, it breathes just like wood—micro amounts of oxygen go into the concrete. So this is like being in a barrel but with no wood," he says.
The tank also coerces the wine to stir itself, since the outside of the egg is colder than the inside. The result is a new spin on the classic battonage technique, which calls for stirring the wine lees (leftover yeast cells) during fermentation. The method gives this vintage an incredible mouthfeel.
Next, we try the first of four Herold Cabernet Sauvignons—a Napa Valley blend dubbed Uproar, in a nod to Herold's elephant logo (with the neon sign being a nod to the custom blend). Using winegrapes from Napa Valley's Coombsville, Stagecoach and Oakville vineyards, this wine combines soft tannins with a lengthy finish and juicy yet elegant flavors of fresh fruit, a wonderful representation of the Napa Valley. In creating this vintage, Herold spends ample time in the vineyards, becoming familiar with each yearly crop and its unique characteristics. This helps Herold as he refines his single-AVA Cabernets.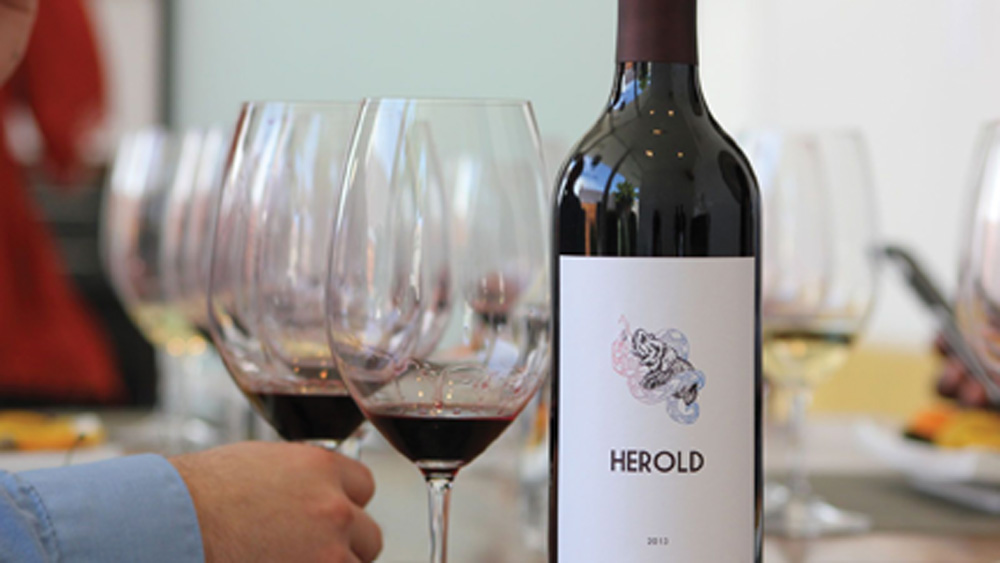 For our third taste, we sample one such vintage, as Bartlett pours from a bottle of 2016 Herold Coombsville Cabernet. Aromas of ripe blackberries and black current are evident, and upon tasting, plush, supple sensations of dark fruit take over. "This is a softer style," Herold says. "It's a special area in Napa. The tannins aren't super present. You get more of a feeling like you're stepping your bare foot on really plush carpet."
We then move to the 2016 Herold Stagecoach Cabernet. Herold has a custom block of winegrapes at the Stagecoach vineyard, and his vines are planted at a high elevation. This provides a mineral rich soil that makes the wine distinctive, and Herold elected to plant his favorite cabernet clone (No. 169) that produces clusters of small grapes with concentrated flavors of the terrior. The result is yet another master class in Cabernet—the lovely scent of black fruit is magnified on the palate, with hints of minerality that let you know the winegrapes originate from a special place.
Lastly, Bartlett pours a sip of 2015 Herold Oakville Cabernet. "[Oakville] has some of the best dirt in Napa," says Herold, who uses winegrapes from Oakville Ranch Winery for this varietal. The balance is extraordinary, thanks in part to winegrape growing at Oakville Ranch that Herold considers exceptional. "They have the magic touch." Their combined efforts produce perhaps the quintessential Napa Valley Cab: big, bold, and sophisticated.
That description happens to suit Herold, as well. A man of science and art, he found his calling, which has persisted through an unusual year for the wine industry and the economy at large. "[It's been] everything but the swarm of locusts," Herold notes. But some parts of life haven't changed. Mark Herold continues to create wines that bring bold flavors from the vineyard, thanks to a style all his own.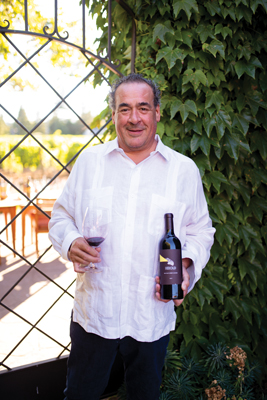 Did You Know? The elephant logo that adorns each bottle of Mark Herold wine represents Herold himself. Larger-than-life in stature and personality, he's also introspective, just like an elephant; the animals are one of the few in the wild that recognize themselves in a mirror. The bright flash of yellow coming from the logo's mouth represents Herold's uproarious laugh and the power of his Cabernets, all without taking life too seriously.
Mark Herold Wines
710 1st Street
Napa, Calif. 94559
Hours:
Sunday—Thursday
11 a.m. to 6 p.m.
Friday—Saturday
11 a.m. to 7 p.m.
Tasting Fee: $35 to $65
Wine by the Glass Available
Virtual Tasting Available
Wines Offered: 2018 Herold Sauvignon Blanc, 2017 Herold Uproar Cabernet, 2017 Herold Coombsville Cabernet, 2016 Herold Stagecoach Cabernet, 2016 Herold Oakville Cabernet (selection subject to change).
Reservations: Strongly encouraged. Walk-ins welcome if space allows.
Picnics: Yes
Pets: No