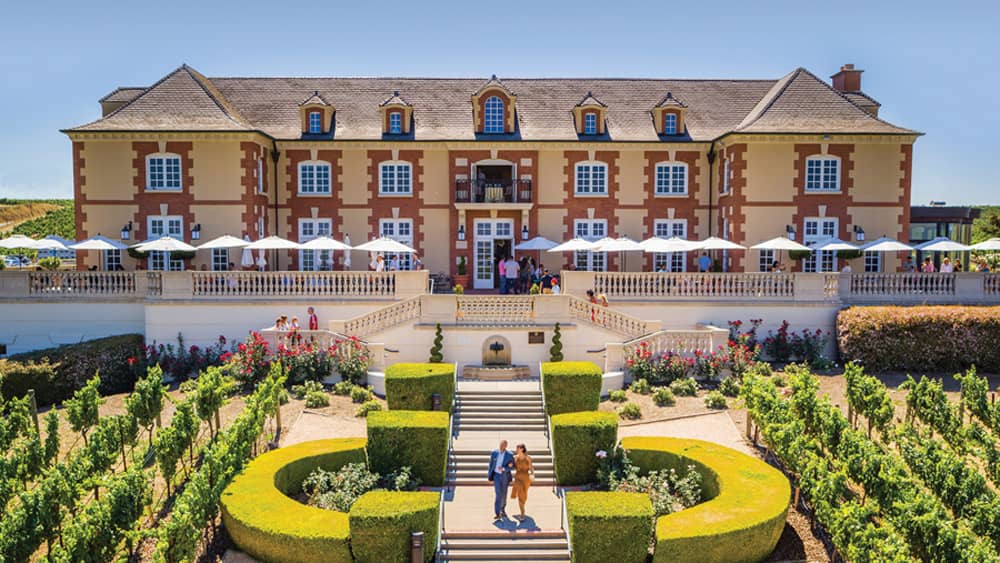 A pop of a cork, a stemmed glass and tiny bubbles—nothing says celebration quite like a sparkling wine. And Domaine Carneros, perched on a knoll in Napa Valley, has gained a reputation for producing sparkling wines known for their elegance and complexity of flavor. As founding winemaker Eileen Crane, once said of their bubbles, "Classic. Sophisticated. Timeless. Think Audrey Hepburn in a little black dress."
The story behind Domaine Carneros begins in the 1970s when Claude Taittinger, a family member behind Champagne Taittinger in Reims, France, began his search for property in the United States. In 1987, he selected a 138-acre parcel in the Carneros region, of which 100 acres had recently been planted with Chardonnay and Pinot Noir, and built a chateau in homage to his family in France. To oversee the construction and development of the Taittinger-style bubbly, he appointed Eileen Crane, America's doyenne of sparkling wine. For the next three decades, she served as winemaker, and at the heart of the winery's operations was its méthode traditionelle sparkling wines. Later, the winery added Pinot Noir to its portfolio.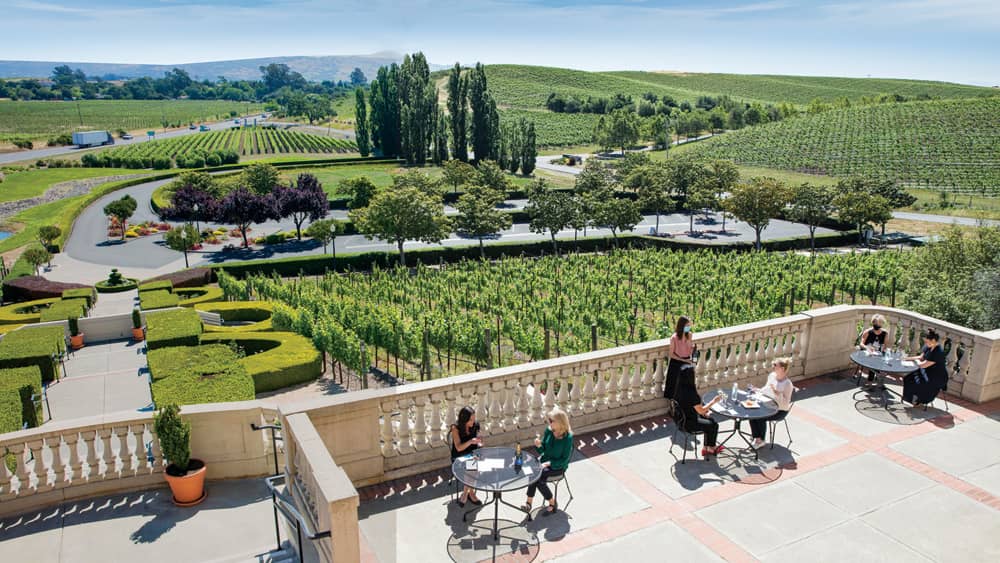 On a mild spring-like day, visitors arrive at the chateau, masked and ready to enjoy seated tastings on the terrace of Domaine Carneros, sometimes stopping to snap photos as they take the steps to the winery. There are several tasting options at the chateau, including sparkling or mixed still-and-sparkling samplers, but the host, Hadley Larson arranges a customized tasting with Remi Cohen, the new queen of bubbles, who assumed the mantle of CEO last year and intends to continue Crane's legacy and visionary leadership.
We begin with the 2017 Domaine Carneros Brut. "Most Americans think Brut is for celebrations, but this is one you can celebrate with every day," says Larson, pouring the first taste. She offers a toast. "Tiny bubbles, tiny troubles," she says, and Cohen and I raise our glasses for a socially-distanced toast. This sparkling wine offers a crisp acidity and structure with notes of pear, golden apple and honeycomb, followed by a creamy lush finish. "This is reminiscent of a French champagne," says Cohen. "The bubbles are delicate because it's made with a proprietary yeast used for a second fermentation." While sparkling wines may be one of the more technical wines to craft, they are also fun to sip.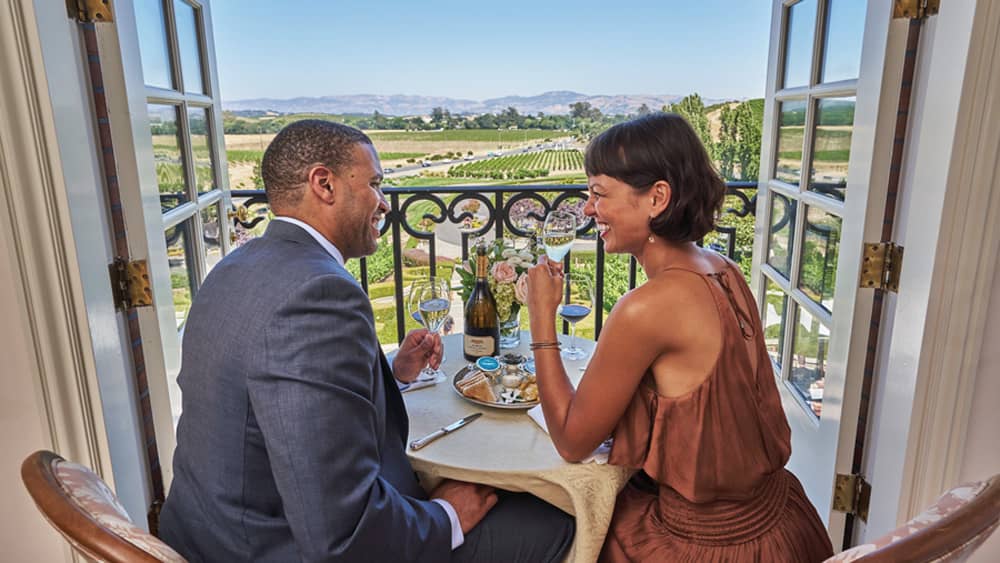 Next, we try a generous splash of the winery's most popular sparkling wines, the Domaine Carneros Cuvee de la Pompadour Brut Rosé. Blended in homage of Madame de Pompadour, the official mistress of Louie XV, she once said, "Champagne is the only beverage that leaves a woman still beautiful after drinking it." A blend of Pinot Noir and Chardonnay, this sparkling wine is a favorite with patrons. It's also a pretty glass of bubbles and on the nose, there are aromas of apricot and wild strawberries. "Sparkling wines go well with salty foods," says Larson, adding that this is the ultimate food wine and a great bottle to have on hand for holiday celebrations. "Whatever you might pair with a beer, you can swap with a Rosé. It cuts through the fat." Sparkling winemaker Zak Miller believes detail is key to crafting bubbly and maintains a minimalist approach to winemaking and continues the legacy of the founding winemaker. "The fruit is all estate-sourced from the same blocks and vineyards," he says. "It doesn't require heavy-handed winemaking."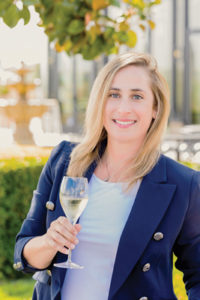 The third pour is a 2012 Le Rêve Blanc de Blancs, the winery's most prestigious sparkling wine. In French le reve means "the dream come true," and this wine was crafted in homage to Taittinger, whose dream was to establish a sparkling wine house in Napa Valley. Sourced with estate-grown Chardonnay from vines that are 20 years old, this is a gorgeous sparkling wine made in the old-world style and aged five to six years. Smooth and silky, with notes of lemon and pineapple, this sparkling has beautiful acidity and the winery's signature creamy finish.
Domaine Carneros is also devoted to crafting still wine, notably Pinot Noir, which has a loyal cult following. We try a splash of the 2018 Domaine Carneros Estate Pinot Noir, which won Best of Class in March in the San Francisco Chronicle Wine Competition. Crafted with fruit from five different estate vineyards, the fruit offers a compelling and unique flavor profile. An elegant, velvety wine, it has notes of blackberry and plum. Winemaker TJ Evans, works exclusively on this still varietal from grape to glass, and notes that the clone of Pinot is important and expresses the wine. "Great wine starts in the vineyard," he says. "Making wine is an ongoing dialogue—it is the sum of 100 decisions you make and the dialogue you go through the season."
Wine tasting in the midst of a pandemic requires planning ahead these days, but the effort is worth it, especially if you're looking for a day-trip getaway. Next time you're looking to slip away, make a reservation at Domaine Carneros and celebrate the day with bubbles and Pinot Noir.
At a Glance
Domaine Carneros
Address: 1240 Duhig Rd., Napa, Calif. 94559
Phone: (707) 257-0101
Website: domainecarneros.com
Hours: Daily 10 a.m. to 5:30 p.m.; Final Reservations at 5 p.m.
Tasting Fee: Starts at $40; (Prices vary depending on selection.)
Reservations: Required. Make reservations online or call (800) 716-2788, ext. 150.
Picnics: No.
Pets: No, though service dogs are welcome.
Did You Know?
While Domaine Carneros is first and foremost a sparkling wine house, what's not so well known is the winery also produces Pinot Noir. The production of this varietal began as a side project by one of the assistants of the founding winemaker, Eileen Crane, who would make a couple barrels of Pinot just for fun. One day, founder Claude Taittinger was visiting from France when he noticed the barrels and asked for a taste. He loved the Pinot so much that he brought it back to Paris and sold it through his former hotel, The Hôtel de Crillon. In 1992, the winery released its first vintage—The Famous Gate. Today, the winery grows 20 different clones of Pinot throughout six of its estate vineyards.
[Photos courtesy of Domaine Carneros]