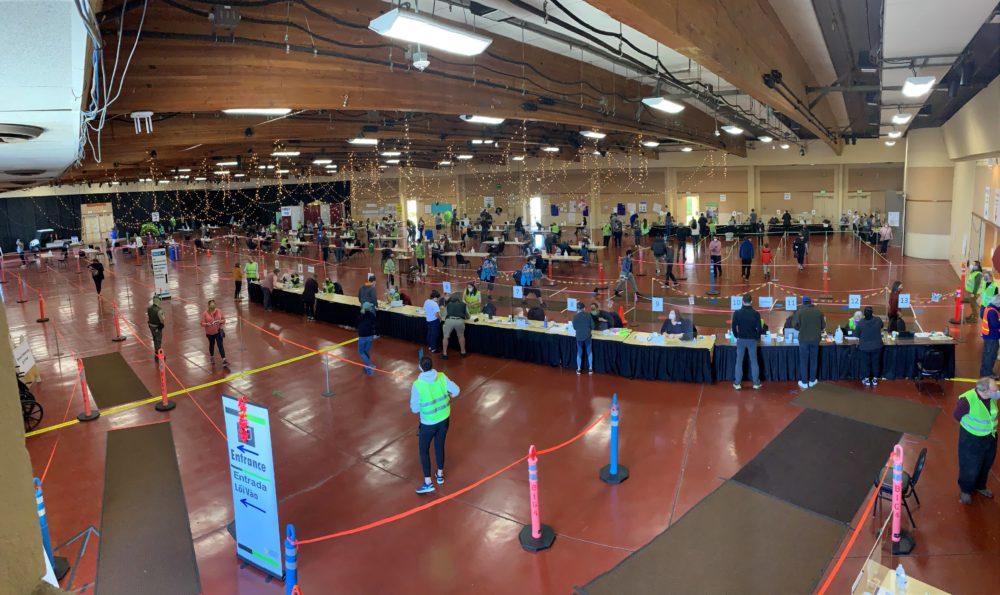 Effective April 13, Kaiser Permanente will team up with Marin County Public Health to provide COVID-19 vaccinations by appointment at the Marin County Fairgrounds in San Rafael.
Kaiser Permanente (KP) has operated a high-volume vaccination site at the Terra Linda High School gym since late February, administering 63,000 doses. With the school preparing to reopen for in-classroom instruction, KP will be relocating its vaccination operations.
The Marin Center has been the Marin Public Health's primary vaccination site for people who live or work in Marin since its opening on December 21, with over 70,000 doses administered so far. The operation is currently staffed by teams made up of County of Marin employees, MarinHealth Medical Center clinicians, Marin Medical Reserve Corps volunteers, and vaccinators supplied by the State of California.
As KP joins, the layout and flow of the operation have been redesigned for efficient flow of an anticipated higher total volume of patients each day. The new layout provides a benefit of shared parking, security, and welcome areas.
"This move builds on many months of partnership between KP and Marin County Public Health throughout this pandemic," said Laura Eberhard, lead physician for Marin's KP COVID operations. "KP members will continue to sign up for vaccines through our appointment system and will be cared for by KP staff. A lot of thought has gone into this move to make the transition seamless for the community. We are committed to continuing to provide a convenient, safe and efficient vaccine experience alongside our county partners."
In rethinking the overall site layout, the staff found opportunities to increase the overall daily output of the site.
"Because we've partnered with Kaiser Permanente for recent mass vaccination days, we've learned from each other to perfect our processes," said Todd Overshiner, Manager of Marin County Public Health's Vaccine Operations at the fairgrounds. "Recently we joined forces to vaccinate our educators and vaccinated nearly 2,500 people in one day. With this new partnership we anticipate being able to vaccinate up to 3,600 patients per day at the Marin Center, depending vaccine supply."
In addition to welcoming KP operations, MarinHealth Medical Center is contributing staff to support Marin County Public Health's operations inside the Exhibit Hall.
"One of the ingredients in our vaccination success in Marin has been the partnerships with our hospitals," said Dr. Matt Willis, Marin County's Public Health Officer. "We see the health of our community as a shared responsibility. Every dose brings us closer to the end of this pandemic and working together accelerates our progress."
The Marin Center vaccine site will serve all residents by appointment only whether insured by KP or not, and KP is providing vaccines to both current-KP and non-KP members. Details for making an appointment with Kaiser Permanente or Marin Public Health can be found on Marin Public Health's Vaccine Appointment webpage.
The Exhibit Hall, the Showcase Theater, and the Bartolini Gallery – all part of the fairgrounds – were converted to a vaccination site in December 2020. The site had been serving as a hospital overflow location area in case hospitals became overwhelmed with cases but was fortunately never needed for that purpose. Before that, the site was the primary drive- through COVID-19 testing location for the County.