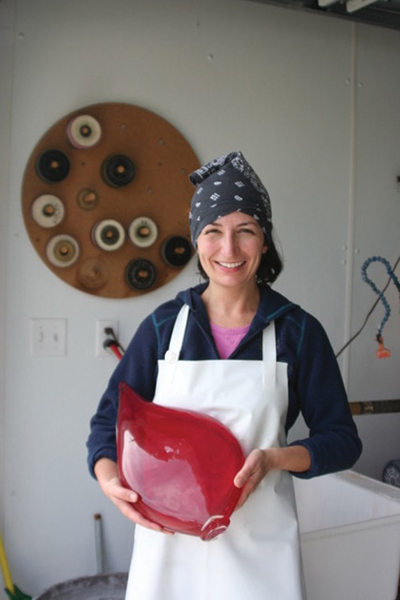 On a large worktable, beautiful glass vessels gleam in the sunlight filtering in through the open windows. A cobalt blue bowl sits beside a dark green vase speckled with silver. There are intricately swirled spheres and vases patterned with geometric lines and silhouettes of tree branches. A pair of black work boots leans in the corner of the room, next to a pair of safety goggles and a respirator mask. Above the sink is a rough wheel glittering with industrial black diamonds.
Jean Salatino knows that fine art takes grit. "I use my whole body when I work," she says. "When I'm grinding the glass, I'm using my hands and I'm using my legs because when you grind with diamonds especially, you have to push," she says. "It's not just holding it to the machine. You have to push against it." The glass is carved under running water to keep the surface from cracking under the friction and heat of the rapidly spinning wheel. The entire process can take up to forty hours to complete, and the finished product will sell for hundreds to thousands of dollars.
Salatino knew what she wanted to do at age 11 after watching an episode of Mister Rogers' Neighborhood that featured a studio glass artist. She studied at California College of the Arts in Oakland, where she met her husband, Steve Gandolfo. During the summers, she took classes at Pilchuck Glass School. The highlight of her time there was entering a bright red piece into Pilchuck's annual auction. "It sold in less than a minute for $12,000 to Paul Allen's sister… The next day I walked into the biggest gallery in Seattle and all I had to say was 'I made the red thing.' That's the first gallery I ever showed [my art] at," she says.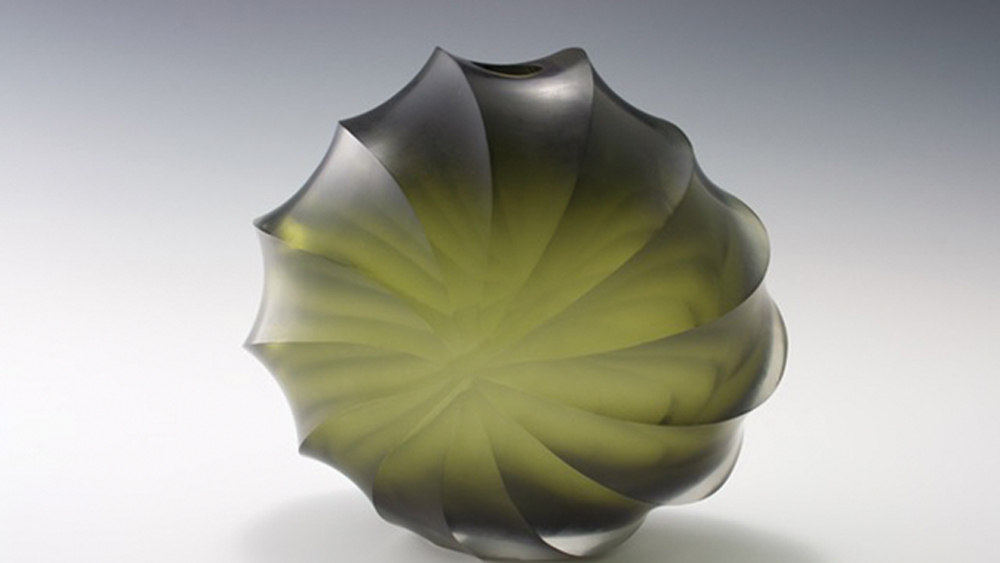 After college, Salatino worked at a lighting company in Richmond, which was later sold to a larger factory in Inner Mongolia. She was sent abroad "to show how pieces that were made in Benicia for $95 are now made for $3 in China."
In 2001, Salatino and her husband moved to Sebastopol where they operate their home studio Salatino-Gandolfo Glass. They both create sandblasted pieces, and Jean specializes in diamond carving. Gandolfo blows the blanks, which are thick pieces of glass, and Salatino finishes them. "What I'm trying to do is get the light to go in and use that translucence, that luminescence of the glass to show the carving. I do all the different shapes and designs with basically the same shaped wheel, just using it in different ways," Salatino says.
While Salatino's designs are mesmerizing, what sets her apart as an artist is her ability to bring her ideas into physical form. Finishing is hardly taught in the United States anymore because the work is dirty, loud and physically exhausting, she says. However, this adds to the value and appreciation of the art form. "You're not just buying the piece; you're buying someone's whole life experiences and their skillset and the creative design— all coming from one person. And especially with something like the grinding that I do, it's not that common that the designer is also the maker," Salatino says.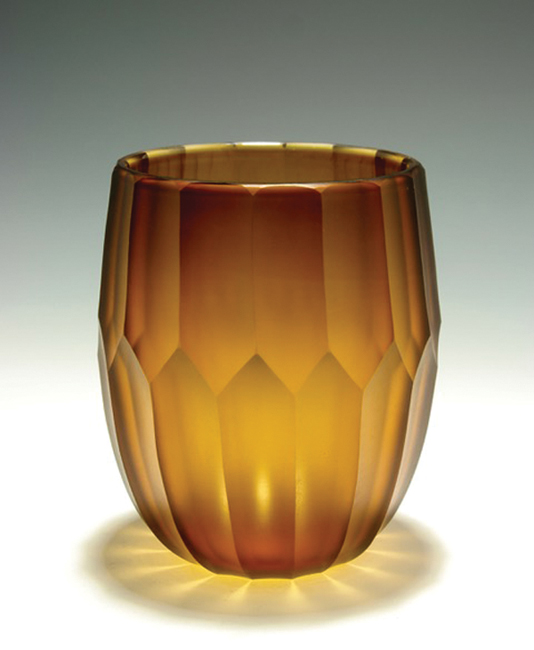 Despite the challenges, there is a great sense of satisfaction that comes with completing a piece. "The favorite part is when it's finished and it's sitting there and I can see that I was able to execute the design," says Salatino. "The better I am at what I do, the harder it is to see how I did it… So that, to me, is satisfying."
Salatino-Gandolfo Glass is hosting open studios the first two weekends in December. They also show their pieces at Graton Gallery, Sebastopol Gallery, Christina Stafford Gallery and Corrick's in downtown Santa Rosa.
For more information, visit salatino-gandolfo.com
[Photos courtesy of Salatino-Gandolfo Glass]