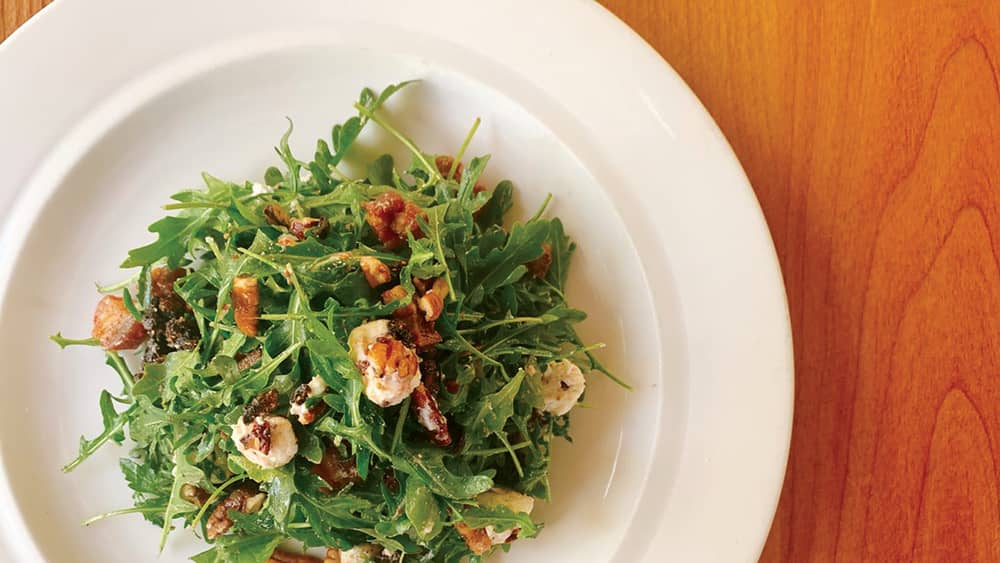 Glen Ellen is perhaps the most enchanting little hamlet in Sonoma County, off the well-traveled Wine Country trail. One intimate dining venue, the fig café and winebar (yes, all lowercase, a nod to its modesty) is located along Arnold Drive and so unassuming that if one blinks, it's easy to miss. But the truth is, this gem of a restaurant is an original Wine Country dining spot that began with Sondra Bernstein, a notable and celebrated restaurateur. In 1997, Bernstein had a spark of inspiration: Take the fresh, local ingredients of Sonoma County and pair the Rhône varietal wines that highlight their elegant simplicity.
Of course, a spark of an idea is nothing without the fire and passion it takes to breathe life into inspiration. Bernstein began by locating a place, then rallying friends and family to renovate, paint and decorate the café and create a menu that celebrates each season with locally-sourced ingredients. Her mission was simple: Serve the best the county had to offer with love and soul, and hope others would appreciate the bounty of the county just as she did.
One quarter century later, this café is still serving up the freshest cuisine with love and soul. Though it shuttered its business for five months as a result of the pandemic, it reopened in November and is welcoming guests once again. Clearly, the word is out. Alex and I venture there on a Thursday evening about a week after it re-opened, and just before 6 o'clock, the place is already whirring with activity.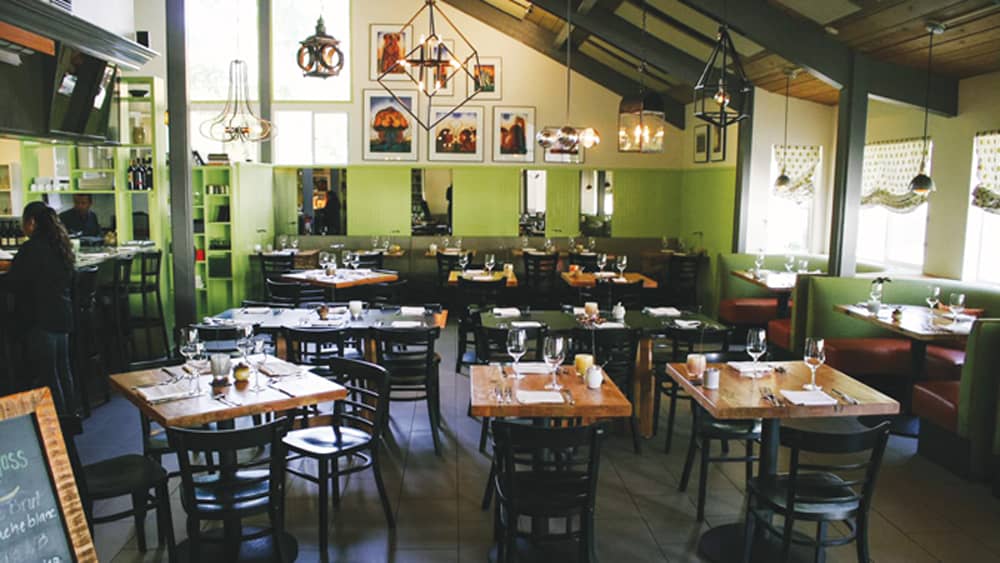 Former fig Chef John Toulze turned co-proprietor, greets us when we arrive and seats us in a cozy, semi-circular booth. Our server for the evening is Melanie Hayward, who's been on staff there since 2008 and lives nearby, so she walks to work. We ask about business and she mentions that the place is mostly frequented by the locals. (Always a good sign, as far as I'm concerned.) We sink into the booth and begin with two glasses of vino. I opt for a glass of the 2019 Truchard Roussanne, a favorite with their patrons, and Alex orders a 2018 Tres Bonnes Annés. We study the menu and agree to let John lead the way.
We begin with a go-to patron fave—the fried calamari served with spicy lemon aioli. Crispy, light and tender, it's always a crowd-pleaser and a great plate to share. We enjoyed this along with the fig and arugula salad. A signature starter at the café, this salad is visually beautiful, and the interplay of flavors and textures hit all the right notes—fresh sweet figs, peppery arugula, a creamy local chévre and the crunch of toasted pecans. This is a splendid plate of greens and so delicious, you forget it's good for you, too.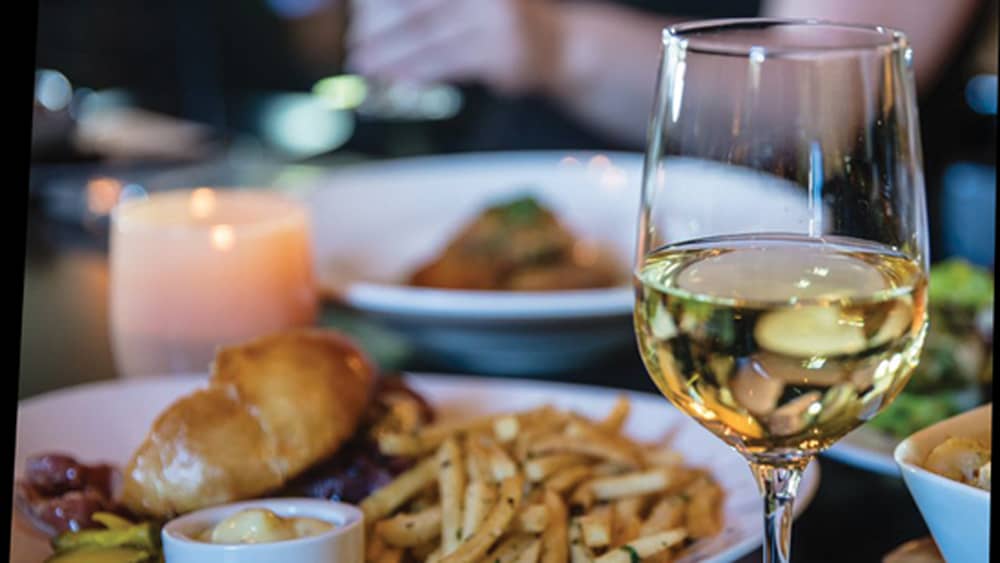 For entrées, we sample a few signature favorites at the café. The beef bourguignon is a classic French beef stew, braised in red wine and beef stock, then simmered with baby carrots, cipollini onions, cremini mushrooms and roasted potatoes. The big difference between a French beef stew and the American version is the presence of wine, which makes for a rich red-wine gravy. Simply superb, it's the perfect meal for a cold winter night. We also enjoyed the pan-seared shrimp with grilled kale, capers, lemon and creamy polenta. This dish is a more high-brow entreé on the menu because, really, how many people have mastered the art of pan-searing shrimp or grilling their kale? Yet, Alex and I devoured it like a plate of home-cooked comfort food. The shrimp was perfectly seared and the polenta, creamy and delicious. We also sampled the steak and frites, a magnificent plate of food, served with blue cheese butter that takes it up a notch. Alex dug into this hearty plate of food with gusto.
A meal at the café promises a simple, yet decadent experience where the chef and crew coax the best flavors with an interplay of textures and serve delicious plates of food in an uncomplicated, beautiful way. Since opening a quarter-century ago, the heart of the fig café remains with the focused intent and mission of its proprietors—to serve up great food, great service and gracious hospitality. "You go into this business because you love it," says Toulze, who's worked with Bernstein for 25 years. "For us, it was about creating a spot where people feel that we're bringing them into our home. And, of course, we live in a garden, so we like to take it and show it."
There's a magical charm to a good local café, where you can slip away for a spontaneous dinner for two, or rally a few friends and dine out. If you're lucky enough to reside in the area, it's the perfect neighborhood restaurant. But even if you don't, take a road trip to Glen Ellen and check out this café that has built a reputation for serving food with love and soul.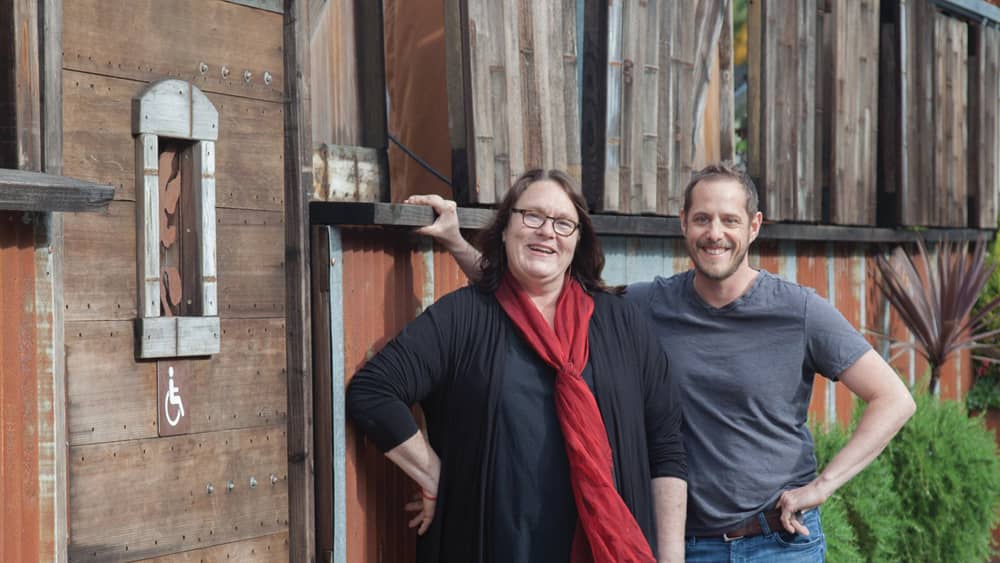 [Photos courtesy of fig café and winebar]
fig café and winebar
Address: 13690 Arnold Drive, Glen Ellen, Calif. 95442
Phone: (707) 938-2130
Website: thefigcafe.com
Fare: Country Food with a French Passion
Hours: Open Wednesday to Sunday; 5 p.m. to 9 p.m.
Price: Entrees $17—$28
Beverages: Wine/Beer