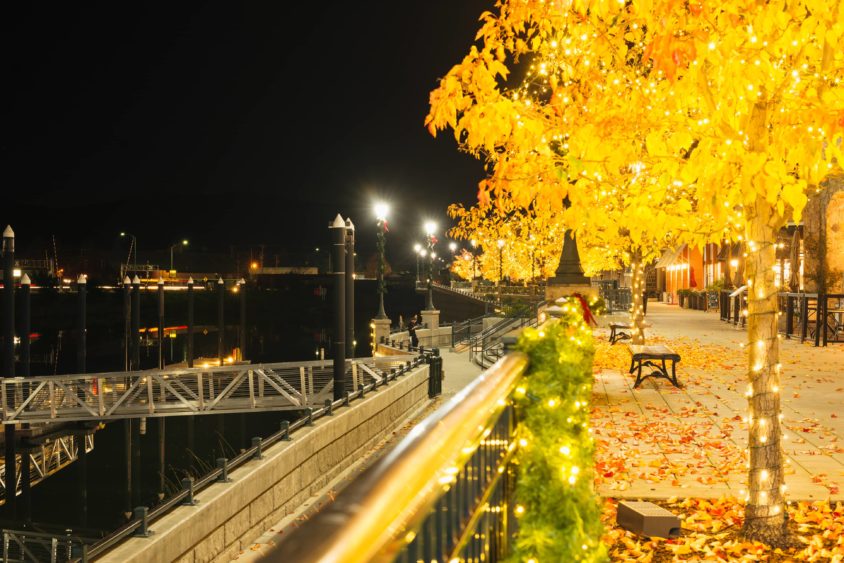 In much the same way that 2020 was punctuated by COVID-19, so too was 2021. But not even a dastardly disease would stop some businesses and nonprofits from prevailing. In November, Wilfred's Lounge, a tiki bar and restaurant, brought Hawaiian culture and cuisine to downtown Napa's Main Street strip.
The trendy spot was conceived and constructed during the years we will call COVID, but that mattered not as the convivial place overflows with Aloha spirit and tropical elixirs, shaken and stirred to perfection by bar star, "Doc" Parks. One such cocktail, the Maximum Aloha, was as much a drink as it was dessert, fueled with overproof Jamaican rum and topped with coconut banana whip. You have not lived until you scoop your drink with a plantain chip. There are too many fantastical drinks to mention, so you will have to hula on down and taste for yourself. The Hawaiian-inspired menu comes from Chef Max Ackerman (formerly of Compline) and includes such dandies as Papa'i crab and avocado salad, kalua pork, and for the traditionalists, spam sliders and hula pie—the latter was even more decadent than the drinks.
Wilfred's is the brainchild of the father-son duo, John and Nat Komes, whose roots in the valley run deep with Flora Springs Winery and Jon Nathanial and Bodacious Wines. The spot pays homage to the younger Komes' grandmother, Flora, who was born and raised in Honolulu with her brother, Wilfred, who manned his own watering hole in Hawaii. The two-story downtown space is something to see, with a lively scene that showcases authentic Hawaiian décor, totems, installations, and art pieces, including a mural of Flora arriving in Napa Valley on an outrigger, by artist Ken Ruzic. Other touches include koa wood tables with intricate carvings and a bamboo-wrapped bar. So, grab your ukuleles and muumuus if you dare, and catch the wave to Wilfred's for a Hawaiian good time.
In other downtown biz, the Perfect Union cannabis dispensary opened its 11th retail outpost last fall, with a noble goal of: "Providing guests compassionate care, while investing back into the communities we're proud to serve," said CEO David Spradlin in a statement. Last year, the company announced the launch of its charitable Community Fund, which is linked to the in-house 530 Grower flower brand. One dollar of every purchase of the product is gifted to rotating, in-need organizations.
Riding out the storm
The nonprofit, Valley Players, a community-based group, which was formed to empower women over 40, through all aspects of theatre arts, from writing and directing, to acting and set design, would not let the COVID storm derail its mission. When the Napa Valley Performing Arts Center at Lincoln Theater shut down at the onset of the pandemic, it could have been the end of Valley Players, whose productions were held at the space, but it was not. Valley Players President of the Board of Directors June Alane Reif, shared how the organization survived. "Because of our relationship with the NVPAC, we had little to no overhead to cover before or during the shutdown. Since our inception, we have had a firm business strategy of never carrying any debt. Costs for each show are paid by cash on hand and never on an assumption of future profit or donations."
Over the years, the group has received grants from the County of Napa Arts and Culture Advisory Committee and Center for Volunteer and Nonprofit leadership, and Arts Council Napa Valley. A grant from the latter helped cover production costs for Valley Players' comeback show, Ladies Briefs, which brought forth 10 original plays that captured the heartbeat of the female experience.
Another could-have-been pandemic casualty, Erosion, a St. Helena tap house and tasting room, turned frowns upside down with splashy décor, and a beer and wine offering that can only be described as giddying. Owner Patrick Rue opened the doors of his business in February 2020, one of the worst possible times to start such a venture, none of which stopped Rue from charging forward. While the tasting room closed for a period, it reopened in the spring of 2021 and gained city approval to open a taproom next door to the tasting room. The two spaces connect in the back and lead out to an outdoor patio. Patrons can pick a side, wine or beer, or mingle between the two. The beer offering is vast, and wine options vary with playful names, including Tina Turtle and Boys Just Want to Have Fun. Wines are served in cans, crowlers, kegs and on tap.
Whether it's tiki and tropical drinks you crave, or a night filled with performing arts, beer or wine, 2022 is off to a rousing start.