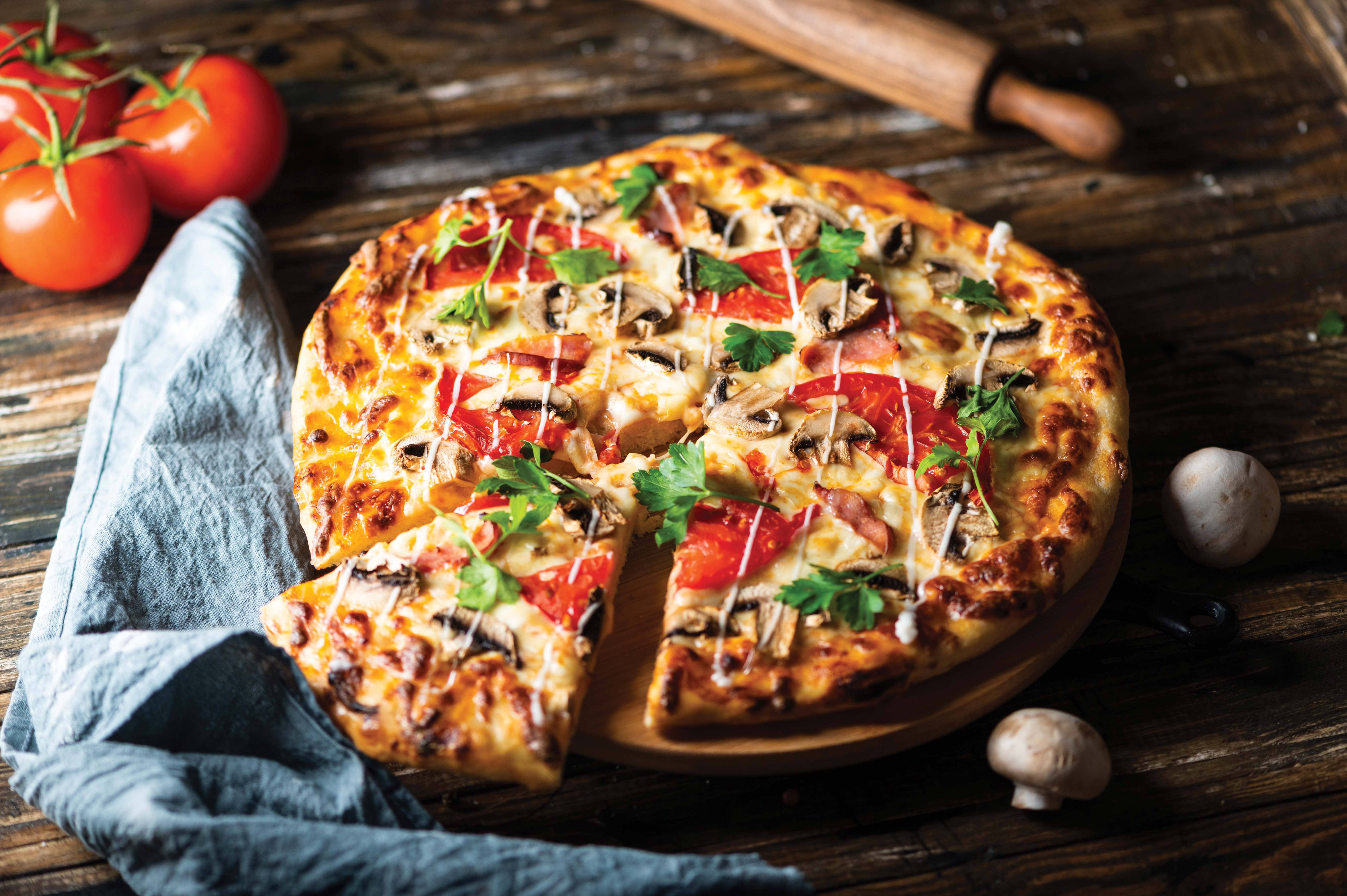 tasty juicy pizza on wooden background. lots of meat and cheese. Mushroom pizza. Pepperoni pizza. Mozzarella and tomato. Italian dish. Italian food. Comfort food. Local food
Summer is all about grilling, right? Pizza cooked straight on the grill is one of the best things I know of. It's simple and delicious. Once you've seen it done, you can officially call yourself a pizzaiolo or pizzaiola. I've done a simple margherita (named after the queen) topping here, but add whatever toppings you like. It's fun to tailor toppings to the wine you are going to serve. And remember, in Italy the dough is as important as the toppings, so don't overload. This is a fun cooking project for a casual gathering. You can make the dough and toppings ahead of time, and then put them out and let everyone create their own pizza masterpiece.
Grilled Pizza
Makes 6 small pizzas
Prepared pizza dough (recipe follows) divided into six portions
3/4 cup or so extra virgin olive oil for brushing and drizzling
2 cups loosely packed shredded Sonoma Jack
1/2 cup or so freshly grated pecorino cheese
6 ounces fresh mozzarella, drained and sliced
3 cups canned and crushed tomatoes in puree, preferably San Marzano with basil
1/3 cup coarsely chopped basil leaves
Big pinches of pepperoncino for each pizza (crushed red pepper flakes)
Prepare a two-level (one side cooler than the other) charcoal fire, setting the grill rack 4 inches or so above the coals. Alternately you can use a gas grill with one side hotter than the other.
With a lightly floured work surface and rolling pin, roll the dough portion into 10 inch or so free form circles as thinly as you can, about 1/4 inch thick. Don't worry about the shape—even thickness is the goal here. Place them on a sheet pan divided by parchment or waxed paper.
When the coals are evenly lit and medium hot, brush the dough with olive oil and place it oiled side down onto the hot part of the grill. Within a minute or so, the dough will puff and bubble, the underside will stiffen and grill marks will appear.
Using tongs or a spatula check to see that it is not burning. If so, move it to the cooler part of the grill. Flip the crust over, onto the cooler part of the grill and quickly brush the grilled surface lightly with olive oil. Spread a thin layer of the tomatoes on the dough and then quickly top with a bit of each of the cheeses, basil and anything else you might like to add. Remember that you don't need or want to cover the entire surface of the pizza.
Immediately put the hood down and cook for another minute or two or until the cheeses are melted. Move pizza to a cutting board and cut into wedges and serve immediately. Cook remaining pizzas in the same manner.
Some notes: Once you've topped the pizzas and placed them on the grill, the cheese should be melted and bubbling a bit after a couple of minutes. If not, either the coals aren't hot enough, or you've used too much cheese and toppings. A longer time on the grill will only dry out the pizza and toughen it. The ideal crust should be both tender and crisp. This is why a good two-level fire is important.
Pizza Dough
Makes about 24 ounces of dough (enough for six, 10-inch pizzas).
1 envelope (2-1/2 teaspoons) active dry yeast
2 cups or so warm water
2 teaspoons sugar
1-1/2 teaspoons table salt or 3 teaspoons kosher salt
1/2 cup finely ground corn meal or whole wheat flour
3 tablespoons olive oil
4 – 4-1/2 cups unbleached all purpose flour
In the bowl of an electric mixer fitted with a dough hook stir the yeast into the warm water with sugar. After 5 minutes (when it begins to bubble) stir in the salt, corn meal and 1 tablespoon of the olive oil. Add the flour, stirring at low speed until the dough forms a rough ball and pulls away from the sides of the bowl, about 4 minutes. You may need to add a little flour or water here. Let the dough rest in the bowl for 15 minutes. It should be fairly soft.
Remove from the bowl and divide the dough into 6 equal pieces. Gently round each piece into a ball and brush or rub with a little olive oil. Place each into a zippered plastic storage bag and drizzle remaining olive oil (1 teaspoon or so) over each ball and seal the bags closed. Let the balls sit for at least 30 minutes. You can also refrigerate them overnight at this point and roll out and make pizzas the next day. Sitting overnight actually gives you a better flavor in the dough. If you've refrigerated them plan to take them out of the refrigerator at least 1 hour before you plan to make the pizzas. Alternately you can freeze the dough for up to 3 months. Again plan to let the dough thaw and come to room temperature before using.
John Ash is a legendary chef, author and culinary educator. In the North Bay, he's often referred to as the "Father of Wine Country Cuisine." On Saturdays from 11 a.m. to noon, John demystifies the cooking process on The Good Food Hour with co-host Steve Garner on KSRO (1350 AM, 103.5 FM and 94.5 FM). For more information, visit chefjohnash.com.