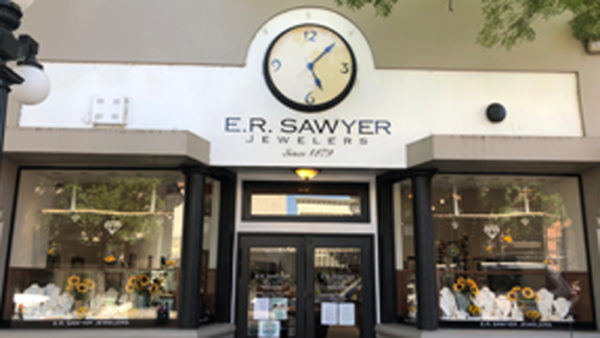 A piece of jewelry can last a lifetime, and be passed on for generations. Given that E.R. Sawyer Jewelers has 140-plus years of experience providing such treasures, it's no surprise they're experts in making memories endure. As part of its recognition for excellence, E.R. Sawyer is this year's Best Fine Jeweler in the North Bay for the 16th time overall and for the second consecutive year.
So it's not surprising that co-owners Doug and Ame Van Dyke, in another enduring story, first met at E.R. Sawyer's downtown Santa Rosa storefront, when Doug, who represents the fourth generation of the business, was working in the shop and Ame walked in for a necklace repair.
Doug and Ame maintain a close-knit staff, and the entire team is thankful for E.R. Sawyer's triumph and its place in the community. "We take it very seriously and we are honored to have their confidence," says Leslie Bruner-Hurley, staff member. "Please accept our unwavering gratitude and know that we have a deep commitment to serve you! Thank you for trusting us with your precious memories and thank you for being our friend."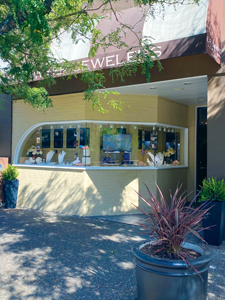 The Van Dykes and staff pride themselves on offering unique, beautiful jewelry selections at a reasonable price. E.R. Sawyer also has repair services of the highest quality, embracing the principles of the American Gem Society, which values business ethics and professionalism.
Additionally, E.R. Sawyer Jewelers is an accredited gem lab, as designated by the American Gem Society. Plus, the company's appraiser, Patricia Rickard, is a Certified Gemologist Appraiser, a prized specification that's held by only 400 jewelers in North America.
Such expertise helps make personal connections between staff and customer commonplace at E.R. Sawyer Jewelers. The staff gets to know their clients, and sometimes friendships form. When shoppers are looking for an engagement ring or simply want to surprise their significant other, they often have more passion than knowledge, and that's where E.R. Sawyer Jewelers comes in. "We ask questions, look at pictures of their girlfriend and guide them toward the perfect ring," says staff member, Morgan Griswold. "It takes more time, but it gives our client —and new friend—the perfect ring!"
Like many businesses, E.R. Sawyer Jewelers experienced a disruption in normal commercial activities with regional shelter-in-place orders earlier this year, but it has remained ready to serve the public from its Santa Rosa and St. Helena storefronts. Together, the staff is certainly ready to see more smiling faces, even while covered with masks. In the meantime, the staff at E.R. Sawyer Jewelers remains committed to the community, and looks forward to working with clients and friends.