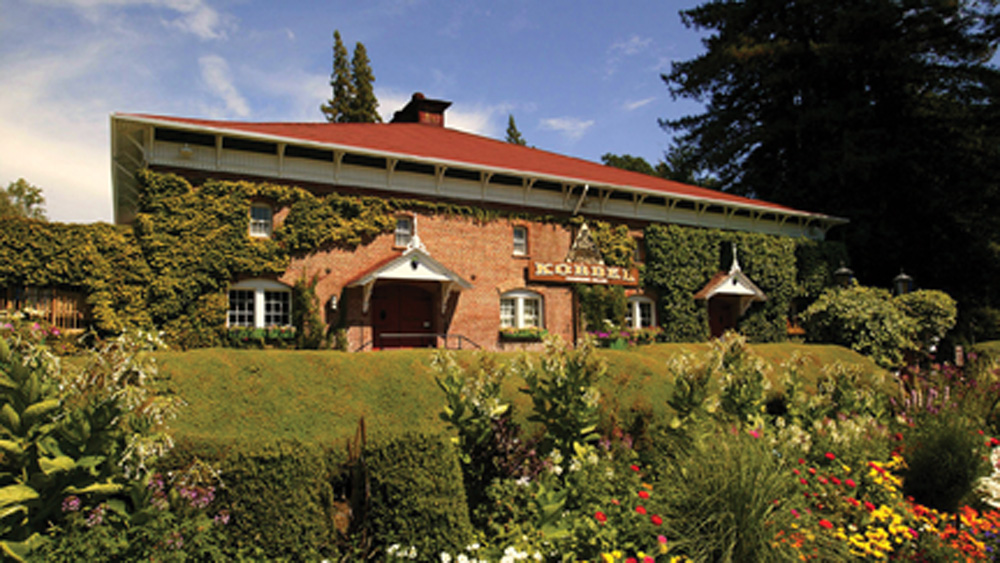 Korbel Winery, the Best Of Award winner for sparkling wine, is more than a chapter in Sonoma County history. It is a saga of two enterprising families envisioning great opportunities, starting in 19th century America.
"Having been located here in the Russian River Valley for 138 years, we are committed to providing our customers a quality product at an affordable price while offering a great winery experience steeped in history," says Margie Healy, vice president of Korbel Winery. "At Korbel, we work very hard to provide our customers a consistent crisp, fruit-driven house style that works for the American palate."
In the mid-1800s, three brothers trekked across the Atlantic Ocean and the continental United States, leaving Europe to find their home in the Russian River valley. Anton, Francis and Joseph Korbel would lay claim to the land to begin their new enterprise, great American Champagne. "Vineyards in the very cool Russian River Valley and other top appellations, many of which utilize sustainable farming techniques, contribute delicate fruit character to the base wines," says Healy. "But it is Korbel's utilization of the time-honored méthode champenoise process, that gives Korbel California Champagne its fine, persistent bubbles and subtle complexity."
As Healy stated, the secret to Korbel's sparkling wines are the bubbles and the process that creates them, the méthode champenoise. Dating back to the origins of Korbel winery, it's the only process they use. Originally created by French winemakers in the 1700s, méthode champenoise champagnes are sparkling wines produced with a second fermentation taking place in the bottle, followed by a long, intensive process to rid the wine of yeast sediment before final corking. Because the second fermentation takes place in the same Korbel bottle, the carbon dioxide becomes well integrated with the wine. This process produces smaller bubbles that rise more slowly and last longer than those in champagnes produced by other methods.
Korbel prefers this extensive process rather than the other two methods to create sparkling wine, transfer and Charmat. These two processes are not up to par according to Korbel Winery winemakers due to their handling of the second fermentation.
"Although Korbel currently makes nine California Champagnes, which are sold nationally, the most popular is the Korbel California Brut. Over 813,000 cases are sold annually," says Healy. "To compare, Korbel's total production is over 1,400,000 cases. Having been a part of celebrations, both large and small, since 1882, it definitely is a fan favorite."
While the winery remained open for production, the pandemic forced Korbel to shut down its tours, tastings and deli operations. During that time Korbel produced and donated over 56,000 bottles of hand sanitizer to first responders and healthcare communities throughout California. The winery reopened to the public July 1, observing strict social distancing measures and requiring reservations for outdoor tastings. Tours are still suspended, but walk-ins are welcome for outdoor seating at the deli. "As far as COVID-19, like all essential businesses, the safety of our employees and guests is our top priority as we welcome visitors back to Korbel," Healy says.
Despite the current circumstances and its effect on the entire wine industry, Korbel remains as the stalwart brand for North Bay sparkling wine. "Korbel is a brand people know," says Healy. "A brand they can trust and like an old friend, they know what to expect when they pop the cork."