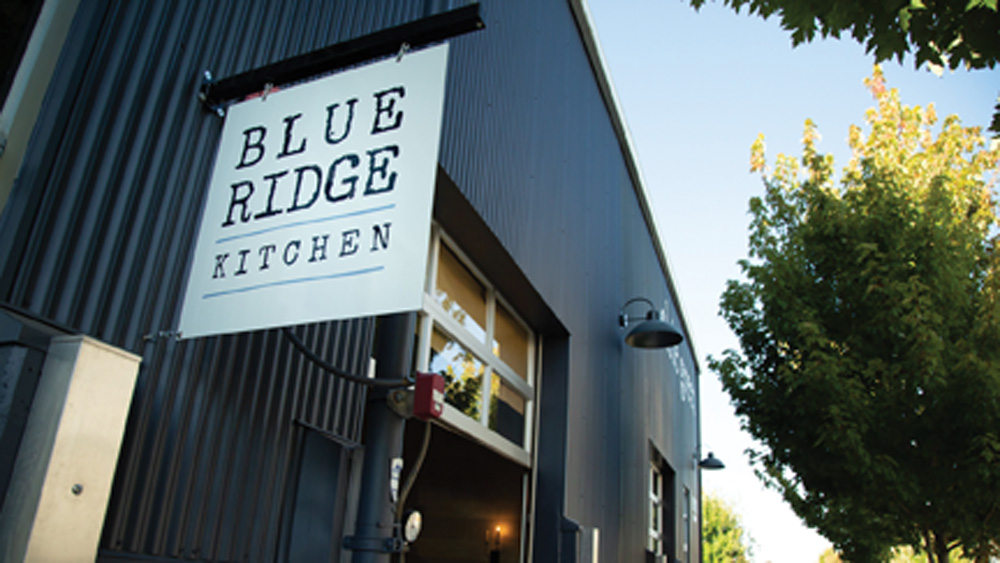 What's the best season to open a restaurant? The upside of a summertime opening is that it's typically prime tourist season, and there's the influx of incoming visitors. The downside is many locals are vacationing, so it's hard to cultivate a solid group of regulars. But 2020 has been far from usual, and Blue Ridge Kitchen seemed to appear overnight, opening this summer in the midst of a national pandemic when indoor dining was shut down. I happened by one Sunday afternoon as I was strolling through The Barlow to see its outdoor dining section humming with business, as if it had been there for years. So on a Wednesday evening in September, Alex and I ventured there to find out how they're making the magic happen.
Assistant general manager Yana Vouk greets us at our table on the patio, and we begin with two specialty garden-to-glass cocktails. The Lavender Liaison can be summed up in four words—summer in a glass. The Pedro Cornejo, a concoction of Mezcal and guajillo syrup, is fresh and smoky, and the carrot-turmeric juice gives it such a vibrant orange color that surely it has nutritional value.
As we sip our cocktails, Vouk offers some insight. Blue Ridge Kitchen is the creative alchemy of three proprietors—Eric Zahra, Jared Rogers and Matt D'Ambrosi, who also serves as executive chef. The inspiration behind the name—also known as BRK—is a nostalgic nod by two of its owners. For Rogers, a Virginia native, Blue Ridge is a nod to a name of a hotel there in Troutsville, and it's also the name of a diner in the town where D'Ambrosi grew up.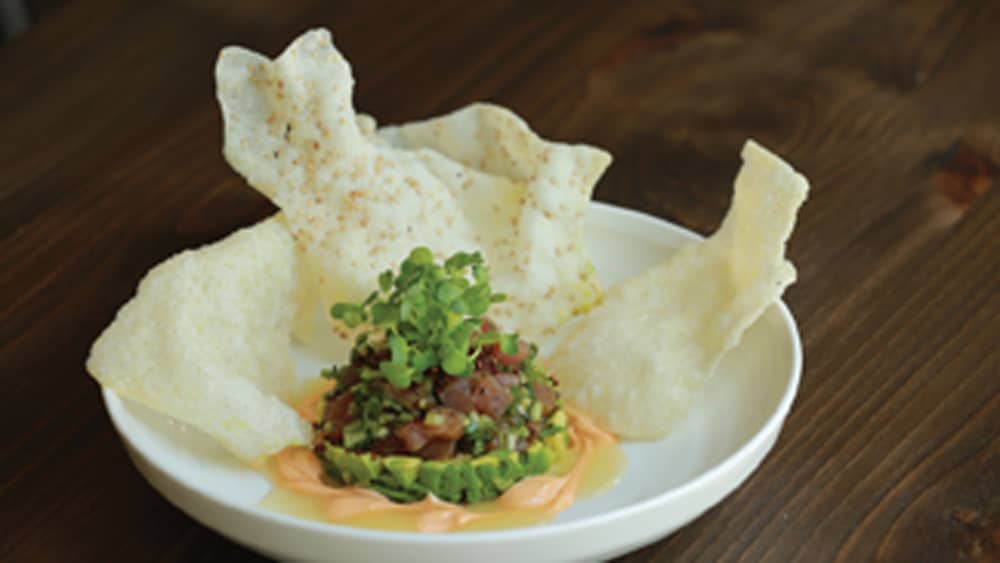 The menu features an eclectic assortment of items—fresh seafood, steak as well as some deep South favorites. Or, as Vouk puts it, "Southern food with California sass." Monday through Wednesday, the chef and crew offer dinner specials, starting at 5 o'clock and on this evening, it's the Blue Ridge BBQ, so Alex wastes no time in placing his order. Other than that request, we agreed to let Vouk lead the way.
We begin with a few signature starters. The chef's petite raw platter offers a taste of the ocean and includes gulf prawns and oysters. The presentation is gorgeous, and the horseradish cocktail sauce, smoky apple mignonette and a Meyer lemon hibiscus granita give each bite an unexpected explosion of flavors. Next, we sample the ahi tuna tartar—a beautiful plate of smashed avocado, Asian pear coulis cucumber, daikon sprouts, crispy quinoa and spicy aioli, served with house-made black rice chips. If you love ahi tuna tartar, this is a winner that hits all the right notes—fresh, savory and sweet, and the chips give each bite a satisfying crunch.
We also sample the fried green tomatoes. Served with hot sauce aioli, sumac and petite basil, this is Southern perfection. We enjoyed this with the kale and little gem Caesar salad, a modern take on a classic, and the key is the creamy anchovy dressing, made with lemon oil. These two starters pair well together, and could be a meal in itself.
Part of the magic of BRK is attributed to the influence of the three proprietors. Zahra oversees the wine list, featuring a wide selection of Sonoma County wines. Rogers, who serves as consulting chef, is responsible for the Southern influence of the menu, along with chef de cuisine Lloyd Norton. As for D'Ambrosi, it's well-known that he has a reputation for cooking out loud and with wild abandon. "He doesn't follow the rules," says Vouk with a smile.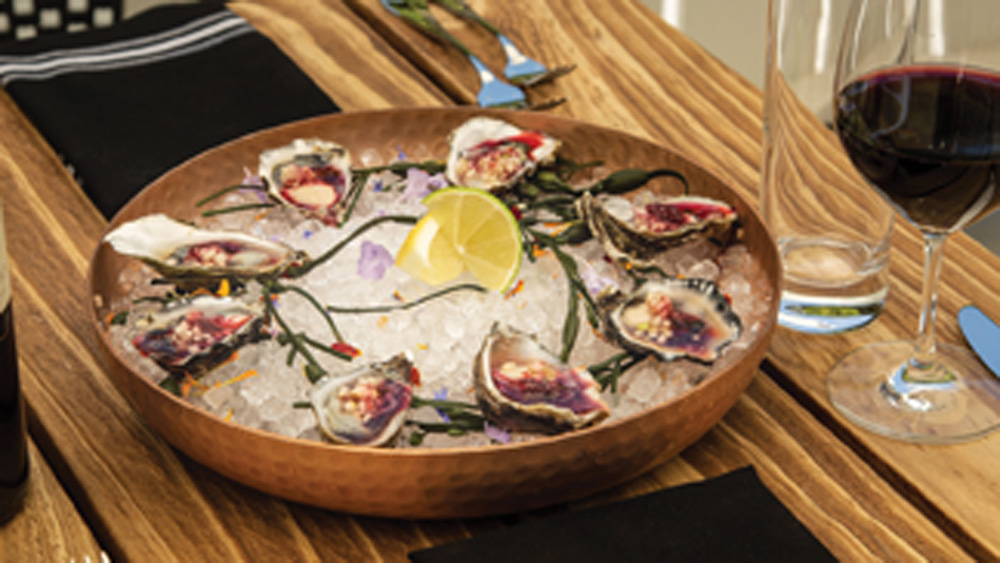 When the entrees arrive, Alex can hardly wait to dive in to the special of the day. Heaping with BBQ and generous servings of coleslaw, Old Bay chips and a country biscuit, it's a magnificent plate of comfort food. We also try another favorite on the menu—the drunken fried chicken, which is fried to perfection and served with truffle mac-and cheese and bacon collard greens. D'Ambrosi knows how to make fried chicken, and word has it, he's made this roughly 3,500 times to get it just right. (The effort shows.) If you're looking for a vegan option—or even if you're not—try the roasted cauliflower steak, an extraordinary plate of food.
Next time you're heading to The Barlow, check out this haute new spot for elevated comfort food at its finest. BRK is one of those places you'll want to visit again and again, and the secret to its success is no doubt equal parts determination and skill by its owners, along with the culinary magic of its chefs and crew in the kitchen. "Yes," Vouk agrees. "Magic happens here."
Blue Ridge Kitchen
California Comfort Food
With a Southern Drawl
6770 McKinley St. #150
Sebastopol, Calif. 95472
(707) 222-5040
brkitchen.com
Monday—Thursday         11:30 to 8 p.m.
Friday                                 11:30 to 9 p.m.
Saturday                            10:30 to 9 p.m.
Sunday                               10:30 to 8 p.m.