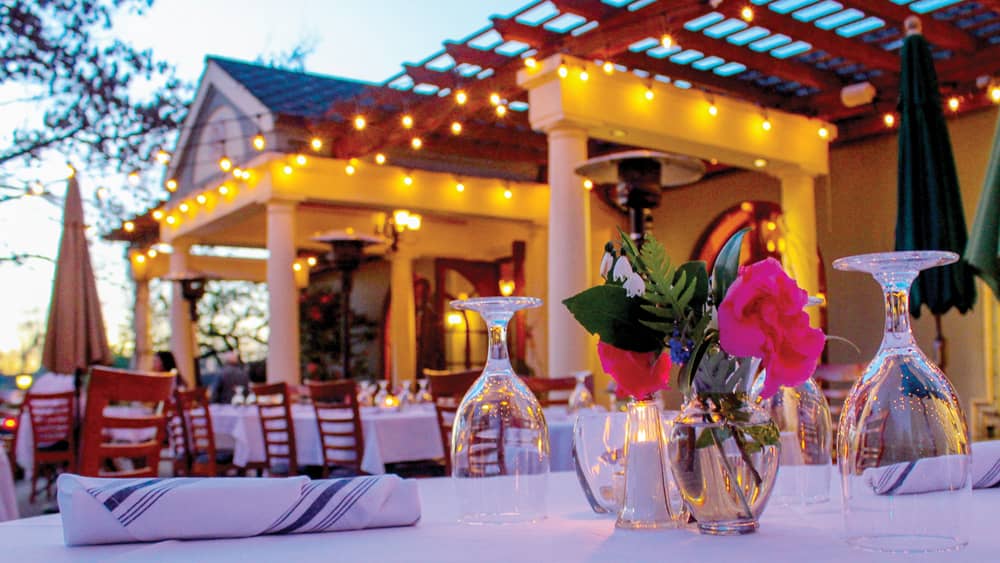 The hallmark of a great neighborhood restaurant is a feeling you get when you walk in the door. Gravenstein Grill is one of those restaurants—a place where you will feel inherently comfortable the moment you arrive. Though it's not in my neighborhood, it is truly a favorite locale for those who live in the area and has become a fixture there since opening in 2017.
Alex and I visit one mild spring evening and opt to dine alfresco, though indoor dining is officially open. Our server is Kristy Sack who tells us that their regular patrons have embraced them over the years, but the bar and grill is also a popular spot for tourists and special celebrations. "It's always a good time here," says Sack. As we look over the menu, we agree to let Sack lead the way to make the most of our dining experience.
We begin with a couple of spirited beverages. I opt for a glass of the 2018 Raeburn Chardonnay from Russian River Valley. Lush and beautiful, it's a well-balanced Chardonnay that is both buttery and a touch oaky. Alex starts with a cocktail, known there as a Winter Sunrise, a blend of tequila, blood orange syrup, naval orange and lime, it is aptly named—a fruity and delicious sunrise in a glass.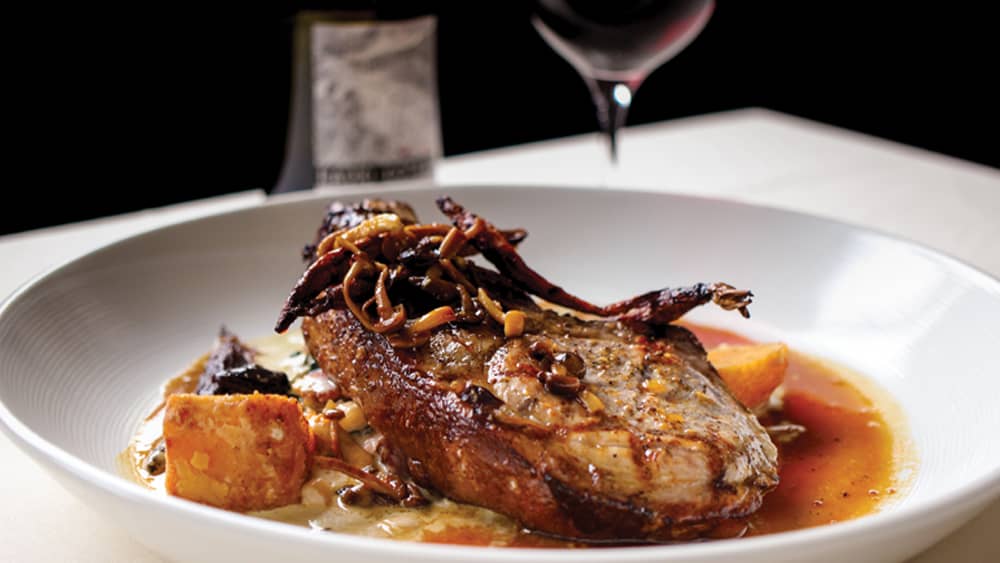 As we sip on our beverages, we begin with two popular appetizers on the menu that I highly recommend for adventurous seafood lovers. The oysters and caviar are beautifully plated and include three Marin Miyagi Oysters, topped with Uni butter and California sturgeon caviar. We learn from Sack that there is an art to consuming these oysters, courtesy of Chef de Cuisine Alejandro Garcia. Once you pick it up from the wide end (more aerodynamic that way, or so I've been told), swirl the entire contents in your mouth to combine the flavors and chew the fish once or twice before swallowing. If you're an oyster lover, be sure to try it this way because it's an experience. We also enjoy the ahi poke with a citrus-soy glaze, avocado mousse, lotus chips, sumac and local microgreens. Poke (pronounced poh-kay) is a salad of diced raw fish and one of the main dishes of native Hawaiin cuisine. Artfully plated, this is a refreshing and savory plate of food, the microgreens (known to be nutrient-dense) take it up a notch and make it not only delicious but a healthy plate of food. (Think: sushi meets nachos.)
Gravenstein Grill bills itself as a Wine Country bar and grill. Though the term is shorthand for a bar that serves its libations with a limited menu, this restaurant offers a varied selection of entrees and is known for refreshing its menu each season.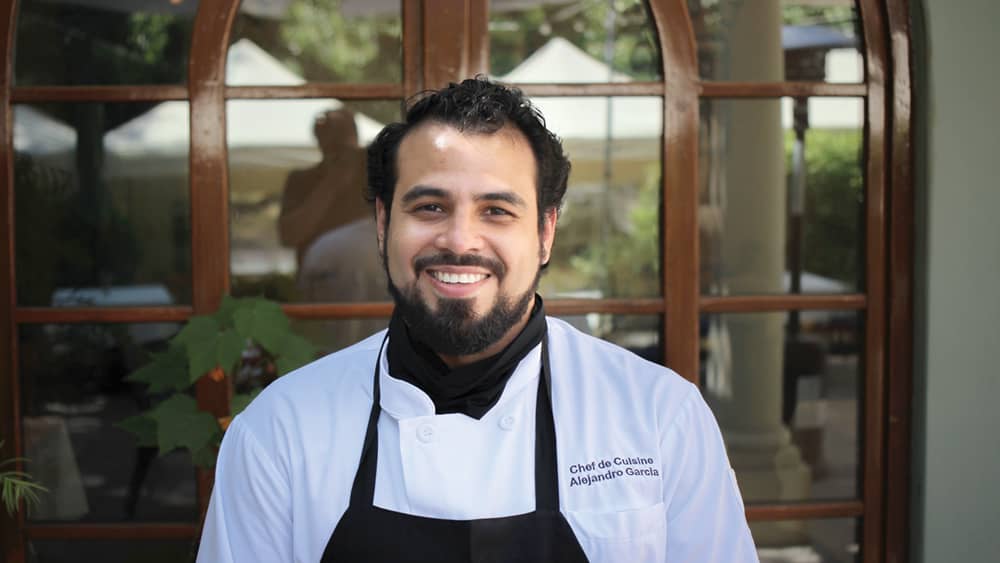 For our entrees, Sack recommends two favorites with the patrons. I opt for the seared salmon, perfectly cooked and served with farro, asparagus, English peas, smoked oyster butter asparagus cream and za'atar, a culinary herb that is tangy, nutty and toasty. Simply superb, this is spring on a plate with a woodsy note that makes it deliciously satisfying, and the sauce has great flavor. Alex enjoys the grilled thick-cut, bone-in pork chop, another popular item on the menu with local patrons. A hearty, rich plate of food, it's served with rainbow carrots, crispy celery root, Myocopia Mushroom pork jus and creamed Swiss chard, a side note on the plate, but almost a show-stopper as Alex is now a huge fan. We enjoyed both entrees with glasses of the 2017 Marimar Estate "Mas Cavalls" Pinot Noir a Burgundian-style earthy Pinot that, according to Sack, pairs well with numerous items on the menu, including both of our entrees.
For dessert, we share a slice of the Meyer lemon cheesecake, which was simply exquisite and somehow manages to taste both light and decadent. As we lingered over our wine glasses and the sunset on the day, I was reminded that some Sonoma County nights are especially grand. Gravenstein Grill is one of those restaurants that embodies everything I love about Sonoma County—the atmosphere, the people, fresh, locally sourced ingredients, and a varied selection of Sonoma County's finest spirited beverages.
Next time you're looking to dine out, check out this great neighborhood restaurant. Because even though it may not be down the street from where you live, this is a place you'll want to return to again and again.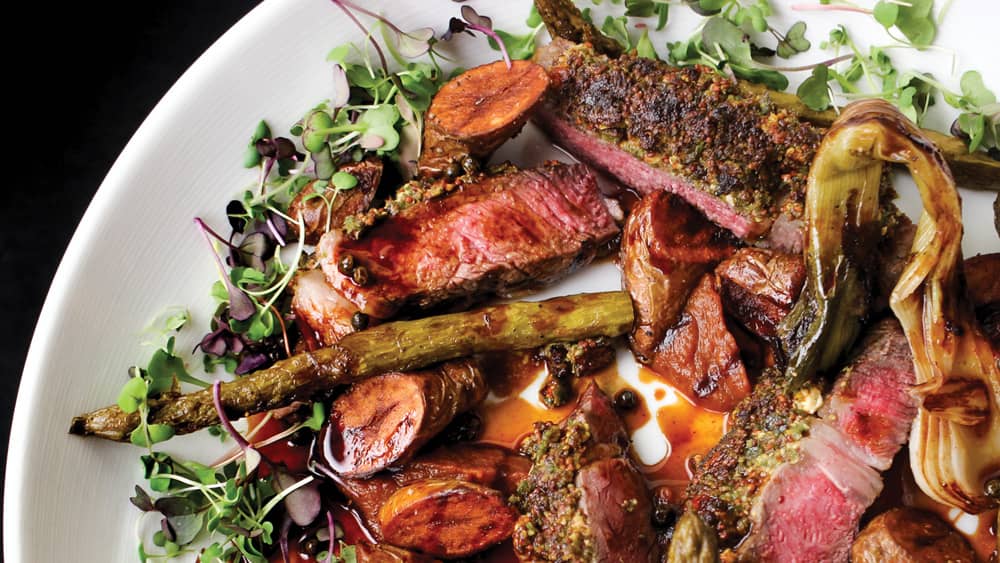 Gravenstein Grill
Fare: Wine Country Cuisine
Address: 8050 Bodega Ave., Sebastopol, Calif. 95472
Open: Wednesday—Sunday; Lunch: 11:30 a.m. to 3 p.m.; Dinner: 4:30 p.m. to 9 p.m.
Entrees: $22—$69
Beverages: Wine/Beer/Cocktails
[Photos courtesy of Gravenstein Grill]