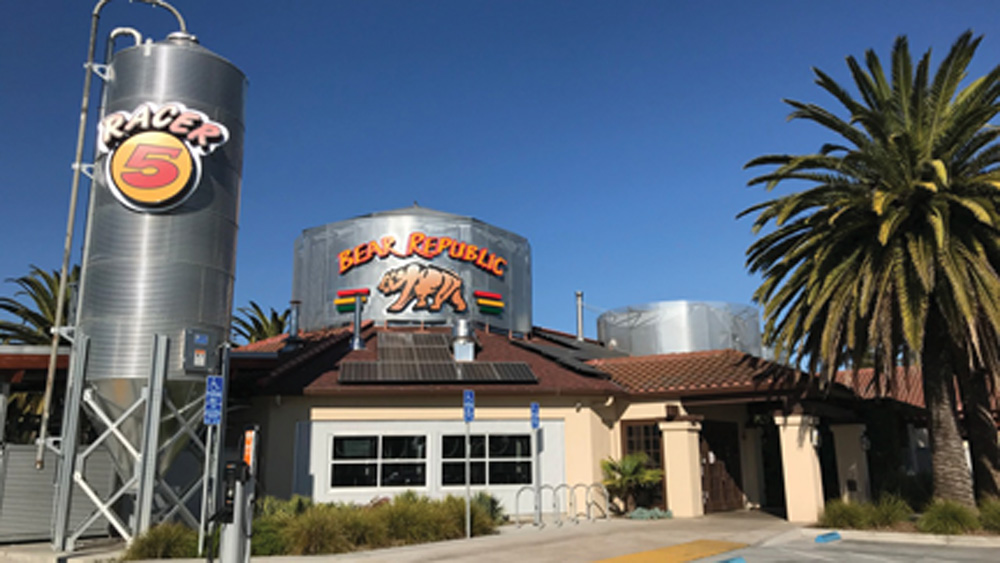 In 2017, Bear Republic Brewing Company continued its tradition of innovation, forever transforming Roberts Lake Road in Rohnert Park by opening its beautiful new brewpub with expansive indoor and outdoor seating. The patio offers a picturesque view of the lake, providing an ideal place to enjoy a pint of Bear Republic beer and a bite from the brewpub's kitchen.
But there's much more to Bear Republic Brewing Company than its newly minted jewel in Rohnert Park—though it was likely top of mind for voters as they named Bear Republic the Best Local Brewery in the North Bay for 2020. "The entire Bear team wants to thank the NorthBay biz community for the support," says Tami Norgrove, founder and chief executive officer. "We're always working hard to support our teams and our communities and it means a lot to us to have your vote."
The Bear Republic story began 25 years ago when the Norgrove family established the business in Healdsburg. In 2006, the company opened its Factory Five Brewery in Cloverdale. Known for its daring and bold brews, Bear Republic has earned top honors in the American brewing industry, most notably thanks to its Racer 5 IPA, which is one of the most award-winning beers in the U.S.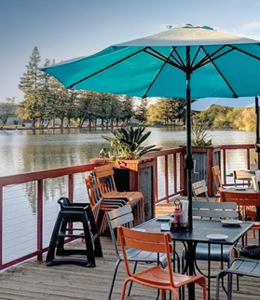 Furthermore, Bear Republic was named Small Brewing Company and Brewmaster of the Year in 2006 at the Great American Beer Festival, led by brewmaster Rich Norgrove. The brewery has won 25 awards from the festival thus far. It's also earned distinctions for excellence from the World Beer Cup, the Good Food Awards, the California State Fair and more. In 2019, the Brewers Association listed Bear Republic as the 49th-largest craft brewery in the U.S.
Bear Republic provides a family atmosphere to its employees, too. "Our employees are an extension of our family. This extended family works together and helps pull us towards the same goal," Tami says. "Our brewpub and brewery showcases our love of family and good brews and our continual efforts to expand sustainability within our industry." The communal spirit extends beyond the walls at Bear Republic, as well. The company donates to several North Bay nonprofits, such as Big Brothers Big Sisters, Rotary, Boys & Girls Club, Kiwanis, Active 20-30 Club, the Little League and more.
As the North Bay shut down during the pandemic, Bear Republic faced its latest challenge as a business, especially at its Rohnert Park brewpub, which finally reopened in June. Its team of brewers continued to work, however, keeping the brewery's manufacturing line moving to provide bottles and cans of Bear Republic beer. Through recent hardships, it's still family first. "Our focus through this entire time is to make our team and our customers know that we are doing everything we can to ensure their safety," Tami says.
Next time you're visiting Bear Republic's glorious brewpub, look for new menu items, dubbed "Bear Necessities," along with a new "Challenge Series" beer. A plethora of options is always available on tap, and it's not easy choosing what to eat either. It's all part of what keeps Bear Republic lively and fresh. "Innovation is the hallmark of Bear Republic's success," says Norgrove. "Even in these challenging times we are striving for individuality and quality products for our family of customers."